Watch the Continuing Rise of Germany
With Russia flexing its muscles, chaos in the Middle East, terrorism and a waning U.S., Germany is on the rise. Will it become the world's dominant power?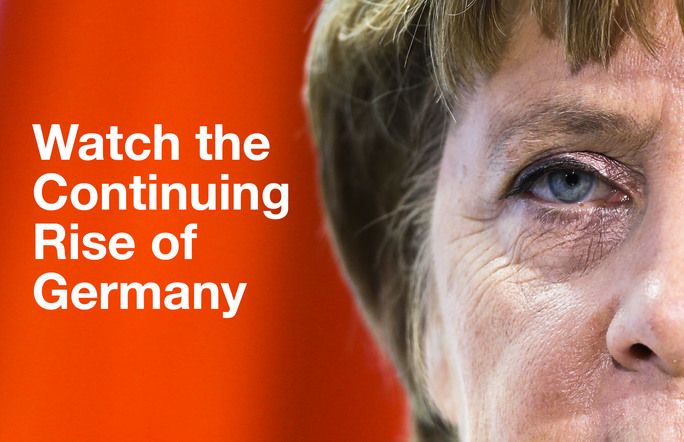 After World War II, Germany was a defeated and deflated military power—divided and controlled by the Allied powers. The U.S.S.R. occupied the east, while the U.S., Britain and France controlled the west. Beginning in 1948, the U.S. implemented the Marshall Plan, which helped rebuild West Germany's infrastructure and economy.
Then, in 1989, Germany was reunified, with Berlin as its capital. The Marshall Plan and U.S. troop presence left a legacy of political, economic and military cooperation between the two nations.
However, in recent years that relationship has deteriorated. Events that have soured the relationship include:
In 2003 Germany strongly opposed the U.S.-led invasion of Iraq.
In 2013 it was revealed that the NSA spied on Angela Merkel's mobile phone.
In 2014 Berlin police arrested two German officials suspected of spying on behalf of the U.S. Germany responded by expelling America's top CIA agent in Berlin.
In 2016 Donald Trump shocked NATO allies by not verbally reaffirming his commitment to Article 5 of the NATO treaty.
In 2016 Germany announced that the TTIP trade agreement with the U.S. had failed "because we Europeans did not want to subject ourselves to American demands."
In 2017 a series of incidents between Donald Trump and Angela Merkel have severely damaged U.S.-German relations:
Charting their own course
As a result of these obvious tensions, Chancellor Merkel has been clear she supports increasing German/European independence from the U.S. In May, during a rally in Munich, she said that Europe can no longer "depend on others" as much and that Europe must "take its fate into its own hands."
It is clear that Germany is becoming more independent and aggressive on the international stage than at any time since the end of World War II.Richard N. Haass, president of the Council on Foreign Relations, tweeted that Mrs. Merkel's comments are a "watershed" moment and "what US has sought to avoid since WW2."
Henry Farrell, professor of political science and international affairs at George Washington University, wrote: "In the words of NATO's first secretary general, NATO was supposed 'to keep the Russians out, the Americans in, and the Germans down.' Now, Merkel is suggesting that the Americans aren't really in, and, by extension, Germany and Europe are likely to take on a much more substantial and independent role than they have in the past 70 years."
It is clear that Germany is becoming more independent and aggressive on the international stage than at any time since the end of World War II.
The EU and Germany
Like NATO, the European Union (EU) was designed to contain Germany. The late Helmut Kohl, who helped fashion the EU's political architecture, often said "the future must ensure a European Germany, not a German Europe." In other words, Germany should be tied together with the other European nations, instead of dominating them (as in the past). A devastated nation at the end of World War II, Germany has now become the fourth largest economy in the world, overtaken China as world's richest exporter, been chosen as the most popular nation in the world (in 2013) and been called global savior.
Despite Mr. Kohl's plan, many now see Germany as dominating Europe:
A German-dominated EU military?
In 2016 a white paper was leaked from Germany showing their ambitions for an EU army. In February a step toward realizing this dream occurred when Romania and the Czech Republic each agreed to put one army division under German command.
Britain has historically supported NATO and resisted an EU army. However, Brexit has removed any British ability to stop it and will free the EU to move forward with greater military integration. The emergence of an aggressive Russia in the east, a disengaged United States to the west and the continual threat of terrorism at home is causing Germany and Europe to see the need for a strong, unified European military.
Prophetic significance
The Bible prophesies the emergence of a powerful military and economic force rising at the end time. Here are two titles this end-time power is called in Bible prophecy:

Watch these trends closely! As the Anglo-Saxon nations continue to wane and retreat, a German-led Europe will continue to increase in power.