Violence and Tensions Rise in Israel … Again
After seven years of relative calm in Israel, tensions between Jews and Palestinians have erupted again into violence. Will this conflict ever be solved?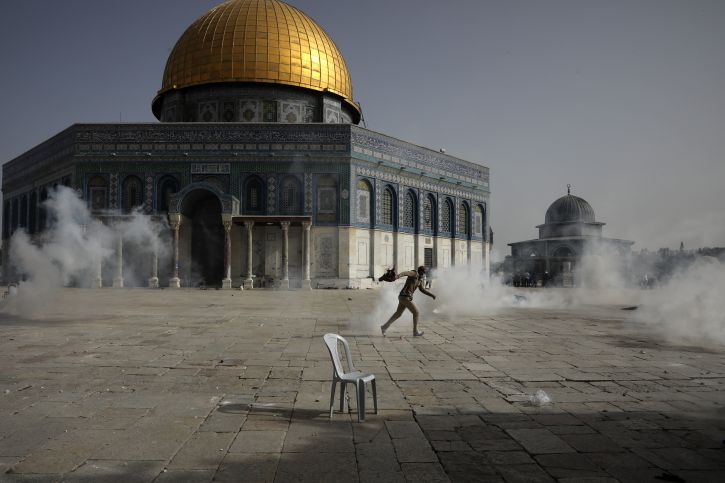 After a roughly seven-year lull in severe violence between the Israelis and the Palestinians, conflict and tensions have recently erupted again. Hamas has launched over 1,750 rockets into Israel from the Gaza Strip. Meanwhile, the Israeli military has retaliated with airstrikes that destroyed several buildings and a tunnel system that the Israelis believe were being used by Hamas militants in Gaza.
As of May 14, 126 have been killed in Gaza, while eight have been killed in Israel.
And the violence has not been restricted to these clashes between Gaza and Israel. The last two weeks have seen Israeli Arabs and Jews attacking each other in the streets.
Many believe this current flare-up of violence began when Palestinian families living in the Sheikh Jarrah neighborhood of East Jerusalem were threatened with evictions. Much of this neighborhood was owned by Jewish families prior to the founding of the State of Israel in 1948. According to Israeli law, Jewish Israelis can reclaim property if they can prove it was owned by their family prior to 1948. This could result in the eviction of about 1,000 Palestinians from their homes. These tensions came to a head during the Muslim holy month of Ramadan and during the Jewish holiday celebrating the reunification of Jerusalem in 1967.
Violence in the streets
This led to street riots and protests that spread to the Al-Aqsa Mosque compound. The world was shocked to see videos and images of riots and armed Israeli troops on the Temple Mount.
The Temple Mount is a site holy to both Jews and Muslims and is considered the most disputed piece of land on earth. Security precautions are incredibly stringent there because everyone recognizes that actions on that spot have the potential to trigger not only a regional war, but a third world war.
These protests and clashes have also occurred around Israel, including in Tiberias, Acre, Jaffa, Bat Yam and Lod. It should be noted that these attacks have not been just Palestinians attacking Jews. There have also been attacks by extreme Jewish groups against Arab Israelis. On Wednesday, May 12, video captured an Israeli extremist group beating an Arab man in the Tel Aviv suburb of Bat Yam.
All of this violence has erupted amid continuing political instability in Israel. Despite multiple elections in recent months, Israel has not been able to elect a majority government. Prime Minister Benjamin Netanyahu continues in a caretaker government, though without a majority coalition.
Current violence may derail attempts by other Israeli parties to form a governing coalition and oust Mr. Netanyahu. Since his perceived strength is security, ongoing violence and conflict are seen as likely to strengthen his hold on power. In fact, some in Israel see certain extreme right-wing Israeli politicians as a major cause of the current tensions and violence.
Learn more about the Middle East conflict
We urge our readers to watch events in the Middle East, particularly in Israel.It's not the purpose of this blog to provide an in-depth analysis of the current situation in Israel. The situation is still fluid, and we don't know whether the conflict will worsen, or if tensions will ease, at least temporarily.
We urge our readers to watch events in the Middle East, particularly in Israel, and we advise readers to sample a variety of international news outlets for a broader perspective.
We also recommend some of our past articles and blog posts on this topic as a resource to better understand the deep background of this conflict. Here are a few:
The hope of the Feast of Pentecost
No matter what happens in this current conflict, the lingering question is, Will peace ever come to the Middle East? The answer is yes—but not by any human means!
Bible prophecy clearly tells of a coming time when Jews and Palestinians will live in peace, and Jerusalem will become one of the safest places on earth (Zechariah 8:4-5). But it will require the return of Jesus Christ to this earth—at a time when tensions will be escalating to the point that humanity will be on the edge of self-destruction (Matthew 24:21-22).
At Christ's return, He will take over the governments of the world and reign supreme, along with His resurrected saints ruling under Him as "kings and priests" (Revelation 5:10). Together, Christ and those the Bible calls His "firstfruits" will work to bring worldwide peace. They won't broker peace by tenuous political agreements and ceasefires, but will teach the laws and principles that lead to real peace. True peace can be achieved only when people truly reconcile and learn to genuinely love and care for one another. But for that to happen, our hearts will have to change.
Ironically, while the world watches hatred and animosity spewing from the hearts of so many in the Middle East today, Sunday, May 16, is a biblical holy day that represents how the changing of the human heart can indeed take place. The Feast of Pentecost shows that it can happen only through the power of God's Holy Spirit miraculously changing the hearts and minds of all humanity (Romans 5:5).
It was 1,990 years ago in Jerusalem on the Feast of Pentecost, or Feast of Firstfruits, that God poured out His Holy Spirit on a small group of people who repented and turned to follow Him—and the Church of God was founded. You can read about that astounding event in Acts 2.
For those celebrating this special annual holy day, it is a time to reflect on how desperate the need remains for humanity to likewise repent and begin living differently, by the power of God's Holy Spirit. It is also a reminder that this will happen someday, and until then, the existence of His Church is evidence that God is working out His plan to bring peace to this world.
Yes, there is hope for peace, and the Feast of Pentecost reminds us of one of the essential factors that will lead to it—the power of God's Holy Spirit.
Topics Covered: Prophecy, News and Trends, Violence