"He Gets Us" . . . But Do We Get Him?
A recent advertising campaign to promote Christianity has been widely seen and has made the headlines. But does the campaign address the right issue?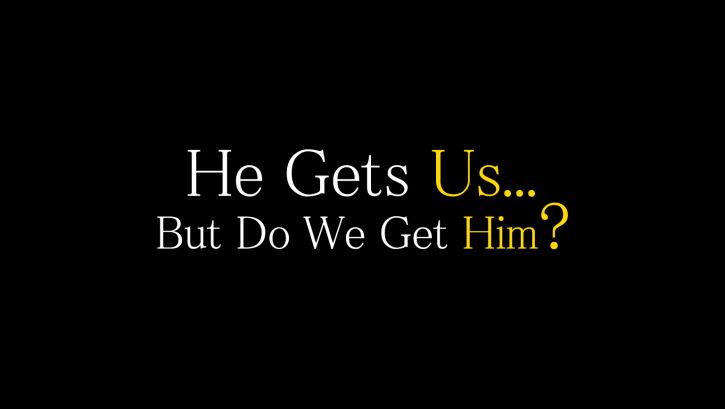 A well-funded, evangelical-backed campaign wants people to know that "He gets us. All of us"—the He being Jesus.
Through a variety of media, from billboards to banner ads and YouTube videos, the movement has made its presence known. Its stated goal is to "reintroduce people to the Jesus of the Bible."
The branding firm behind the campaign plans to invest $1 billion in advertisement and outreach over the next three years, which means the advertisements describing Jesus in modern terms will be around for a while.
Of course, Jesus gets us, but a closer examination of the group's claims prompts a question: Do we get Him?
Who is the real Jesus?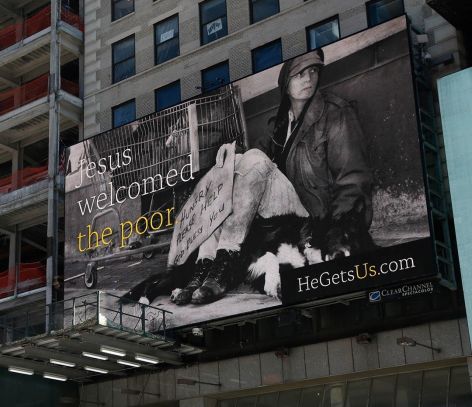 One thing should be said from the outset: there is nothing in the Bible that prohibits a group from preaching about Jesus Christ and His work.
Peter's sermon in Acts 2 focused on Jesus as the long-awaited Messiah, and the apostle Paul told the Corinthians, "I determined not to know anything among you except Jesus Christ and Him crucified" (1 Corinthians 2:2, emphasis added throughout).
But a discrepancy arises when people preach a wrong or incomplete view of Jesus, either because of ignorance or an incorrect agenda.
Sometimes this is accomplished by labeling Jesus or His ministry in ways that are vague enough to be true, but are actually misleading. Other times, perhaps sincerely, it happens by singling out a few of Jesus' traits and presenting them as if they represent the sum total of who He is and what He expects from His followers.
Notice the following examples from the "He Gets Us" ads:
The "authentic" version of Jesus is the "Jesus of radical forgiveness, love and compassion."

While this statement is true, the lack of context gives the wrong impression. The following questions should come to mind: Was Jesus' forgiveness so radical that He offered it with no strings attached? What kind of love did Jesus have? Why did He feel compassion?

First, the Bible tells us that forgiveness is conditional, given upon repentance (1 John 1:9). Second, the kind of love Jesus instructed His followers to have was love toward God and love toward fellow man, which are summed up by all 10 Commandments (Matthew 22:37-40). Love is obedience to that law (John 14:15). Third, a major reason Jesus had compassion on people was because they lacked a shepherd, just as many people do today (Matthew 9:36). He cares about those who are misguided and led astray by false teachings (Ezekiel 34:11).

Like many in our day, the religious leaders of Jesus' time were more concerned with position and influence; they did not teach the Word of God as it was written, but their own humanly devised ideas. Jesus had compassion on those who had been ignorantly led away from God instead of closer to Him.

Jesus and His disciples were "rebels" who were challenging authority.

The reality is that the ones who saw Jesus as a "rebel" were the religious authorities, not the governmental authorities. They tried to convince Pilate that Jesus was leading an uprising, but he saw through their plot and determined there was no fault in Jesus or reason for suspicion (John 19:4). Jesus obeyed the human government and taught His followers to do the same, so long as man's laws did not conflict with God's (Matthew 22:21; Acts 5:29).

When He did challenge authority, He directed it at the Pharisees' and scribes' claims that their religious traditions were on the same level as God's explicit commandments (Mark 7:9). The religious authorities were the real rebels. They knew the law was not to be added to, changed or modified in any way (Deuteronomy 4:2). Yet they did it anyway.

Jesus' faithfulness to God's law, as it was originally given, was seen as rebellious because He lived and taught the correct standard from which they had strayed so far.

"Jesus was radically inclusive."

That Jesus spent time with all kinds of people is true, but that does not mean He accepted their lifestyles and sins (Matthew 9:10; John 8:11). Jesus had contact with tax collectors and sinners because He was the great Physician, and His patients were aware of their spiritual sickness—their sinful condition (Mark 2:17). He spent time with them because it was part of His mission to call sinners to repentance (Luke 5:32).

He never preached a "come as you are" message. The opposite is true—He said, "If anyone desires to come after Me, let him deny himself, take up his cross, and follow Me" (Matthew 16:24). In other words, there's a standard one is expected to abide by if he or she wants to be a true follower of Jesus Christ. There must be a commitment to change by turning away from sin. (To learn more about the level of commitment Jesus required, read "How to Surrender to God.")
Vague or loosely defined statements like those above really offer just a sketch, or partial portrait of the Savior. It's incomplete, and an incomplete guide doesn't serve someone anymore than a broken compass can point you north.
With messages like these, it becomes easy to see how people can be led to overemphasize certain aspects of Jesus Christ without considering the totality of His life, teachings and example.
Do we get His message?
Another thing conspicuously lacking from the campaign's advertisements and website is Jesus' primary message. Jesus Christ was the prophesied Messenger, the One the Jews eagerly anticipated (Malachi 3:1). That means He had something to say—but what?

His message was not merely "love and peace" as the "He Gets Us" advertisements claim, but the gospel of the Kingdom of God (Matthew 4:23).

Jesus' identity is intimately connected with the message He brought. He preached the good news of a real government to be installed on earth—not an ethereal one as many Protestants teach.Jesus' identity is intimately connected with the message He brought. Far too often people take a magnifying glass to particular events in His ministry or certain interactions He had, and in the process they mistakenly blur the bigger picture.

The fact is, He preached the good news of a real government to be installed on earth—not an ethereal one as many Protestants teach.

The emphasis of Jesus' message was the bright future that lay ahead for mankind, the time when He would return as King of that Kingdom. And He taught that He wouldn't reign alone, but His servants—those who spent their physical lives preparing for co-rulership—would rule with Him (John 14:2).

The way to be a part of that Kingdom, which is truly wonderful news indeed, was conveyed in some of the first words out of Jesus' mouth when He began His ministry: "The time is fulfilled, and the kingdom of God is at hand. Repent, and believe in the gospel" (Mark 1:15).

Understanding the truth of the gospel message—what the Father sent Jesus to preach—destroys the notion that Jesus came just to start a movement of love and peace to be continued by His followers.

That Christians should be loving peacemakers is true (Matthew 5:9), but a recurring theme of the Bible is that our attention should not be spent on trying to repair this broken world. Instead, our duty is to "seek first the kingdom of God" (Matthew 6:33). It's something the apostle Paul exemplified when he wrote, "I press toward the goal for the prize of the upward call of God in Christ Jesus" (Philippians 3:14).

By focusing on the Kingdom of God, we are acknowledging the reality that the world in its present condition is absolutely incurable by human means and as sure as anything headed for destruction (Isaiah 1:5-6; 2 Peter 3:10).

Only through God's direct intervention—when He sends Jesus Christ as King of Kings and Lord of Lords to destroy the existing world order and install a new one—will mankind be able to experience true peace.

These elements are at the heart of the true gospel message. It's what God's Church has striven to proclaim through the centuries; it's also what is neglected by much of mainstream Christianity, including the "He Gets Us" campaign.

To learn more about Jesus' message, read "Messiah's Message: Gospel of the Kingdom."
The reliability of using Scripture to understand
The group's stated mission of helping "everyone to understand the authentic Jesus as he's depicted in the Bible" is not a bad one. But the Jesus being marketed is not the real Jesus we read about in Scripture.
We are cautioned by the apostle Paul about being led away by "a different gospel" (Galatians 1:6) or "another Jesus" (2 Corinthians 11:4).
Yes, the ads highlight some correct aspects of Jesus' character, but in no way does that legitimize the organization's entire message.
The popular adage that even a broken clock is right twice a day reminds us that something can still be unreliable even though it may provide correct information every now and then.
The Bible, the inspired Word of God, uncolored by man's traditions and preconceived notions, is still the only source by which we can . . .
Get Him.
We believe the following article series can help you better make sense of the incongruence between the Jesus that is often preached today and the Jesus of the Bible: "Christ vs. Christianity" and "Walk as He Walked."
Topics Covered: God, Social Issues