Does God Accept Us "Just as We Are"?
Many Christian leaders teach that God loves all people just as they are. Does the Bible teach this message? Does God accept us just as we are?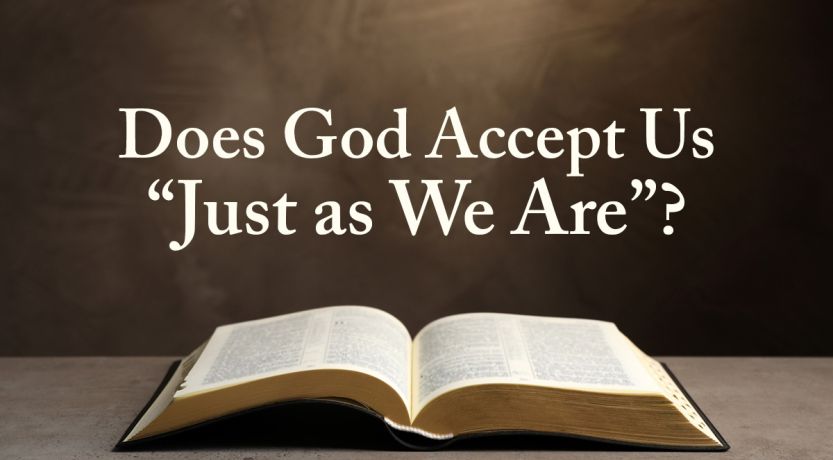 In a recent podcast, Pope Francis was answering questions sent to him. One young transgender person wrote that he felt conflicted between his transgender identity and his Catholic faith.
In response, the pope said, "The Lord always walks with us . . . Even if we are sinners, he draws near to help us. The Lord loves us as we are, this is God's crazy love."
Was the pope's answer biblically accurate? Nobody disputes that God loves human beings, but is it biblically correct to say that God accepts us just as we are?
God is love
Many find comfort in the verse that tells us, "God is love" (1 John 4:8). The same verse also identifies Christians as those who emulate God's love by loving others. God's love is indeed beyond our human comprehension. It far surpasses the quality of love shown between humans.

Consider the following verses:

Love is undoubtedly a major part of God's way of life, but does that mean God truly accepts people "just as they are"? Or is there more to God's love than that?

The premise behind "just as you are" is that God has no expectations, and He equally loves and accepts all people, no matter what they do or how they live.

However, common sense should teach us that God's love doesn't equate to His accepting us "just as we are." Does God's love mean He accepts mass murderers, rapists, thieves and liars just as they are? Is He okay with what they do?

The following verses contradict the idea that God's love means He accepts everyone's lifestyle, whatever it may be:
"As many as I love, I rebuke and chasten" (Revelation 3:19).
"This is love, that we walk according to His commandments" (2 John 1:6).
"If someone says, 'I love God,' and hates his brother, he is a liar" (1 John 4:20).
"For this is the love of God, that we keep His commandments. And His commandments are not burdensome" (1 John 5:3).
"Do not love the world or the things in the world. If anyone loves the world, the love of the Father is not in him" (1 John 2:15).
The Bible shows God's love does not mean He accepts all people just as they are. Accepting people as they are would be the opposite of love.
He expects us to do something and not think we can always remain as we are. To understand this, let's examine the topic of love a little closer.
What is love?
God demonstrated His love toward us through His actions. Notice Romans 5:8: "But God demonstrates His own love toward us, in that while we were still sinners, Christ died for us." He loved us so much that He gave us the sacrifice of His Son so we can be forgiven of sin, despite our rebelliousness. Jesus' perfect, sinless life provides an example for us to follow, because God wants us to "walk just as He walked" (1 John 2:6).
Let's consider an example of Jesus' love. In one instance, Jesus was presented with a woman caught in adultery. The Jewish authorities wanted to stone her. His response to the accusers was: "He who is without sin among you, let him throw a stone at her first."
Biblical love is genuine concern for others. It also includes abiding by laws designed for our benefit. When the crowd left, did Jesus tell her, "God accepts you as you are because He loves you"? No, He didn't. Instead, He told her, "Go and sin no more" (John 8:3-11). These five words perfectly demonstrate God's form of love. He loved her so much that He urged her to change her life.
Biblical love is genuine concern for others. It also includes abiding by laws designed for our benefit.
All parents should understand this well. Parents must set rules that define boundaries for their children. Why? So they don't get hurt! So they don't do things like playing with electrical outlets, playing in busy streets, or holding a knife by the blade. Restricting children from these dangers is not about unnecessarily controlling them, but keeping them safe. It's an act of love.
For the same reason, God has given us His law to protect us from the consequences of doing things that hurt us and others. His laws restrain evil and define what it means to be concerned for other people, for your benefit and the benefit of others.
The Bible also defines God's law as love. By keeping it, we show love to others and do them no harm (Romans 13:10). But when we break it, we end up hurting others and ourselves. A careful study of God's law shows that it reflects God's character and serves as a mirror for us to see where we fall short. (To learn more, read "The Law: A Reflection of God's Character.")
But does God love and accept all people regardless of their state? It may be surprising to some, but the Bible shows that God does hate some things. Here is a list of things He hates: sin, wickedness, deceitfulness, pride, lying, murder, evil scheming and those who sow division (Psalm 5:4-6; Proverbs 6:16-19).
God loves us, but that does not mean He accepts us as we are. To learn more about this topic, read "The Problem With 'Just as I Am' Christianity."
Does God's grace have conditions?
It's impossible to consider God's love without considering His grace, which is an outgrowth of His love. Since God's loving grace is so vast, there's nothing we could ever do to earn or deserve it. But God's grace does have expectations, and our obligation is to follow them. (To learn more, read "What Is the Grace of God?")
Consider the following examples of conditions associated with God's grace:
We must not live by just one or a few Bible verses. Instead, Jesus urges us to live by "every word that proceeds from the mouth of God" (Matthew 4:4).
Living by every word of God means there is a standard we have to follow. Even though God has tremendous love for us, He loves us so much that He demands we change ourselves for the better.
He doesn't want us to remain just as we are!
Topics Covered: Christian Living, Religion