What Is the Meaning of Philippians 4:13?
Some take this verse to mean that they can accomplish any physical task that is before them. Is that really true? What does Philippians 4:13 mean?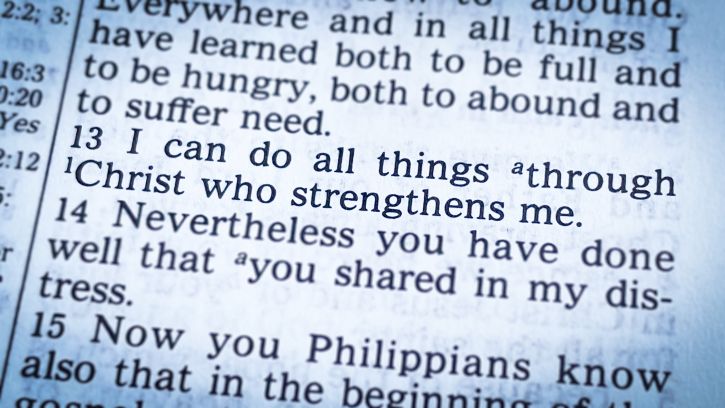 What does Philippians 4:13 say?
"I can do all things through Christ who strengthens me."

Philippians 4:13 is a popular religious message, appearing on everything from shirts and caps to socks and bracelets. It's so common that even many nonreligious people are familiar with it.

The verse's popularity has led to some misunderstandings. Even the first half of the verse—"I can do all things"—has been plucked out of context and repackaged as a feel-good, inspirational mantra that people repeat to themselves when attempting something difficult, or even impossible.

"I can do all things . . ."

"I can clear this 10-foot jump." "I can win this tennis match." "I can make a million dollars." "I can close this huge account."

Philippians 4:13 has nothing to do with any of those things.

This passage is not about all the wonderful things you can have or achieve if you just muster up the willpower—if you just put your mind to it. And it certainly is not a blank check for a person to do anything he or she wants and expect Christ's support.

When we read the context, we find that the apostle Paul was discussing something altogether different.

So, what is the meaning of Philippians 4:13?

Philippians 4:13 is about how to overcome the trials of life and how to be content with your present circumstances—with what you do have.

Let's explore this verse in greater depth to learn more.
The context of Philippians 4:13
The apostle Paul was deadly serious about his God-given commission to preach the gospel. "Woe is me," he wrote to the brethren, "if I do not preach the gospel!" (1 Corinthians 9:16, emphasis added throughout). To learn more about the gospel message that Paul preached, read our article "What Is the Gospel of the Kingdom?"
He evidently felt so strongly about this duty that he pronounced a curse on himself in the event that he failed to do it.
But Paul's experiences as a servant of God taught him the harsh reality that preaching the gospel is no walk in the park.
Notice how perilous his ministry was based on the description he gave in his letter to the brethren in Corinth:
Paul recognized that the challenges he had personally experienced—and the ability to remain in a state of peace and contentment afterward—required a level of strength that was beyond human capability."In labors [I am] more abundant, in stripes above measure, in prisons more frequently, in deaths often. From the Jews five times I received forty stripes minus one. Three times I was beaten with rods; once I was stoned; three times I was shipwrecked; a night and a day I have been in the deep; in journeys often, in perils of waters, in perils of robbers, in perils of my own countrymen, in perils of the Gentiles, in perils in the city, in perils in the wilderness, in perils in the sea, in perils among false brethren; in weariness and toil, in sleeplessness often, in hunger and thirst, in fastings often, in cold and nakedness" (2 Corinthians 11:23-27).
Here was a follower of Christ who faced intense persecution and knew personally what it meant to do without—to be hungry, thirsty, cold and lacking clothing repeatedly. He did not understand suffering in theory—he lived it.
So, when he wrote to the Philippians—with a Roman guard eyeing him and a chain attached to his ankles (Philippians 1:7)—he was in a unique position to offer advice and encouragement to the brethren who might one day find themselves in a similar predicament.
Instead of grumbling and complaining about his sore ankles, he wrote, "Be anxious for nothing, but in everything by prayer and supplication, with thanksgiving, let your requests be made known to God" (Philippians 4:6).
Today, we might be anxious about inflation, rising gas prices, food shortages, supply-chain issues, the possibility of job loss, or a number of other stressors—any of which, Paul says, we can pray about with thanksgiving.
When those actions are taken along with firm trust in the God who cannot lie, peace is promised—which means real freedom from crippling fear and worry.
The apostle was forced by circumstance to put this promise to the test repeatedly. The result was a profound lesson that he shared with the brethren: "I have learned in whatever state I am, to be content" (Philippians 4:11).
In other words, I have learned to be content, whatever the circumstances may be, whether things are difficult or not.
What was the secret to his contentment in life? How was he able to cope in spite of life's trying difficulties?
The true meaning of Philippians 4:13
Paul recognized that the challenges he had personally experienced—and the ability to remain in a state of peace and contentment afterward—required a level of strength that was beyond human capability.
The strength needed—the power to persevere—had to come from somewhere else, Someone else.
He tells the secret: "I can do all things through Christ who strengthens me."
The New Testament in Modern English by J.B. Phillips translates it this way, "I am ready for anything through the strength of the one who lives within me."
Paul knew that life as a Christian would undoubtedly include suffering—as many scriptures testify—and that was something to be expected, not something to be surprised by. For more about suffering, read "Why Am I Suffering?"
Paul's peace of mind came from his determination to be content with his life's circumstances and to trust in God to see him through.Even though this beloved man of God had experienced a great deal of suffering, he was terribly aware of the fact that his difficulties were not yet over.
But what challenge could he face that would be too overwhelming for even the power of Jesus Christ, the Son of God?
None!
All things—every trial, test, persecution—could be overcome through Christ's presence within him.
Paul was familiar with the psalmist's words: "Many"—not a few—"are the afflictions of the righteous, but the LORD delivers him out of them all" (Psalm 34:19).
He had grown confident of that reality after experiencing what he called a "thorn" in his flesh, which Christ had permitted him to suffer through for a reason.
He wrote about this particular thorn or trial, "I pleaded with the Lord three times that it might depart from me. And He said to me, 'My grace is sufficient for you, for My strength is made perfect in weakness'" (2 Corinthians 12:8-9).
Whatever the thorn may have been, the apostle's pains and aches and stresses were all working toward a purpose—and that gave him peace of mind.
The fact that he could live to tell of his trials was evidence of Christ's indwelling strength, and the fact that he was able to share life-changing lessons from those trials gave him purpose. Both points provided every cause to be content about the challenges that lay ahead.
To learn more about how our experiences work for our ultimate benefit, read "'All Things Work Together for Good' (Really?)."
Philippians 4:13 and you
Worrying, fretting and wailing "woe is me" about Christian adversity was not in the apostle's character, and it should not be in the character of any Christian.

Paul's peace of mind came from his determination to be content with his life's circumstances and to trust in God to see him through and provide him with the strength he needed to endure.

Suffering was a fact of life the early Church had to cope with, so members exhorted each other by saying, "We must through many tribulations enter the kingdom of God" (Acts 14:22).

They knew the journey would be tough.

But Christ's promise to those who carry on and fight the good fight of faith is a reward beyond what the human mind is able to conceive.

Notice Jesus' words: "But he who endures to the end"—the person who does not let down and quit and abandon the faith—"shall be saved" (Matthew 24:13).

A glorious future awaits all those who really believe that all things can be endured through the help of Jesus Christ.

That is the inspiring and hope-filled meaning of Philippians 4:13.

Topics Covered: Christian Living, People in the Bible, Christian Growth