There's a Proverb for That: "I'm Addicted. Help Me!"
Addiction is a threat to people around the world. Can wisdom literature from thousands of years ago offer help to addicts desperate for change today?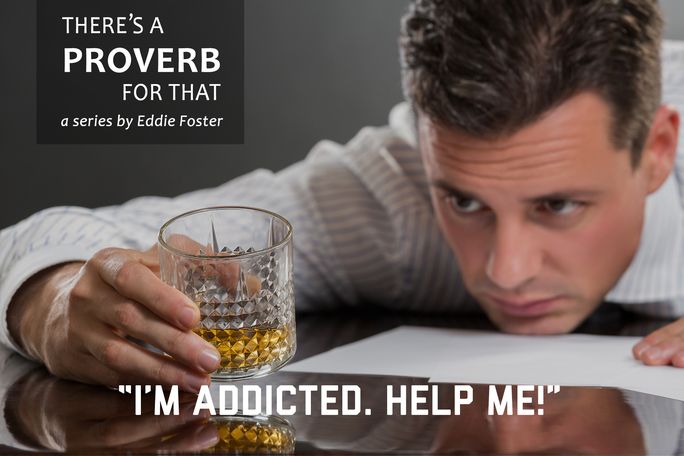 The Bible is often derided as being outdated. So with challenging modern problems such as addiction, can answers really be found in such an ancient book? Why, yes! Yes, they can.
Addiction: the elephant in the room
Addiction used to essentially refer to drug or alcohol dependence. Now, addiction can include many other things: pornography, junk food, gambling, video games, sex, hoarding, shopping and more. The habitual nature of these behaviors can lead to destroyed relationships, loss of reputation, seclusion and feelings of worthlessness and failure. Those who admit that they have an addiction and want to change far too often find the habit pushes back powerfully. When addiction reaches this point, help is needed.
Jesus Christ wants us to live an abundant life (John 10:10), but this is impossible when we are mired in destructive addictions. Though much is required to change, and those with addictions should seek professional help, thankfully there are also many proverbs that offer help.
Proverbs and implications
1. Proverbs 15:22: "Without counsel, plans go awry, but in the multitude of counselors they are established."
Addiction usually cannot be overcome alone. No matter how convinced we are that our willpower alone can prevail, often it just doesn't work. Addiction usually cannot be overcome alone. No matter how convinced we are that our willpower alone can prevail, often it just doesn't work. Another proverb tells us the most important Counselor we need to go to for help: God (Proverbs 19:21). After that, we should seek wise human counsel. Not just from friends, but from those who can offer meaningful help.
Implications: Enlist loving, nonjudgmental friends, family and even professionals to help in overcoming addiction. Accountability partners can help end the island of seclusion that addicts often inhabit. Receiving help and advice from several counselors, as well as the Counselor (with a capital C), can be a powerful weapon against addiction.
To learn more about how God can help you change, read "Seven Steps for Overcoming Sin."
2. Proverbs 16:3: "Commit your works to the LORD, and your thoughts will be established."
This proverb reminds us to focus on pleasing God with our thoughts and actions. Professional counselors often begin by helping an addict replace problem thoughts with rational, healthy thoughts, and experts often recognize the positive role a spiritual focus plays in this process. Proactive, godly thoughts, speech and actions do battle against addiction and its triggers.
Implications: We must study and learn why God hates certain addictions and contemplate the severe damage and misery they bring upon us. Committing our lives to positive thoughts and behaviors (such as loving others and sacrificing our time to serve them) will help us replace addictive thoughts and behaviors.
3. Proverbs 28:13: "He who covers his sins will not prosper, but whoever confesses and forsakes them will have mercy."
Relapses, failures and constant battles are a reality for anyone facing the uphill climb out of addiction. God is able and ready to help, but we have to admit to Him and ourselves that the problem exists. When we admit our failures and renew our commitment to change and not repeat our mistakes, we can trust that God will help us (Proverbs 29:25). To learn more about change from a spiritual perspective, read our article "What Is Repentance?"
Implications: Those recovering from addiction need to go one way: up. It might be a long and difficult climb with some slips along the way, but we have to consistently move upward and out of the addiction. Even if it takes giving up some personal freedom and privacy to an accountability partner, we have to keep moving up.
Read our blog post "Get Out of the Boiling Pot!" for further insight on starting the climb out of addiction.
Plenty more where those came from
With such a huge issue as addiction, this blog post only scratches the surface. However, the main idea from the Proverbs is evident: Successfully changing our thoughts and behavior requires help from God and others, as well as persistence in continually getting up after falling down.
When addiction rears its ugly head in your life, remember there's a proverb for that.
For more insight into addictions, read our series on "Freedom From Addiction."

Read the next blog post in this series: There's a Proverb for That: "Why, Yes, I Am a Parent"