"Long Live the Queen!": Life Lessons From Queen Elizabeth II
This is a review of a book about Queen Elizabeth II by Bryan Kozlowski. With its subtitle "23 Rules for Living From Britain's Longest-Reigning Monarch," it offers some valuable principles for us.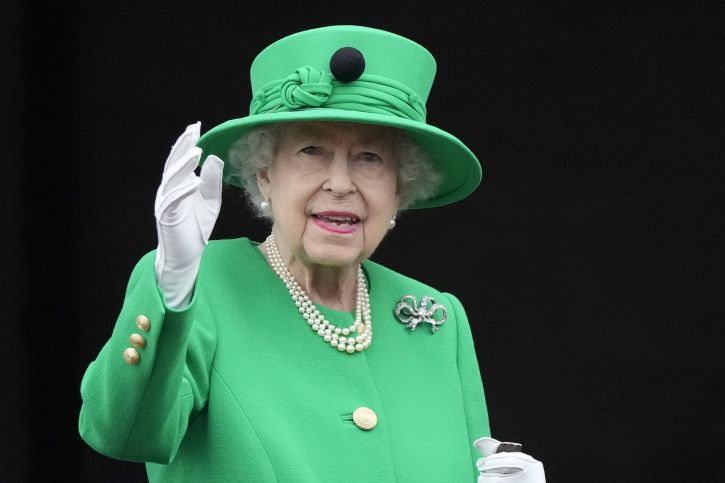 I've always had a fascination with the British royal family and remember watching in awe the marriage of Prince Charles and Lady Diana. Since true Christians are destined to be rulers in God's Kingdom, learning to be a good and faithful monarch is worthy of our attention.
When I came across the article "Life Lessons From Queen Elizabeth II," written by Bryan Kozlowski, it caught my eye. He outlined a few points from his 2020 book Long Live the Queen! After reading his article, I bought the book to learn more. As I read, I developed an immediate sense of inspiration and deep respect for this beautiful monarch.
Since the queen is currently celebrating her 70th year on the throne (Feb. 6, 2022), and her official celebration took place June 2-5, 2022, I thought you would enjoy learning about some of what this beloved queen has learned and implemented in her life to help her reign successfully for so many decades.
This well-researched book (the "Source Notes" and bibliography section of the book spans 50 pages!) begins with Elizabeth as a child and shows how her upbringing taught her vital principles she continues to practice to this day. Her mother believed in a "well-ordered" life, and so her daughters had predictable routines, repetitive schedules, all conducted with punctuality. Elizabeth thrived on order, making a time and place for everything. As a child, Elizabeth would line up her toy horses before going to bed. She even straightened her sister Margaret's shoes before retiring. To this day, the queen finds great comfort and strength in routine, her daily routine varying little over the decades.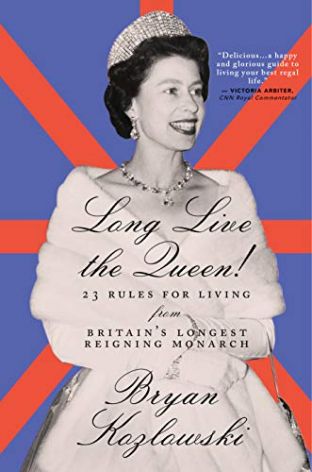 One of her "life lessons" that stands out is the fact that she understands her relationship with God and the role He has given her. Engraved on the one-pound coin "are the letters, D-G-REG, which stands for Dei Gratia Regina, 'by the grace of God,' an acknowledgement that the monarch's power and position doesn't derive from the government or the consent of the people, but directly from God, the ultimate Sovereign."
She understood in the anointing during her coronation that the spiritual blessing conferred by the archbishop made her queen and not just the act of putting on a crown. She understands and takes great comfort in knowing that "Some One Else is ultimately in charge." She told the Australian Parliament in 1954, "It is my resolve that under God I shall not only rule but serve." In 2002 she told her subjects, "I know that the only way to live my life is to try to do what is right, to take the long view, to give of my best in all that the day brings and to put my trust in God."
Queen Elizabeth has a keen sense of where her position, strength and ultimate future come from. Through the years, as difficult as some of the problems she has faced were, both politically and personally, she did not waver from her faith and trust in God. She has maintained a clear perspective that "Some One Else" is ultimately in charge.
Long Live the Queen! is divided into six sections with a total of 23 life lessons that she has shared with the book's author. I will give a brief overview of each of the sections to give you a flavor of what the book contains.
"Eat Like a Queen"
The first section is titled "Eat Like a Queen." One would think that being the queen, she and her family would eat lavish meals three times a day. This couldn't be further from the truth. If Queen Elizabeth had eaten "the queen's food," she may not have enjoyed such a healthy and long life! Instead, her meals are "fuel" to her.
While she was a teenager, her father, the king, insisted that the family live as close as possible to other Brits going through the war.While she was a teenager and the world was in the throes of World War II, her father, the king, insisted that the family live as close as possible to other Brits going through the war. The family never went hungry, but this way of eating left a mark. So, a simple dinner of meat, gravy and potatoes is just fine for the queen. As she dines, she eats slowly, pausing between bites, and stops eating when full.
Part of her daily routine is teatime at 5 p.m. She makes sure her schedule allows her to be back home for this precious time in which she can treat herself, gather her thoughts and relax in the comfort of familiar surroundings. And even though a lovely pastry cart is delivered to her at teatime, she still exercises the same self-control that she does at dinner time. A few small treats savored and her favorite cup of tea are just enough to recharge her batteries.
"Work Like a Queen"
Part of her Christmas broadcast to the nation in 1953 was a lifelong vow to "give herself heart and soul to her duties every day of her life." She has lived this vow. Because of her appreciation for an ordered life, her routine has remained the same throughout the decades . . . waking up to a cup of Earl Grey tea at 7:30 a.m., bath, reading several newspapers over breakfast, attending meetings and going through her red box (daily updated government documents in need of reading and signing, or a briefing prior to a meeting), visits outside the palace, teatime, more reading, dinner and in bed by 11 p.m. A very full day for someone who has been doing this for 70 years!
This predictable routine is incredibly grounding and gives her stability in the midst of profound and sometimes perilous change. Helen Mirren (the actress that portrayed her in the 2006 film The Queen) says about the queen: "To be that consistent for that long is amazingly comforting. It shows such reliability. She has never lurched in one direction or another."
"Play Like a Queen"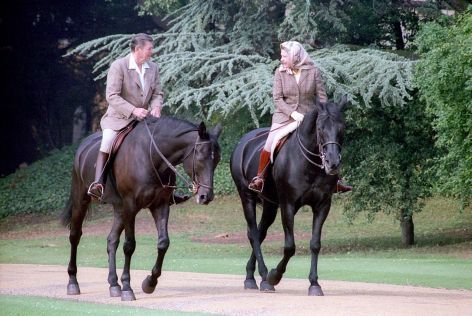 The queen plays? Her former private secretary, Tommy Lascelles, said, "Elizabeth has a healthy sense of fun." Her play has been her natural outlet for wider passions (oh, how she loves her horses and her corgis!), her means of exercise, her mental rejuvenation and her physical rest. Play helps fire the imagination, encourages optimal mental health, sharpens the wits and is healing!
The queen, even in her advancing years, seems to have an incredible amount of energy. Walking has always been a part of her afternoon routine. When she is at Buckingham Palace, she will go for a long walk through the garden with her corgis. A walk in nature is like a mini vacation for the brain. Taking deep breaths of fresh air into the lungs is relaxing and good for the body. She finds being able to escape with family to her country home, Balmoral Castle, to be healing and restorative and helps to give her fresh eyes for the seriousness of her job. It is a time to practice quiet, circumspection, seclusion and calming rituals, all in the privacy of a few close family members.
Sadly, due to her current health, the queen is not presently able to be as active as she was in past years.
"Think Like a Queen"
Biographer Andrew Marr says of the queen, "She has uttered not a single shocking phrase in public. There are no reliable recorded incidents of the Queen losing her temper, using bad language, or refusing to carry out a duty expected of her."
Where does this composure, courage, calm and collected frame of mind come from? It is a learned ability that has taken years to develop. ("To get calm in the face of problems rather than allow herself to get her adrenaline up and to panic," says friend Monty Roberts.) She is very good at keeping her emotions in check, so there is less drama and more strength and stability for the monarchy.
She has remained resolute through very serious trials that have affected her and her family—the deaths of her mother, sister and beloved husband, Prince Philip; the divorce of Charles and Diana; Diana's untimely death, to name just a few. Through these all, she has "kept calm and carried on." Queen Elizabeth is quoted as saying, "Perhaps we make too much of what is wrong and too little of what is right. Gloom . . . feeds upon itself and depression causes more depression."
One of the ways she defuses stressful or awkward situations is to try to see the humor in them. Prince Philip apparently had a wonderful way of keeping his wife's spirits up with his sense of humor. She is also one who prefers asking questions in a conversation, rather than talking about herself. This has left many of her audiences feeling refreshed and their esteem for her greatly increased.
"Love Like a Queen"
How does Queen Elizabeth show her love? It is through her tireless acts of service to her people. She learned this in part from her mother, who said, "The point of human life and living [is] to give and to create new goodness all the time."
The queen is a realist and recognizes that not everyone will like her. She knows that she cannot please everyone and does not attempt it. What she does is continue to follow her personal purpose statement: "I declare before you all that my whole life whether it be long or short shall be devoted to your service and the service of our great imperial family to which we all belong."
"Age Like a Queen"
The queen's look has always been timeless. She has not caved into fashion trends over the decades, but has worn clothing befitting a modest woman. Her dresses and accessories are usually of solid color and are bright and cheerful (this is so the public can easily spot her). Her complexion is velvety soft and a delicate shade of pink (this is from avoiding sun exposure over the years). Her hair is gleaming white. She has not succumbed to surgeries to make her look younger or change her body shape. She believes that true, ageless beauty is when you let age honestly speak for itself.
Queen Elizabeth has never stopped learning. She keeps on bending and stretching and extending her mind to accommodate new ideas and new ways of thinking, without compromising her values. She works at staying "fresh" mentally, spiritually and physically.
Yet the queen knows that there will be an end to her life. She has prepared for this. She has worked her whole life and dedicated that life to her people and her family. "The true measure of all our actions is how long the good in them lasts." A life well lived will always create good that outlasts you. Her resolve to unselfishly serve has left an indelible impression not only on the British people, but on the world. The good she has done over the decades will continue on through those who see the value of this "way of give"—in those who carry on her beautiful example.
This past weekend Britons marked their queen's platinum jubilee—70 years of service to the 54 nations making up the Commonwealth today. These celebrations were an honor to this most dignified and humble servant we learned about through Bryan Kozlowski's book Long Live the Queen!

Photo Credit: AP Images/Star Max 2
Topics Covered: Historical Events, Life Lessons