Are Non-Christians Condemned to Hell?
Does God condemn all who do not believe in Jesus Christ to an eternity in hell? Can Christians reconcile the idea of eternal torment with a God of love?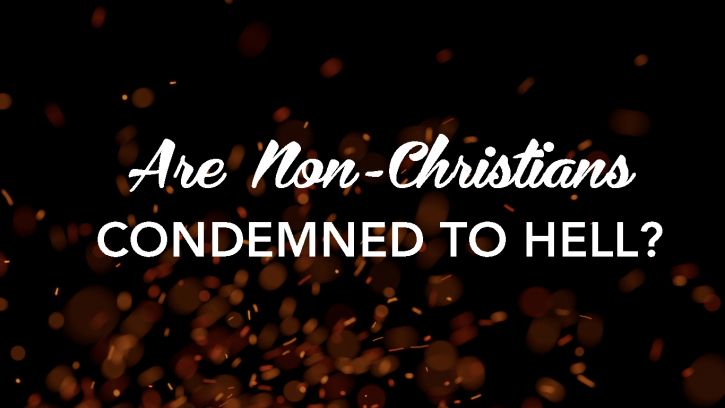 In a confirmation hearing, U.S. Senator Bernie Sanders questioned the faith of a nominee for a government office, Russell Vought. In 2016, Mr. Vought wrote a commentary piece objecting to a Facebook post made by a former professor at Wheaton College who had said that Christians and Muslims worship the same God.
Senator Sanders zeroed in on this statement by Mr. Vought: "Muslims do not simply have a deficient theology. They do not know God because they have rejected Jesus Christ his Son, and they stand condemned."
Senator Sanders considered the above statement hateful. He pointedly asked Mr. Vought, "Are you suggesting that all of those people stand condemned? What about Jews? Do they stand condemned too?"
Mr. Vought avoided answering these questions in the hearing.
Moving away from the issue between Senator Sanders and Mr. Vought, let's focus on the bigger issue: Does the Bible teach that all people who aren't Christian are condemned to hell?
Despite the fact that many who profess faith in the Bible believe it does, the Bible does not teach this. What does the Bible actually teach?
No other name
The Bible is clear that salvation is only possible through the name of Jesus Christ (Acts 4:10-12). It also says that those who don't believe will be condemned (John 3:18). Both of these statements are inspired and absolutely true.
Because of these scriptures, many assume that those who don't accept Jesus as their personal Savior today are condemned to an ever-burning hell forever. This has created many skeptics of Christianity, and rightfully so.
However, this belief of mainstream Christianity is not true and is based on two faulty teachings:
1. Today is the only day of salvation.
A careful study of the Bible shows that God is not trying to save everyone right now. Since Adam and Eve's eviction from the Garden of Eden, God has allowed this world to be subject to Satan, the "god of this age," who has "blinded" the minds of mankind so they can't see and understand God's truth (2 Corinthians 4:4). Under Satan, the whole earth has become "subjected to futility" and in "bondage of corruption" (Romans 8:20-21).
A careful study of the Bible shows that God is not trying to save everyone right now.But God does not plan to leave it that way. Jesus Christ's return will lead to "times of restoration of all things" (Acts 3:21). This restoration will include the removal of Satan and his influence (Revelation 20:2, 10; Zechariah 13:2). After this, God will begin the process of calling those who didn't have the opportunity in this age.
To learn more, read our articles "Resurrections: What Are They?" and "The Prophesied Restoration of All Things."
2. Man has an immortal soul.
The first recorded lie to a human being is found in Genesis 3:4. Satan told Eve, "You will not surely die." This directly contradicted what God had taught Adam and Eve: "You shall surely die" (Genesis 2:17). Understand the difference: God said the human soul is mortal; Satan claimed the human soul is immortal.

Adam and Eve accepted the lie, and human beings, largely influenced by popular religion, have believed it ever since.

Consider the following false teachings that encapsulate this lie:
According to Buddhism, Hinduism and other religions, life-forms do not die but are continuously reborn into different forms depending on the deeds of one's life.
The ancient Egyptians believed deceased people's spirits contend with gods, strange creatures and gatekeepers to reach Osiris, the god and chief judge of the underworld, and plead their case for entry into the afterlife.
Most of Christianity teaches that man has an immortal soul that goes to either heaven or hell after death. But God declares that human beings do die (Ezekiel 18:4-20). In fact, the Bible declares death—not torment—to be the ultimate punishment of the unrepentant (Romans 6:23). Death, the total cessation of life, is much more merciful than an eternity of torment. To learn more, read "Immortal Soul: What Is a Soul?" "What Christianity Gets Wrong About Hell" and "Is Ariel Castro Burning in Hell?"
God is love
Just as absolutely as the Bible declares that Jesus is the only path to salvation, it also declares that "God is love" (1 John 4:16). The two statements don't contradict. A God of love would not condemn those He hasn't called, those who are spiritually blinded, to an eternity of torment. In fact, this false teaching was likely perpetuated by Satan himself to deceive people into believing God is a hateful and vengeful being.
It's one of our goals to help our readers learn about the true God as He reveals Himself. He is not a vengeful being who would condemn humans to an eternity of torment.
Consider the following scriptures showing that it is God's will to make salvation accessible to all people:
The true God will not send people to hell for being Muslim or Jewish. His plan is much greater, more merciful and more fair than that!