3 Steps for Dealing With Problems in Life
The times we live in are filled with problems! But are there strategies we can use to reduce and solve our problems? How can we handle our problems in life?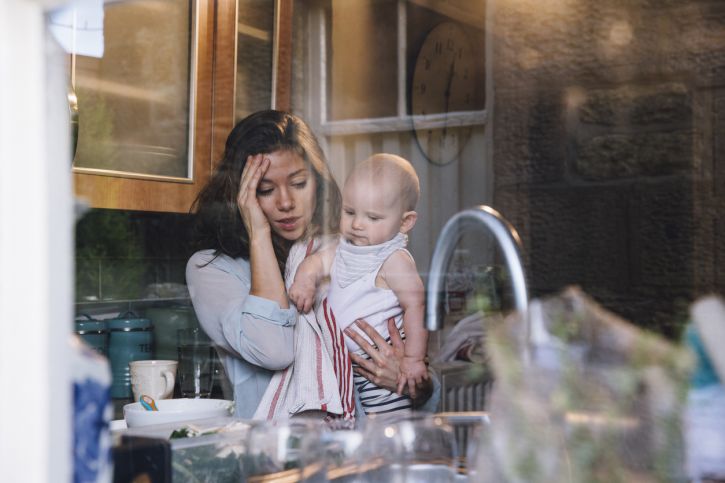 Shortly before His death, Jesus spoke to His disciples about what would happen after His ascension: "These things I have spoken to you, that in Me you may have peace. In the world you will have tribulation; but be of good cheer, I have overcome the world" (John 16:33, emphasis added throughout).
"Tribulation" means troubles, problems and worries. Jesus clearly said that we would have trouble. Today our problems can be abrupt disruptions in our lives, ongoing issues we continually deal with, or just negative annoyances or concerns.
A bit later, Jesus prayed these words to the Father: "Now I am no longer in the world, but these are in the world, and I come to You. Holy Father, keep through Your name those whom You have given Me, that they may be one as We are" (John 17:11).
Jesus showed the reason His people would continue to have troubles—because they are "in the world."
Is there anything we can do to handle our problems?
The origin of problems
First, let's go back to the beginning to learn about the origin of problems.
There's no indication that Adam and Eve had problems before they chose to sin. In the beginning, they enjoyed a perfect relationship with God, and He provided them with all the blessings they needed.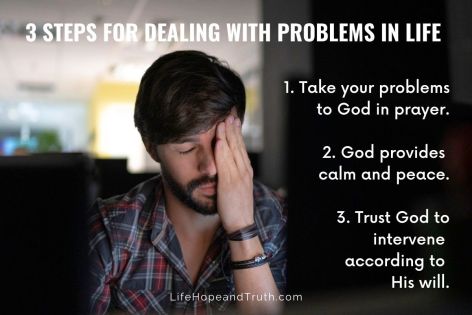 But He also gave them freedom of choice. They could obey, or they could disobey, following their own desires. If they obeyed, God would bless them and continue to provide them with His direct presence and guidance. If they disobeyed, they would be essentially on their own to deal with all the problems life would throw at them.
Unfortunately, they decided to disobey, and as a consequence, they brought many problems upon themselves.
Because of sin, human lives have been filled with conflicts, suffering and a multitude of complex and simple problems. This has been the norm, not the exception. Solomon lamented this in Ecclesiastes 9:3: "Truly the hearts of the sons of men are full of evil; madness is in their hearts while they live, and after that they go to the dead."
For most of us, probably the worst thing about our problems is that we never know how and when they will show up in our life—and how long they will last!
We have to face the problems
An anonymous author wrote these wise words: "Running away from any problem only increases the distance to the solution." Henry Ford was quoted as saying: "Most people spend more time and energy going around problems than in trying to solve them."
Sometimes we face problems that the Bible addresses directly. In those cases, the issue is simply applying the biblical wisdom principle to the situation.Unfortunately, we often try to avoid dealing with problems. But we can't avoid them forever. Sooner or later, we have to face them.
Sometimes we face problems that the Bible addresses directly. In those cases, the issue is simply applying the biblical wisdom principle to the situation—and the problem will eventually be solved (sometimes quickly, other times slowly) over time.
For instance, if we have relationship issues with people because we speak harshly, are critical or use bad language—then going to a section of Scripture that deals with controlling our speech (such as James 3) and changing the way we talk will begin to solve that problem.
But sometimes we face problems that have no simple solution. Sometimes they are outside of our ability to fix or make better.
God's Word provides many tips to help us recognize and face these kinds of problems. Sometimes we can find important insights embedded into the stories of people in the Bible. One example is the account of Hannah, the mother of Samuel. She, too, had problems she had to deal with—with no simple solutions.
Looking at her experience and actions can give us valuable insight we can apply today.
Hannah's problems and troubles
The Word of God tells us that there was a man named Elkanah who had two wives, named Peninnah and Hannah. This in itself (having two wives) was already a problem. But Peninnah had children and Hannah did not, which generated more problems.
Hannah was troubled because "her rival [Peninnah] also provoked her severely, to make her miserable, because the LORD had closed her womb. So it was, year by year, when she went up to the house of the LORD, that she provoked her; therefore she wept and did not eat" (1 Samuel 1:6-7).
Hannah couldn't have children and suffered tension between herself and Peninnah. This caused her much stress and pain. The Bible describes her as being "in anguish" (verse 10).
Let's look at three lessons we can learn from how Hannah handled her problems.
1. Take your troubles to God and put them in His hands
Hannah, in her grief, took her problems to God. She knew that only He could help her. We read that she "prayed to the LORD and wept in anguish" (verse 10) and that she "continued praying before the LORD" (verse 12).
Hannah shared her deepest troubles and concerns with God. She understood that only He could solve them—and she put them in His hands. She had faith that with God nothing is impossible.
To truly surrender one's problems into God's hands brings deep peace, even if sometimes the answer does not come immediately. Faith must be exercised in taking things to God and in waiting patiently for His answer.
To learn more about how to go to God for help through prayer, read "Prayer of Faith" and "Prayer From the Heart."
2. God provides calm and peace
After taking her problems to God, Hannah felt relief and a renewed joy. We read that after she made her request to God, she "went her way and ate, and her face was no longer sad" (verse 18).
Though she hadn't received an answer to her prayer just yet, her attitude and outlook changed after putting it into His hands. She had faith that God would answer.
When you have serious problems and feel tension and anxiety as they weigh on you, the best thing to do is to take your challenges to God and fully trust and believe He will answer according to His will. This is the best way to turn stress and anxiety into peace and calm.
To learn more about finding peace, read "Finding Peace of Mind."
3. Trust God to intervene—according to His will
After giving our problems to our Creator in prayer, we then must wait for His answer. Hannah's life had to continue.
God may not answer as fast or in the exact way we hope for, but He does promise to answer and help us when we genuinely take our difficulties to Him in faith.For Hannah, that answer seems to have come pretty quickly: "Then they rose early in the morning and worshiped before the LORD, and returned and came to their house at Ramah. And Elkanah knew Hannah his wife, and the LORD remembered her. So it came to pass in the process of time that Hannah conceived and bore a son, and called his name Samuel, saying, 'Because I have asked for him from the LORD'" (1 Samuel 1:19-20).
What a blessing it is when God intervenes in a problem that we thought had no solution. God in His love wants us to trust Him wholeheartedly, whatever the problem may be. He may not answer as fast or in the exact way we hope for (as He did for Hannah), but He does promise to answer and help us when we genuinely take our difficulties to Him in faith (Psalms 86:7; 91:15).
But even if He doesn't answer exactly as we would hope, we must also practice faith in accepting God's answer. We can't always see the "big picture" that God does. We must exercise trust that God will fulfill this promise: "All things work together for good to those who love God, to those who are the called according to His purpose" (Romans 8:28).
For more insight about this promise, read "'All Things Work Together for Good' (Really?)"
After God intervenes
Hannah, upon receiving an answer to her prayer, gave thanks to God with joy. "My heart rejoices in the LORD; my horn [strength] is exalted in the LORD. I smile at my enemies because I rejoice in Your salvation" (1 Samuel 2:1).

When God does answer our prayer and intervenes to deliver us from a problem, we should specifically thank Him for His mercy and favor.

Yes, our Creator promises that in due time He will answer our prayers and help us through our problems.

The good news is that Jesus Christ will return to solve our world's many problems. Some will only begin to be solved on that day. By teaching His laws and ways, Jesus Christ and His family will build a new world—one that will be increasingly free of problems, suffering and pain.

But between now and then, we can strive to live by His laws and ways—which will protect us from many of the problems we often bring upon ourselves.

As far as the problems that do come upon us, we can follow Hannah's example and take them to God, experience comfort and peace by putting them in His capable hands, and trust in Him to intervene according to His will.

Topics Covered: Christian Living, Prayer, Life Lessons