The Meaning of Hebrews 3:13: "Exhort One Another"?
Exhortation is mentioned multiple times throughout the Scriptures. What is exhortation, and what do Christians need to know about this biblical practice?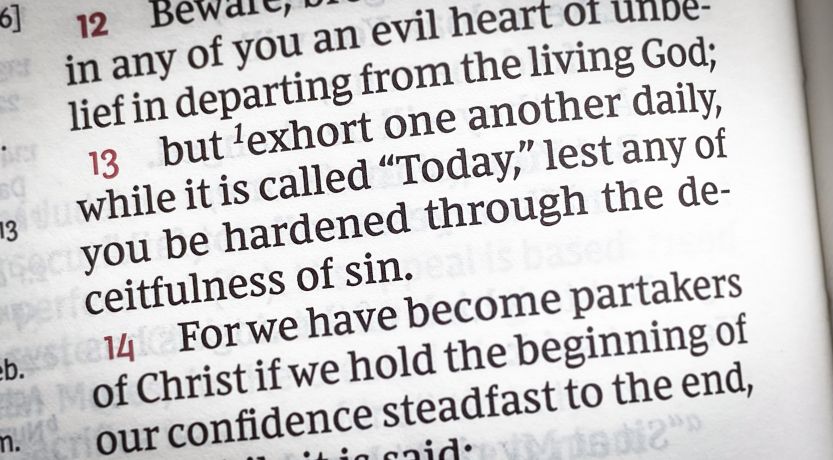 After recounting that Jesus Christ is greater than Moses and referencing Psalm 95:7-11, which recalls the Israelites' failure to heed God's voice, the author of the book of Hebrews provides Christians with some important advice.

Hebrews 3:12-13 reads: "Beware, brethren, lest there be in any of you an evil heart of unbelief in departing from the living God; but exhort one another daily, while it is called 'Today,' lest any of you be hardened through the deceitfulness of sin."

Tucked within this instruction, we find encouragement to exhort others.

To understand the meaning of this passage, let's consider the meaning and implication of the word exhort.
Meaning of exhort one another
The Greek word translated "exhort" in Hebrews 3:13 is parakaleo. This word is a verb meaning "to call to one's side, call for, summon . . . to address, speak to . . . to admonish, exhort . . . to beg, entreat, beseech . . . to console . . . to comfort . . . to encourage, strengthen . . . to instruct, teach" (Thayer's Greek Definitions).
This word further means, "'to urge' one to pursue some course of conduct (always prospective, looking to the future, in contrast to the meaning to comfort, which is retrospective, having to do with trial experienced)" (Vine's Expository Dictionary of New Testament Words, "Exhort").
Parakaleo means using language to strongly encourage others to do things that will benefit them in the future.
Implication of exhorting one another
The instruction for Christians to exhort their fellow brethren is consistent with the fact that God wants those who serve Him to interact with each other. As Paul explained, "We, being many, are one body in Christ, and individually members of one another" (Romans 12:5).
Though faithful Christians are sometimes isolated from other believers due to distance or health, God's intent, if possible, is for true Christians to be together and interact regularly with each other. Regularity is emphasized by the admonition to exhort one another daily.
Who is instructed to exhort?
Most of the New Testament scriptures about exhortation involve the ministry. For example, when instructing Timothy how to be a good minister, Paul advised him not to "rebuke an older man, but exhort him as a father" (1 Timothy 5:1, emphasis added throughout).
The Scriptures identify Paul, Peter and Jude exhorting brethren and ministers to remain faithful to God's way of life.Succinctly summarizing Timothy's job, Paul told him: "Preach the word! Be ready in season and out of season. Convince, rebuke, exhort, with all longsuffering and teaching" (2 Timothy 4:2).
Paul gave Titus similar advice. He explained that men who were to be appointed elders needed to be able "to exhort and convict those who contradict" (Titus 1:9). Paul then listed some basic things Titus should teach (Titus 2:11-14).
Concluding his thoughts on these subjects to Titus, Paul wrote: "Speak these things, exhort, and rebuke with all authority. Let no one despise you" (verse 15).
Incidentally, we note that the Scriptures identify Paul, Peter and Jude as also exhorting brethren and ministers to remain faithful to God's way of life (Acts 14:22; 1 Peter 5:1, 12; Jude 1:3).
What the book of Hebrews adds to this subject is that exhortation is not just for ministers. Members are also encouraged to exhort one another. In addition to Hebrews 3:13, which instructs all of us to exhort one another, Hebrews 10:25 implores us to be "exhorting one another" as the return of Jesus approaches.
A primary opportunity to exhort one another
When we consider the context of the two passages in Hebrews that encourage us to exhort one another, it appears that the author was especially pointing toward a specific occasion—the weekly Sabbath—when we would be able to follow this instruction.

The verses before and after Hebrews 3:13 discuss a "rest"—an obedient and peaceful relationship with God—that the ancient Israelites failed to experience because of their disobedience and unbelief (verses 11, 18-19). One of the many laws of God that Israel refused to obey was the observance of the weekly Sabbath (Ezekiel 20:12-13, 16).

Assembling—having a "holy convocation"—on this day was part of the instruction God gave on how it was to be kept (Leviticus 23:3). (To learn more about the biblical principles of Sabbath observance, read "How to Keep the Sabbath Holy.")

The fuller explanation of Hebrews 3:13 is that Christians should exhort one another not to be disobedient and unbelieving like the ancient Israelites were. The author then reminds us that an offer to enter into this rest—this special relationship with God—remains available (Hebrews 4:1).

Entering into this rest with God is connected to the weekly Sabbath (verse 4). The author concludes emphatically: "There remains a Sabbath rest for the people of God, for whoever has entered God's rest has also rested from his works as God did from his" (verses 9-10, English Standard Version).

A good opportunity for Christians to exhort one another is on the seventh-day Sabbath, when they rest from their normal labors and assemble as He commands.

For further study on the significance of Hebrews 4:9 for us today, see "Sabbatismos: Does Hebrews 4:9 Teach Rest on the Sabbath?"
A primary opportunity to exhort one another revisited
In Hebrews 10 we read another admonition to remain faithful to God: "Let us hold fast the confession of our hope without wavering, for He who promised is faithful. And let us consider one another in order to stir up love and good works, not forsaking the assembling of ourselves together, as is the manner of some, but exhorting one another, and so much the more as you see the Day approaching" (verses 23-25).
When we assemble with fellow believers on the Sabbath as God commands, we have a weekly opportunity to fulfill the instruction to exhort one another.
Subjects of exhortation
While the writer of the book of Hebrews seems to have had the Sabbath in mind when he instructed us to "exhort one another," what are some other times for exhortation mentioned in the New Testament?
Paul wrote: "Now we exhort you, brethren, warn those who are unruly, comfort the fainthearted, uphold the weak, be patient with all" (1 Thessalonians 5:14).

When suffering in a trial. Paul exhorted the members "to continue in the faith, and saying, 'We must through many tribulations enter the kingdom of God'" (Acts 14:22).
When encouraging spiritual growth. Paul wrote to members at Thessalonica: "Finally then, brethren, we urge and exhort in the Lord Jesus that you should abound more and more, just as you received from us how you ought to walk and to please God" (1 Thessalonians 4:1).
When experiencing various needs. Paul wrote: "Now we exhort you, brethren, warn those who are unruly, comfort the fainthearted, uphold the weak, be patient with all" (1 Thessalonians 5:14).
When urging the development of good character. Addressing some able-bodied members who had stopped working to live off charity, Paul wrote: "For we hear that there are some who walk among you in a disorderly manner, not working at all, but are busybodies. Now those who are such we command and exhort through our Lord Jesus Christ that they work in quietness and eat their own bread" (2 Thessalonians 3:11-12).
When needing prayers. Paul wrote: "Therefore I exhort first of all that supplications, prayers, intercessions, and giving of thanks be made for all men" (1 Timothy 2:1).
When confronting false teachings. Jude wrote: "Beloved, while I was very diligent to write to you concerning our common salvation, I found it necessary to write to you exhorting you to contend earnestly for the faith which was once for all delivered to the saints" (Jude 1:3).
Exhortation to apply the command
Now that we understand what it means to "exhort one another daily," let's heed the Bible's exhortations and also exhort our fellow believers to remain obedient and faithful to our loving Creator!
Topics Covered: Christian Living, Sabbath