Proverbs 20:3
It is honorable for a man to stop striving, since any fool can start a quarrel.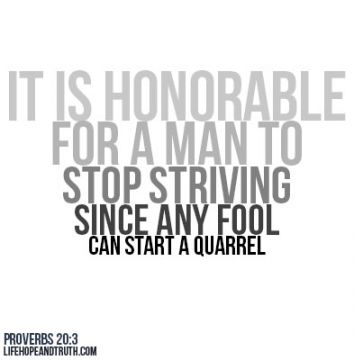 The book of Proverbs gives us a very practical piece of wisdom here: to be a person of character and to be at peace with others, a wise person should strive (try diligently) to not strive! "Striving" in this verse means contending, quarreling or disputing.
In essence, we are instructed to not be a person known for constantly provoking arguments and contention. Here are three keys to overcome striving:
Strive to not lose control of your temper in anger (Proverbs 14:29; 16:32; 19:11; James 1:19-20).
Strive to gain self-control over your words (Proverbs 10:19; 12:18; 21:23; Ephesians 4:29).
Strive to avoid harsh language that unnecessarily provokes contentions with other people (Proverbs 15:1).
To learn more about the biblical principles of communicating appropriately with other people, read "The Joys and Challenges of Communication."
Tomorrow on the Daily Bible Verse Blog: "Cain Brings an Offering."