No Temptation Beyond What You Are Able
1 Corinthians 10:13
No temptation has overtaken you except such as is common to man; but God is faithful, who will not allow you to be tempted beyond what you are able, but with the temptation will also make the way of escape, that you may be able to bear it.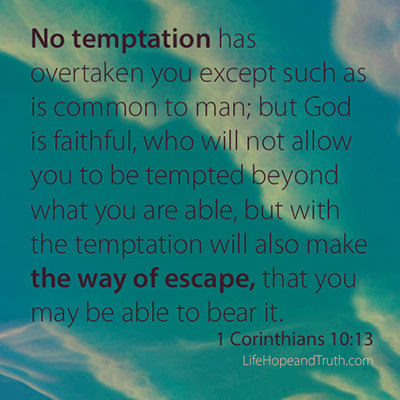 After warning the Christians in Corinth about the temptations they would face—the same ones ancient Israel faced—the apostle Paul gave them encouragement. God is faithful and always has our best interests in mind.
We must face trials and temptations to grow in godly character and to become more like Jesus Christ (James 1:2-4; Romans 5:3-4; 1 Peter 2:21).
Jesus set us the perfect example, and He can "sympathize with our weaknesses" since He was "in all points tempted as we are, yet without sin" (Hebrews 4:15). Because of that, we can "come boldly to the throne of grace, that we may obtain mercy and find grace to help in time of need" (Hebrews 4:16).
Knowing that we are not alone in our temptations can be reassuring, but much more encouraging is knowing that God will not allow us to be tempted beyond what we can handle. We can cry out to Him for the way of escape that He promises so we will be able to bear our trials and temptations.
For more about dealing with temptations, see "Temptation" in the "Deadly Sins" series.