With prices going up, we could all use some tips for buying what we need without going into debt. Here are some practical ways to save money.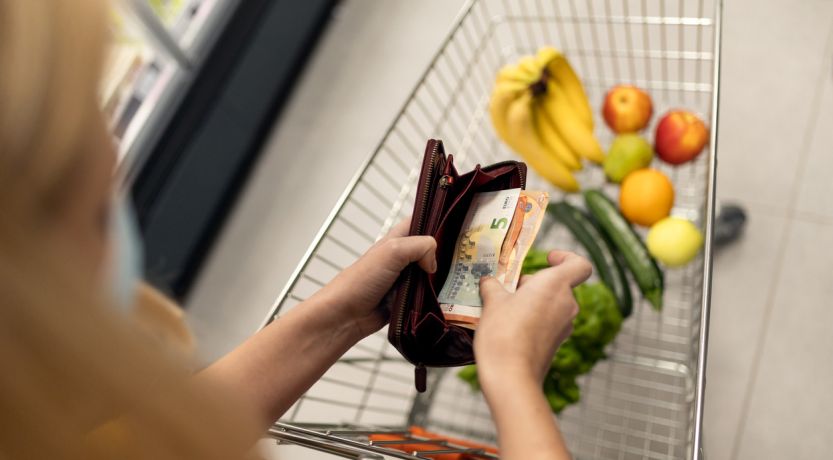 You go to the grocery store to buy a few necessities and walk out with two bags for $75. What?
Your child has outgrown his or her tennis shoes and even cheaply made ones are $30.
Gas prices make it painful to fill up your car.
Do these things ring true for you and sound familiar? Because of inflation and the economic downturn we are all living in right now, it's important to really think about and plan how to live more frugally. We must be proactive.
Make God your partner
The first step in anything big in life is to make God our partner.
When I start getting stressed out about all of life's little details, I say to myself: God is the Creator of the universe!
When a 90-year-old woman wavered in her faith about conceiving and bearing the child God had promised, God asked, "Is anything too hard for the LORD?" (Genesis 18:14).
Jeremiah 32:17 echoed this theme: "Ah, Lord GOD! Behold, You have made the heavens and the earth by Your great power and outstretched arm. There is nothing too hard for You."
This is a principle that we can take to the bank—we can fully trust in God, who cares for us.
With that firmly in our minds as a backdrop, are there practical things we can do to live more frugally and still have an abundant life? Yes, there are! Let's look at a few.
Budget!
Budgeting is imperative to making our money stretch. Know how much you have coming in and how much is going out. Budgeting helps us to live within our means. Because it is key to successfully navigating a rocky economy, budgeting must be a component of our plan to live more frugally.
Part of every Christian budget should be tithing. There is a promise from God in Malachi 3:10: "'Bring all the tithes into the storehouse, that there may be food in My house, and try Me now in this,' says the LORD of hosts, 'if I will not open for you the windows of heaven and pour out for you such blessing that there will not be room enough to receive it.'"
For more specific details on budgeting, see "Christian Budget" and "The Bible, Budgeting and You."
If you can't afford something, don't buy it. If it is an item you absolutely need, bargain hunt. But no matter what, create a budget and stick with it.
Become a bargain hunter
Bargain hunting is an art form for some, so if this is a new concept to you, don't reinvent the wheel. Ask around your workplace, church or community to find a budget and bargain mentor. Those of us who are bargain hunters love to show others the ropes.
When I was a young mother of two small children 18 months apart and was enrolled in nursing school, we were very tight on money. My 2-year-old daughter was outgrowing all of her church dresses. A friend who had three small children of her own helped me find seven new dresses for my child by introducing me to Goodwill. Seven dresses for $20 was amazing for a young mother. It was my first lesson in thrift shopping.
There are thrift stores and consignment stores in almost every town. This doesn't mean you should never shop retail, but if you do, shop the sales and bargain hunt. There is no need to pay full price for anything. There is no need to sacrifice quality either; just find the best quality for the price.
I love the hunt! It means being patient and comparing—no impulse buying allowed. Our society is all about instant gratification, and the advertisers know this. However, do you really need 20 pairs of jeans? Would having fewer work? Then you could put those extra funds into savings for when an emergency comes up.
Stock up when you see items you need on sale. We live in a small condo, but we still invested in a small chest freezer so we can purchase things that are on sale.
Bargain hunting is fabulous; just keep in mind that less is more.
Become a minimalist
Once I started applying this principle, I realized how many beautiful benefits it brought.
In order to become a minimalist, you need to survey your stuff and ask yourself two questions: Do I need it? Do I love it? If the answer to both is no, then there are several options for disposing of excess.
In an anxious time in history, how wonderful it is to know that God is on our side and will help us with every aspect of our lives!One option is to sell stuff you don't need. Facebook Marketplace is a great place for this. Another option is to consign your items. There are consignment stores for household items and clothing in almost every town. I use this option a lot. For example, when my child needs a new pair of shoes, I consign the ones he has outgrown and then pick out a quality used pair in his new size, paying little or sometimes nothing!
Another point to becoming a minimalist is to create a capsule wardrobe for everyone in the family. One rule we have in our house is, if you buy something, you have to get rid of something. This really prevents impulse shopping. I always ask myself, Do I need this? And if I do, do I love it more than something I already have?
It's also lovely not living in a house full of stuff we never use. It feels like it is so much easier to clean when there is not excess.
Another practical thing to do with excess is to give it away. I first try to find someone in our church congregation who could use the item, but if no one needs it, I donate it to a thrift store. If you attend a congregation with a lot of children, you could organize a clothing exchange a couple times a year. This can help all of the families clothe growing youngsters and save money.
Be creative
What about entertainment? Do you have to go without fun to survive? No way! Let your imagination and creativity lead you in this area.
Game nights are an example of inexpensive fun. We recently hosted a group of young people in our condo's community room. We simply had a meal and played games. It was fantastic!
Picnics in the park, hiking and camping are some other ways to enjoy family time or time with friends. There are so many ways to have fun without spending money, and there is no financial guilt incurred.
My favorite dates with my husband involve walking and ending up at a new coffee shop for a cup of java. If you are foodies, as we are, find new recipes and cook as a family. For us, it's just as much fun to spend $20 on some yummy ingredients and have a theme night—like Mexican or Greek—as it is to go to a restaurant and spend $20 per person.
Entertaining others doesn't have to break the bank either. Make it a potluck, and everyone can contribute a dish. Some of the inexpensive things you can do include setting up a hot dog bar or a baked potato bar with all of the toppings. Most people just enjoy the opportunity to fellowship with their brethren, and the food doesn't always have to be gourmet quality. So be creative and generate some fun memories.
"The plans of the diligent lead to profit as surely as haste leads to poverty" (Proverbs 21:5, New International Version).
In an economy that is struggling, we can feel the pressure to stretch our money. In response, we can diligently plan a budget, bargain hunt, be creative with our entertainment—and end up profiting from the whole experience.
In an anxious time in history, how wonderful it is to know that God is on our side and will help us with every aspect of our lives!