Marriage is one of the biggest decisions we'll make. Doesn't it make sense to seek wise advice before embarking on such a life-changing journey?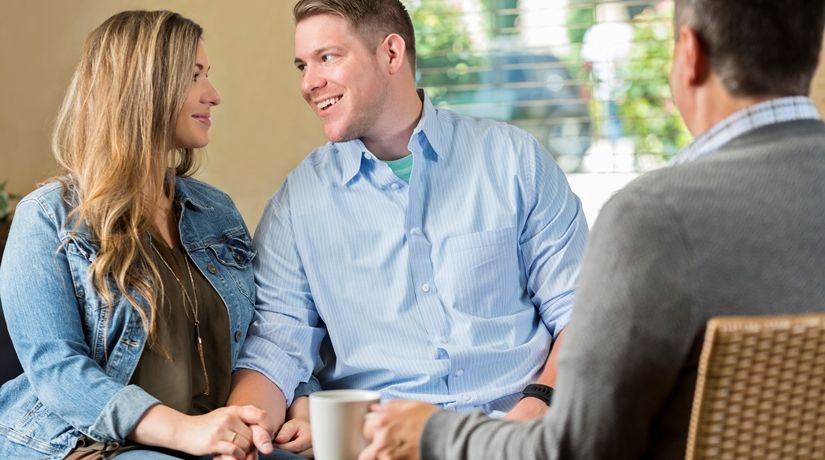 One of the few times I ever remember being really nervous was the day I got married.
Now don't get me wrong, I love the woman I married very much. In fact, we have been husband and wife for over 30 years, and our marriage continues to get better and better as far as I'm concerned. If you asked her, I believe she would tell you the same. And that's not because it was bad at the beginning either.
The reason I was nervous was simply the immensity of the moment and the realization of the commitment I was making to this person and to God.
"I do" was intended to be for life
You see, I was taught that the commitment I was making is for life. It's not a test-drive to see if we might be able to make it work. The reason I was taught that is because that's what God teaches in the Bible (Mark 10:6-9).
I'm going to assume that if you are reading this, you also believe the Bible is God's inspired Word, something you are to follow and live by. So if we are going into marriage knowing that it definitely is for life, then our approach to marriage is likely to be quite different from someone who might feel otherwise.
Statistics today vary on the percentage of marriages that end in divorce. Virtually everyone agrees that the divorce rate is down today from what it was in the late 1900s. However, a large reason for that is that fewer people are choosing to get married in the first place.
Instead, many people are choosing to live together (cohabitate) outside of marriage. Many simply don't value the institution of marriage. They desire some of the benefits that come with marriage, yet they fail to see that you can't really experience the fullness of those benefits outside of marriage itself (see "Living Together Before Marriage" and other articles in the "Marriage" section on this site).
To have a tremendously successful marriage, preparation is necessary
Have you ever heard of a business becoming very successful without preparation or planning? How about a sports team becoming a champion without a game plan? The same could be said for a wonderfully successful marriage—the more we plan or invest in preparation before we get married, the greater our odds of experiencing success.
Perhaps you have friends who don't feel marriage is really all that important. If that is the case, they are not likely to appreciate the idea that marriage counseling is of any great benefit. On the other hand, if you believe that marriage is something special—if you believe God intended a man and woman to marry and become one (Matthew 19:4-6)—then you can more easily appreciate the wisdom of getting some marriage counseling before you get married.
What is premarital counseling?
Premarital counseling is a concrete way to equip you and your future spouse to have greater success in your life together as husband and wife.Premarital counseling is talking with a minister or counselor about what to anticipate and prepare for, both before and after getting married. It is a concrete way to equip you and your future spouse to have greater success in your life together as husband and wife.
This counseling is designed to help you develop in the areas of character that lead to a successful marriage. The odds of experiencing a marriage with a high degree of peace and happiness improve significantly if you both understand the importance of a healthy relationship with God.
The same can be said when we come to understand how important it is that we communicate with one another in a way that is honest and loving. Issues such as tone of voice can play a huge role in our ability to successfully communicate with one another.
What about money? Many marriages have struggled mightily because of financial stress. In fact, financial troubles have been the primary cause of many broken marriages. Premarital counseling can help a couple develop healthy budgeting skills to save themselves from potential heartache after getting married.
Here is a list of topics that a good marriage counselor is likely to go through with you in premarital counseling:
Marriage expectations.
Communication skills.
Conflict resolution.
Financial matters.
Children and parenting.
Spiritual beliefs.
Leisure activities and hobbies.
Personality traits.
Sexual expectations.
Family backgrounds.
This may not be all that your counselor covers, but when you think about it, each of these areas plays a vital role in experiencing a joyous marriage.
It could be good to ask potential counselors what their approach and training is before deciding on a specific counselor. If you place importance on the Bible, it can be very helpful to seek a Bible-believing minister with training in marriage counseling.
When should premarital counseling begin?
Just as it takes time to find the venue you want for your wedding, to get invitations out, to purchase or rent your attire, to find a caterer and a photographer and to save the money for everything, it is most ideal if premarital counseling begins months in advance. Frankly, it could be argued that counseling should begin before you even get engaged.
Why? What happens if you go through counseling only to discover something that makes it obvious you are not well-suited? Sure, that may not be likely to happen, but it does on occasion. Breaking an engagement is not always easy and can be quite stressful.
The choice of when to seek counseling is yours, but doing so well in advance of your marriage date affords you time to focus on proper preparation for a strong marriage before the hectic preparation for the wedding ceremony itself.
Marriage is special to God, and it should be to us
In Hebrews 13:4 we are told, "Marriage is honorable among all." In Proverbs 5:18 we are reminded to "rejoice with the wife of your youth." And in Genesis 2:24 we are told, "A man shall leave his father and mother and be joined to his wife, and they shall become one flesh." It is clear God intended human beings to experience and enjoy a wonderful life together as a husband and wife. But it doesn't "just happen." It takes work to have a successful, loving and joy-filled marriage.
No marriage is completely free of challenges or hardships because we are imperfect human beings. One way of improving our chances of having a highly successful marriage, however, is to go through premarital counseling with a qualified minister or marriage and family counselor well in advance of saying "I do."
For more about preparing for marriage, see "Three Don'ts Before You Say 'I Do.'"