Sins of the Father
The sins of the father strongly affect the children.

One man's crimes had a ripple effect on millions—and especially on his own family. How can we safeguard our children from ourselves?
I'll admit that I have generally focused on how the actions of children reflect on their parents, positively or negatively. But after I read The End of Normal (2011), by Stephanie Madoff Mack with Tamara Jones, I was reminded of what excruciating pain and shame the reprehensible actions of parents can inflict on their children and grandchildren.
Making the Madoff name notorious
The name Madoff probably strikes a chord. It should. Stephanie was married to Mark Madoff, son of now notorious and imprisoned Bernie Madoff of Ponzi scheme fame. I say was because on Dec. 11, 2010, Mark hanged himself on the second anniversary of his father's arrest for swindling thousands of people out of their life savings. His infant son was sleeping nearby. Disgrace had claimed its victim.
His wife's book chronicles the happiest moments of romance and marriage, the joys of children and the many wonderful family celebrations. It also pinpoints the time when their whole world changed: the day Bernie Madoff told his sons that his elite investment advisory business was all one big lie. There were no investments with brilliant returns, just somewhere around $50 billion in debts that he couldn't pay.
Shocked and outraged
Stephanie Madoff Mack writes that Mark and his brother Andrew were shocked beyond belief—and outraged. They quickly determined their only recourse was to turn their father in immediately.
Mack writes, "It was a decision that should have made them heroes, but would instead, for the foreseeable future, cost them everything—their family, their livelihoods, and their own good reputations. … The Ponzi scheme Bernie had run for decades would turn out to be the biggest in history, and those closest to him were inevitably caught in its cold shadow, regardless of their innocence."
Decline into depression and hopelessness
The rest of her book is a tragic account of her husband's efforts to rise to the occasion, to do the right thing and to manage his consuming anger. Nothing could slow his dark decline into depression and hopelessness.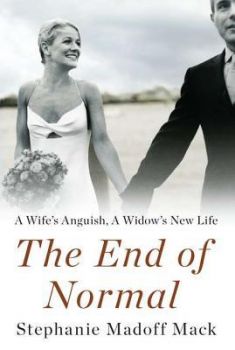 He tried to write a memoir about two weeks before he took his own life—one about love, betrayal and survival. He never got past a few opening paragraphs. Following are some excerpts:
"I lived in awe of my father from a very young age. He was the man that everyone wanted to be. His business was successful; had the admiration of his colleagues and the respect of government officials. … I knew my father to be one of the leaders of Wall Street, not a master criminal."
"My own father has stolen my life from me"
And in his last paragraph: "My own father has stolen my life from me. It's pain that is beyond description. The business that I spent twenty-three years building gone, I am unemployed, my livelihood destroyed, and my family will forever live with the shame of what my father has done."
The sins of the father
As I ponder the devastation and suffering radiating from Bernie Madoff's fraud, not only for trusting investors, but for his own family, I am reminded of scriptures such as:
"Let the iniquity of his fathers be remembered before the LORD, and let not the sin of his mother be blotted out" (Psalm 109:14).
"For I, the LORD your God, am a jealous God, visiting the iniquity of the fathers upon the children to the third and fourth generations of those who hate Me" (Exodus 20:5).
If only Bernie Madoff had considered these cautionary scriptures, how different life could have been for the family who loved and respected him so much.
Barnes' Notes offers the following regarding Psalm 109:14: "The matter of fact is that children and children's children often suffer from the errors, the crimes, and the follies of their parents, as in the case of intemperance, murder, and treason."
Safeguarding our children's futures
No parent is perfect—we can all find solace in that, and hopefully our children will know in the bigger picture that they are loved. But are there things parents can do that will safeguard the future of their children and even grandchildren? The answer lies in the following scriptures:
Be parents with integrity. "The righteous man walks in his integrity; his children are blessed after him" (Proverbs 20:7).
Keep God's commandments. "But the mercy of the LORD is from everlasting to everlasting on those who fear Him, and His righteousness to children's children, to such as keep His covenant, and to those who remember His commandments to do them" (Psalm 103:17-18).
Fear God. "In the fear of the LORD there is strong confidence, and His children will have a place of refuge. The fear of the LORD is a fountain of life, to turn one away from the snares of death" (Proverbs 14:26-27).
Epilogue and disclaimer
Stephanie Madoff Mack is attempting to move forward in her life. She changed her name to avoid undue publicity, moved with her two children to a new location and was furthering her education at the time of publication. Her challenges are ongoing.
Disclaimer: Memoirs are, by their very definition, subjective—they are personal accounts. Assignment of guilt and culpability continues to be controversial regarding the Madoff scandal, but there can be little argument that the deeds of a father led to the disgrace and demise of his son. And lessons can be learned from that.
For more about Christian parenting principles for the long-term benefit of the children, see the "Parenting" section.