One Man's Struggle With Depression
Our contributor on mental and social issues interviews a friend who has dealt with clinical depression. He shares his perspective on this serious issue.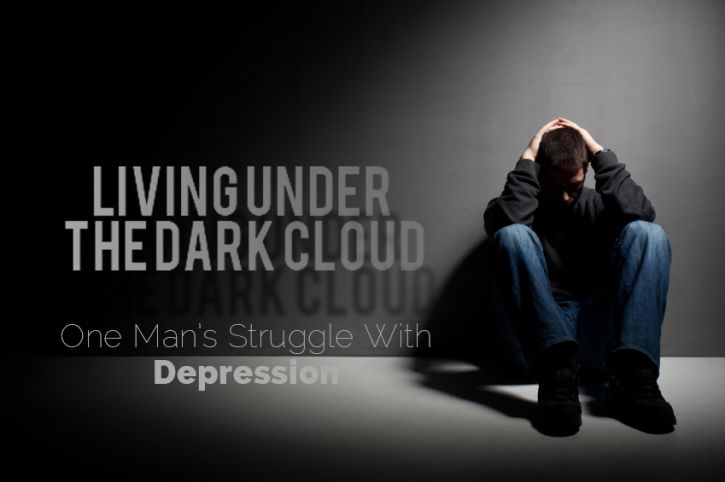 Kirk, now in his early 60s, recalls his first memory of feeling depressed. "It felt like a dark cloud was hanging over me. I didn't know what to call it back then." He was 14 at the time.
He is able to talk openly now about his mental illness, but that wasn't always the case, he says. He grew up in a broken home with alcoholic parents who were not around much. He and his siblings were fostered out to family for several of his early years.
They were tough times. He was forced to witness things he shouldn't have and was treated in ways no child (or adult) should. His cloud was a part of who and what he was, but he didn't understand it, and he dealt with it in the only way he knew how—going hunting, fishing and isolating himself.
Continued struggles
Years later, when he was married and had young children, Kirk and his wife were drawn to God and Christianity. He found himself being given opportunities to serve at church, and then an opportunity came to move to Texas and get a college degree in theology.
But being a full-time student and having full-time job responsibilities was overwhelming. At times, he would share with friends about the darkness he continued to struggle with. They told him he likely had some unconfessed sin or a demon. Confused but wanting to be right with God, he cried out in prayer on numerous occasions. "At times I would think He'd abandoned me, but then in the next moment I'd have a sense that He was there, helping me through it."
When he and his family finally came home, he realized belatedly how burned-out he was. He struggled to make even the simplest decisions. "I'd find myself in front of the cupboard, unable to even pick out a coffee mug."
He began to get counseling, but the pressures of his job, coupled with financial struggles and past wounds he'd never dealt with, finally caught up with him in a big way.
Crisis
"My wife came home from work and found me practically catatonic, curled up in a fetal position on the floor." Upon the recommendation of his counselor, he voluntarily checked into the state hospital. He knew that some might judge him for going and think him "crazy," but his need for help overrode his fear of what others thought.
Depression can take you to the bottom, but you don't have to stay there.It was there that the dark cloud was given a name—clinical depression.
Six weeks, several medications and many hours of therapy later, Kirk was released. He returned to work, his mood somewhat improved due to the medications. However, as he now shares, he began to spiral down again after about 18 months. He'd received some important thought-changing skills in the hospital, but he'd neglected to truly open up; he still carried around his troubles, and they were eating away at him like a cancer.
A second stay at a different hospital was Kirk's turning point. Determined this time to unburden himself, he took every opportunity to share his story. Counselors there were amazed at how forthcoming he was, but he'd come to realize the price he'd been paying by hiding his pain away.
King David's struggles with depression
Kirk's experience as a man with depression is certainly not new. The Bible chronicles the life of David, who became king over all Israel. A musician and songwriter, he immortalized his own struggles with situations that depressed him in the book of Psalms.
"Have mercy on me, O LORD, for I am weak. … My soul also is greatly troubled" (Psalm 6:2-3).
"For my life is spent with grief, and my years with sighing; my strength fails because of my iniquity" (Psalm 31:10).
"My heart is stricken and withered like grass, so that I forget to eat my bread" (Psalm 102:4).
A musician and songwriter, David immortalized his own struggles with situations that depressed him in the book of Psalms.Of course, there are also many Psalms where we find King David elated by God's intervention or, because he could see the context of his problems, knowing that good would triumph over evil in the end. He experienced this when defeating a lion and bear while protecting sheep, and in challenging and overcoming the giant Goliath (1 Samuel 17:34-37).
While today professionals recommend medication and therapy as the chief tools for combating depression, King David found his relationship with God to be the most important tool he had to overcome depressing situations.
Though he often felt deep despair and sadness, he also constantly praised God and His wonderful mercies. "I waited patiently for the LORD; he inclined to me and heard my cry. He drew me up from the pit of destruction, out of the miry bog, and set my feet upon a rock, making my steps secure. He put a new song in my mouth, a song of praise to our God" (Psalm 40:1-3, English Standard Version).
These days Kirk tells his story freely. He, like David, knows that through his struggles God has always been there and that he isn't alone. Even though God didn't remove his depression from him, He gave him the ability to cope and to become a source of inspiration for others.
He knows our culture stigmatizes the depressed, especially men. It may not be considered manly to open up about feelings; but, as Kirk found, it is necessary. "You get tunnel vision when you're like this. You can't see that there's hope or options or a better future ahead."
But there is!
Seek help
When we face the darkness of depression, our first place to turn should be to God in prayer and to His Word for hope and encouragement. Talking with God, sharing our struggles with Him, is what helps to build a spiritual relationship that will comfort and sustain us through the dark times.

But don't stop there! Professional help is almost always needed to combat clinical depression. Turning inwards is dangerous, as Kirk discovered. There are many therapeutic tools that can effectively help with the negative thinking that accompanies depression.

Depression can take you to the bottom, but you don't have to stay there. In Kirk's words, "I've been to the bottom and it's solid—God's there!" In other words, no matter how low we might get, God promises to be there for us if we reach out to Him (Isaiah 41:17; Matthew 7:7; Hebrews 13:5).

Please reach out—help is waiting.

(Note: If you or someone you know may be considering suicide, in the U.S. contact the 988 Suicide and Crisis Lifeline by calling 988. For other countries, see http://www.suicide.org/international-suicide-hotlines.html for suicide hotlines around the world.)

Topics Covered: Social Issues, Overcoming