Why Did God Give Us Mothers?
As people in more than 50 countries celebrate Mother's Day, consider the important role mothers have had in our lives. Why is godly motherhood so important?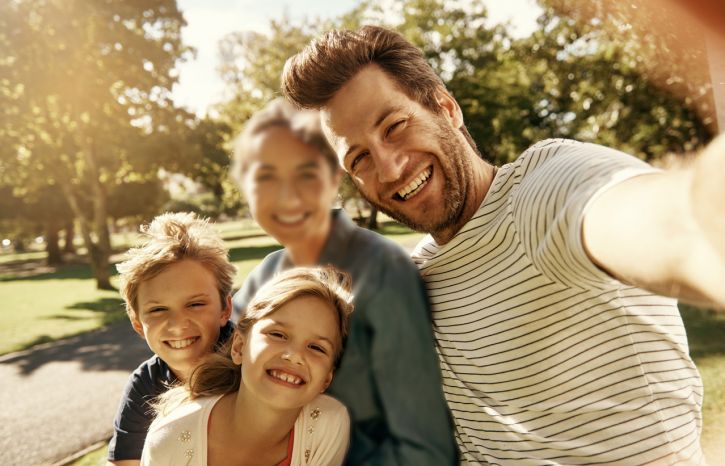 Neverland.
In the century since J.M. Barrie penned the story, countless audiences have been captivated by portrayals of this fictional land. It's where the Lost Boys roam the skies with Peter Pan, the Boy Who Wouldn't Grow Up. It's a land where time stands still, where there aren't any rules to be followed and where adventure and pirates wait around every corner.
It's a land of infinite possibility; but it's also a land without mothers.
No moms. No moms to tuck the Lost Boys in at night and read them a bedtime story. No moms to bandage up their cuts and bruises after a long day of playing and roughhousing with pirates. No moms to check for monsters under their beds, no moms to teach them manners, no moms to love them unconditionally.
No moms at all.
Men and women were created in the image of God
Can you imagine a world like that? Thankfully God had something better in mind.
When He created humanity, the Bible tells us, "God created man in His own image … male and female He created them" (Genesis 1:27). Though God reveals Himself as a male, God isn't a gender as we understand the concept. He created both males and females in His image.
By doing that, He gave the two genders His perfect characteristics in different proportions to fulfill different roles. For instance, God gave some of His characteristics in greater proportion to men to help them fulfill the roles of leader, protector and provider.
What lessons can we learn from a role God prepared specifically for women—the role of the mother?
What moms can teach us about God
Mothers play an invaluable role in our lives because they so naturally emulate godly traits that don't always come as naturally to fathers. Empathy, concern, compassion, open displays of affection and love—these are all characteristics of God, and they so often come as second nature to mothers.
God designed a godly husband and wife—a dad and a mom—as a type of the God familyOf course, not all mothers fulfill these roles perfectly, just as not all fathers fulfill their roles perfectly. There will always be bad examples to learn from. But the fact is, God created the role of mothers for a reason—to take care of us physically and mentally, yes, but also to provide us insight into our perfect Parent—our Father in heaven whom Jesus came to reveal (John 1:18). It's through mothers that we're able to understand some of the distinct characteristics of God—both Father and Son.
It's God, after all, who knows every tear we've ever cried (Psalm 56:8). It's God who carries us in love and pity (Isaiah 63:9). It's God who takes us by the hand (Isaiah 42:6), who suffers when we suffer (Hosea 11:8) and who shields us under the shadow of His wings (Psalm 36:7). Jesus Christ even likened His concern for Jerusalem to a hen gathering "her chicks under her wings" (Matthew 23:37).
Those aren't the kind of sentiments that mesh with the typical idea of a rugged, John Wayne–kind of man, but they are the kind of sentiments that naturally describe a good mother—and our God.
God designed a godly husband and wife—a dad and a mom—as a type of the God family (Ephesians 4:22-32).
To learn more about what we can learn from God's fatherhood, read "Knowing God as a Loving Father."
The influence of godly mothers
God intended for children to learn positive lessons from both of their parents. Unfortunately, not everyone has that opportunity—but when we do, we should treasure it as the incredible privilege that it is.
Solomon opens the book of Proverbs with this admonition to the reader: "Listen, my son, to your father's instruction and do not forsake your mother's teaching. They are a garland to grace your head and a chain to adorn your neck" (Proverbs 1:8–9, New International Version).
Traits like empathy, concern and compassion might come more easily to mothers, these are godly traits we should all be trying to emulate.The wisest king in all the world knew that a father's instruction is only part of the equation. A mother's teaching is equally valuable and naturally adds depth and dimension to the wisdom shared by the father. And although traits like empathy, concern and compassion might come more easily to mothers, these are godly traits we should all be trying to emulate.
As we strive to become more like God, godly mothers are a tremendous aid in providing a template for what godly behavior looks like. The apostle Paul wrote to Timothy about "the genuine faith that is in you, which dwelt first in your grandmother Lois and your mother Eunice, and I am persuaded is in you also" (2 Timothy 1:5).
There's no mention of fathers here.
Paul credits two generations of mothers for passing on "the genuine faith" to Timothy, which serves to highlight the incredible influence a godly mother can have as her children grow. While all children will ultimately make their own life decisions, a mother's example can carry a powerful and lasting weight.
To learn more about God's purpose and expectations of women, read our article on the "Role of Women."
This world needs good mothers
Neverland has remained an enduring concept over the last hundred years. It's a playground for the imagination, a world without limits—and yet even the pages of J.M. Barrie's famous story have Peter Pan and his Lost Boys searching for a mother figure. Even the Boy Who Wouldn't Grow Up knew he was missing something precious.

And it's not hard to understand why. After all, in a world without mothers, how could we become anything but a bunch of lost boys?

Happy Mother's Day. May we all learn to be a little more like the side of God we see revealed in our mothers.

To learn more about God's perspective on mothers, read "The Importance of Mothers."

Topics Covered: Relationships, Family