Was 2020 a Wake-Up Call?
The year 2020 was so chaotic, confusing and destructive, many people look forward to it being over. What can we learn from this year that's unlike any other?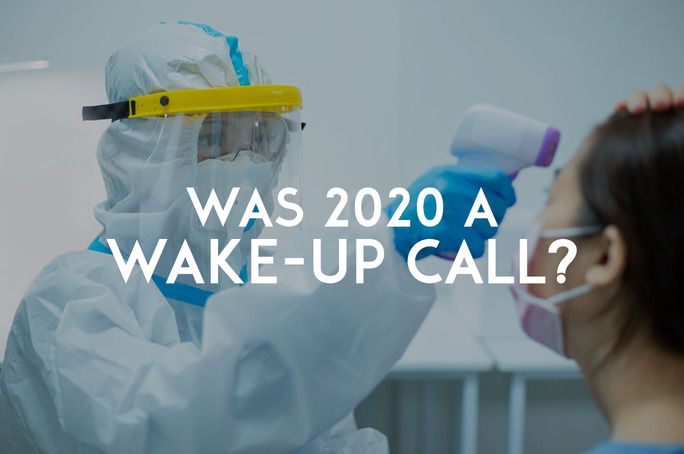 For those who've had children, the nine months from conception to birth are a period of mystery and awe.
These days some of the mystery is removed by baby apps that keep us informed of the baby's development week by week.
Toward the final stages of pregnancy, the mother may feel her womb contract and relax. She may think labor is about to start, but it may not be labor pains at all. It could be something called Braxton-Hicks contractions, named after the person who first identified them. They are also called "false labor pains," but they can be an indication that labor is approaching soon.
The Bible likens the time approaching Jesus' return to the labor pains of a pregnant woman (1 Thessalonians 5:3). As that time approaches, things will get worse and worse.
Perhaps we can liken events of 2020 to Braxton-Hicks contractions—signs that "labor" is near. Our world has changed rapidly in the last year, and these changes could be an indication that Christ's return is drawing much closer.
Unprecedented events
We have seen unprecedented events occur all around this year—particularly in the English-speaking nations. Consider the following things that have occurred:
In Australia, 12.6 million hectares burned (that's roughly the equivalent of 31 million acres) in the worst fire season in a century. That's an area four times the size of Belgium. The fires killed 33 people and over 1 billion animals.
In February, Britain was hit with three destructive storms. Storm Dennis, Storm Ciara and Storm Jorge flooded over 3,300 properties in England. It was the wettest February since the U.K. began keeping records.
Early in the year, locusts swarmed in massive numbers in Africa, putting 25 million people at risk of food shortages.
On Jan. 31, Britain officially withdrew from the European Union.
U.S. President Donald Trump was impeached on Dec. 18, 2019, but acquitted in the U.S. Senate on Feb. 5, 2020, allowing him to finish his term in office.
The coronavirus pandemic caused worldwide lockdowns and a massive economic crisis throughout the world. The U.S. borrowed a record $3 trillion in a single quarter, and the U.K. GDP shrank by 21 percent, the biggest drop since GDP was first recorded.
Racial tensions erupted as massive protests swept through multiple cities in the U.S. and around the world following the police killing of George Floyd in Minnesota.
In August, Louisiana was hit by unprecedented back-to-back hurricanes within 48 hours of each other. Around the same time, California experienced temperatures upward of 130 degrees Fahrenheit (54 degrees Celsius). It is believed to be the highest temperature ever recorded on earth. California was also hit by a freak lightning storm, with nearly 11,000 lightning strikes sparking over 300 fires within a single weekend.
Israel, Bahrain and the United Arab Emirates signed historic peace agreements called the Abraham Accords.
The United States went through an especially contentious and nasty presidential election year. As of the writing of this blog post, Joe Biden has been declared the winner, but President Donald Trump is refusing to concede, accusing multiple states of massive voter fraud. Geopolitical analyst George Friedman noted: "Beginning in 2020, supporters of one candidate began to despise the supporters of the other candidate with visceral rage . . . Each camp has come to see the other as contemptible."
In October, Pope Francis made headlines because of a statement that seemed like an endorsement of same-sex civil unions (though the Vatican later clarified that his comments didn't change the Catholic Church's teaching on homosexuality). Meanwhile, in November, the Church of England released materials that appear to pave the way for the church approving of same-sex marriages.
In early November, Super Typhoon Goni, the most powerful storm of 2020, slammed into the Philippines, killing 20 people and displacing over 350,000.
Students of prophecy probably can't read this list without thinking of the four horsemen of the Apocalypse—the general signs that Jesus said would be the "beginning of sorrows" (Matthew 24:8).
Could 2020 have been a year of signs that, like Braxton-Hicks pains, signal the real crisis—the coming Great Tribulation—is just around the corner? To learn more about these prophetic signs, read "What Are the Four Horsemen of the Apocalypse?"
So, how should we respond to everything we have experienced as a world in 2020?
2020: a wake-up call to act
It is human nature to wait until a crisis hits before taking action and making necessary decisions. How many people have tried to save a marriage just before divorce papers are served? Or only started to eat properly after having a heart attack? Or tried to repair damage done to their family after years of neglect?
God mercifully urges us to seek Him now, but also warns of a time when it will be too late.Prevention is a far better approach than tackling a problem after a crisis hits!
What about seeking God through repentance? Will we wait until the events of prophecy begin to be fulfilled in full force? Or will we use 2020 as a wake-up call to seek God now?
The Great Tribulation will be a time of punishment for the sins of our people (Deuteronomy 31:17-18). We'll have to endure afflictions caused by sins (Hosea 5:15). But God urges us to "seek the LORD while He may be found, call upon Him while He is near" (Isaiah 55:6).
God mercifully urges us to seek Him now, but also warns of a time when it will be too late (Hosea 5:6).
If you have been putting off truly seeking God and responding to His calling, why not use 2020 as a motivation to act? The real crisis is coming.
If you're searching for God and His way of life, you may find our article "How to Repent" a good place to start.
Topics Covered: Prophecy, End Times, News and Trends, Overcoming