Sneak Attack!
Dec. 7 marks the 73rd anniversary of the attack on Pearl Harbor. This was one of two major sneak attacks against the U.S. What can we learn from these attacks?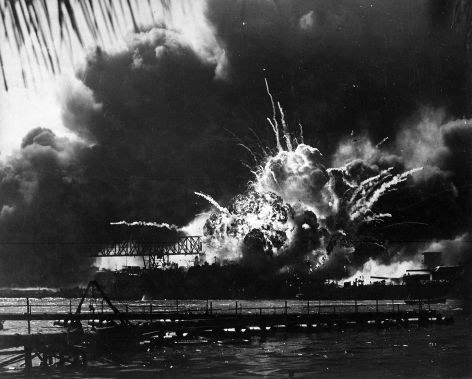 Major lessons from history are all but forgotten today. But it is important not to ignore those important lessons.
What are two of these events, and what can we learn from them?
Sneak attack at Pearl Harbor
In December every year, the United States observes a day that is remembered with sadness and pain by many people. On Dec. 7, 1941, the Japanese attacked the U.S. military installations at Pearl Harbor, Hawaii. It was as a result of this sneak attack that the U.S. entered into World War II.
The U.S. Fleet's base at Pearl Harbor was reached by an aircraft carrier force that the Japanese navy secretly sent across the Pacific Ocean. This force possessed greater aerial striking power than had ever been seen on the world's oceans. The first wave alone of this massive air force consisted of nearly 200 planes, including torpedo planes, bombers and fighters.
This force attacked just before 8 a.m. on that fateful day. Within a short time, four of the eight battleships at Pearl Harbor were sunk—with most of the others badly damaged. Several other ships and combat planes were also destroyed or damaged.
Students of Bible prophecy understand that a time of war and violence is coming on this world that will make Pearl Harbor and 9/11 look small in comparison.Sneak attack on 9/11
More recently, on Sept. 11, 2001, at 8:46 a.m., American Airlines Flight 11 (out of Boston) crashed into the north tower of the World Trade Center in New York City. Seventeen minutes later, at 9:03 a.m., United Airlines Flight 175 (also out of Boston) crashed into the south tower. Then, at 9:37 a.m., American Airlines Flight 77 (out of Washington D.C.) crashed into the Pentagon.
At 9:59 a.m. the south tower collapsed; at 10:10 a large section of one side of the Pentagon collapsed; and at 10:28 the north tower collapsed.
Of course, we can't forget about United Flight 93 (out of Newark, New Jersey) which crashed in a wooded area in Pennsylvania.
Those were the tragic events of the day we now refer to as 9/11.
Pearl Harbor and 9/11
Those events occurred just three months shy of 60 years apart, yet they have several things in common:
Thousands of people died. In the attack on Pearl Harbor, about 2,400 lost their lives. In the 9/11 attacks, over 2,700 died.
Before both, warnings of the impending attacks were ignored.
Both events were sneak attacks. Other than a few people who understood the warning signs and tried to wake the authorities up, no one saw the attacks coming. They took the majority of the American people—and the world—by complete surprise.
Both events were inspired by hatred and evil—which ultimately has its source in the influence of Satan the devil (John 8:44; Ephesians 2:2).
The lesson
Today, we often hear of governmental fears of another attack on America or its interests around the world. Other nations of the world also fear another major terrorist attack. There are also dangerous nations that continue to pose a threat to other nations.
Students of Bible prophecy understand that a time of war and violence is coming on this world that will make Pearl Harbor and 9/11 look small in comparison (Matthew 24:6; Revelation 6:3-4). The Bible also reveals persecution coming toward true Christians (Revelation 12:11-13).
The point is, these coming violent attacks will not really be sneak attacks! All who read and understand the Bible know that this time is coming! One of the reasons we are given these prophecies is to prevent these from being sneak attacks. As Christ said, "But take heed to yourselves, lest your hearts be weighed down with carousing, drunkenness, and cares of this life, and that Day come on you unexpectedly" (Luke 21:34).
These coming events should not be sneak attacks to us (as they will be to the majority who experience them). We are warned to:
Repent of our personal sins. Part of the commission of Life Hope & Truth is to warn this world about coming prophetic events and teach people to "turn from [their] evil ways"—in other words, to repent (Ezekiel 33:1-11). Those who repent can be spared from these coming calamities (Luke 21:36).
Stay spiritually awake: "Be sober, be vigilant; because your adversary the devil walks about like a roaring lion, seeking whom he may devour" (1 Peter 5:8).
Be watchful: "For when they say, 'Peace and safety!' then sudden destruction comes upon them. … Therefore let us not sleep, as others do, but let us watch and be sober" (1 Thessalonians 5:3, 6).
We cannot afford to be so wrapped up in our daily lives that we fail to see how events around the world (particularly in Europe, the Middle East and the Far East) are coalescing to fulfill many of the Bible's prophecies.
Continue to read our Insights into News and Prophecy posts and Discern magazine to stay up to date on how world news fits into Bible prophecy. You can subscribe to both at our Learning Center.