Could the Holocaust Happen Again?
After the Holocaust, many vowed that such an atrocity would never happen again. But does Bible prophecy show that evil on this scale will occur again?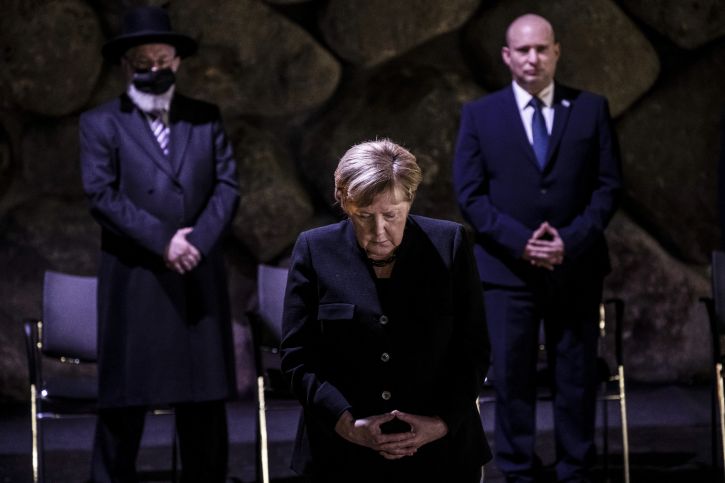 On Oct. 10, Angela Merkel made her last visit to Israel as Germany's chancellor. She will soon leave office and end her 16-year tenure at the helm of Europe's strongest economic power.
Throughout her time in office, she has shown herself to be a close ally and friend of Israel, and she did not shy away from recognizing Germany's responsibility for the Holocaust.
Israel's Prime Minister Naftali Bennett acknowledged Germany's close friendship, especially under Angela Merkel's chancellorship: "The relationship between Germany and Israel has been strong, but in your term, it has never been stronger."
In addition to Angela Merkel's visit, a German Eurofighter (painted with the colors of the German and Israeli flags) flew over Jerusalem, accompanied by an Israeli jet. This was the first time a German aircraft had flown over Jerusalem since World War I. The flyby served as a symbolic expression of the strong solidarity between the two nations. Back in August of 2020, German and Israeli jets flew over the site of the Dachau concentration camp as a tribute to those who died in the Nazi death camps during World War II.
After the flight over Jerusalem, Israeli Air Force Maj. Gen. Amikam Norkin spoke these words at Yad Vashem, the World Holocaust Remembrance Center: "Roughly one year ago, we stood in the Dachau camp and together we visited the Olympic village where 11 athletes were murdered in Munich, and we said and declared together: Never again."
During her visit, Mrs. Merkel warned of the rise of anti-Semitism in her country and explained how Germany is vigilant in combating it. In Germany anti-Semitic hate crimes have risen sharply throughout the last few years, going from 1,799 incidents in 2018 to 2,032 in 2019.
Though there is no doubt that Mrs. Merkel is sincere in her opposition to anti-Semitism and in her commitment to Israel, many people still ask, Could something like the Holocaust happen again?
What does Bible prophecy say about a future holocaust?
The coming Great Tribulation
The Bible prophesies that in the end times, a power known as the "beast" will again arise (Revelation 13; see "Who Is the Beast?"). This 10th and final resurrection of the Roman Empire will be a conglomeration of European leaders under a single charismatic political leader. Another name for "the beast" is the "King of the North." This power will react to the aggressive actions of the "King of the South" (likely a confederation of Muslim nations) by defeating it with an overwhelming military force (Daniel 11:40-43). One of the reasons this confederation will be formed is to destroy the state of Israel (Psalm 83:4).
This future European power will enter into the Holy Land, Israel (Daniel 11:45). But it will not come to celebrate friendship and camaraderie. This leader will conquer the Holy Land and set up a false worship system (Daniel 12:11).
This will begin the period of time Christ called "great tribulation," the worst time in all of human history (Matthew 24:21). This echoes prophecies by Daniel (Daniel 12:1) and Jeremiah (Jeremiah 30:7). The Great Tribulation describes a period of unprecedented war, violence, suffering and chaos that will impact the entire world.
Even though the desire behind the words never again is sincere and honorable, the Bible shows that the reality is, human suffering on a vast scale will happen again.This European power will inflict suffering on all the nations that have descended from ancient Israel. The Jews living in the state of Israel will literally flee for their lives from this invading power (Mark 13:14).
Though Europe is at peace with Israel now, that peace won't last forever. The end-time beast power will likely be led politically by Germany and religiously by Rome. Sadly, atrocities greater than the Holocaust will be perpetrated by this future power. Since Jesus clearly stated that this time will be worse than any that preceded it in history, that means the human atrocities that will be committed by this future European power—and other world powers—will be worse than what happened during the Holocaust (Matthew 24:22).
Part of this suffering will be due to global warfare. The book of Revelation symbolizes this future warfare as the rider of the red horse, who will "take peace from the earth, and that people should kill one another" (Revelation 6:4).
In response to the beast's dominance, a group of nations from the East will form an alliance to challenge the European power (Revelation 16:12; Daniel 11:44). They will launch an attack against the beast with an enormous 200-million-man army. In the process, "a third of mankind" will be killed (Revelation 9:15-18).
Yes, even though the desire behind the words never again is sincere and honorable, the Bible shows that the reality is, human suffering on a vast scale will happen again.
Yet, despite this dismal future, there is a light at the end of the tunnel.
The Kingdom of God will bring peace
When talking about this future time, Jesus gave some good news: "But for the sake of the elect those days will be cut short" (Matthew 24:22, English Standard Version).
Jesus Christ will intervene to stop this brutal human carnage. With His overwhelming power, He will forcibly bring it to an end and then begin to build a new world. He will replace the flawed governments of this world with His government—the Kingdom of God (Daniel 7:27). His government will cause peace, justice and righteousness to spread throughout the world (Isaiah 9:6-7).
Only then will the phrase never again ring true.
To learn more about what the world will be like under Christ's direct rule, download our free booklet The World to Come: What It Will Be Like.