A Year of Mass Protests: Whose Side Are You On?
Protests have erupted around the world. They were launched for many different reasons and have varying chances of achieving change. How should Christians react?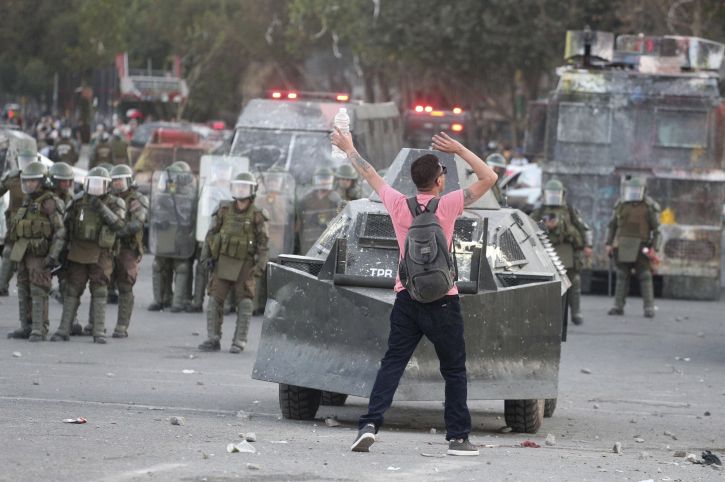 What a month October was.
In this one month protests erupted around the world, so much so that the year 2019 has been dubbed "the year of protests." The protests are in many different areas and have different reasons. Consider some of the major ones.
Latin America and the Caribbean
Asia
Oct. 3: In Indonesia students protested over a new law that criminalizes cohabitation or sex outside of marriage (with up to six months in jail).
Oct. 7: In Russia protests spread across the nation, with people wanting an end to political crackdowns and for the government to deal with economic inequalities.
Oct. 31: In Hong Kong democracy protests entered their 20th consecutive week over China's continuing encroachments into Hong Kong's democratic freedoms.
Europe

Pro-Catalan protesters hold a mass demonstration at the Barcelona-El Prat Josep Tarradellas Airport on Oct. 14, 2019.
Oct. 6: In Ukraine thousands in Kiev protested the president's plan to hold local elections in Russian-backed territories in the east of the country.
Oct. 16 and 22: In the Netherlands and Germany farmers protested climate change regulations by blockading roads with their tractors.
Oct. 27: In Spain violent protests broke out over the arrest of nine Catalan leaders who had led a bid for independence from Spain.
Middle East
Oct. 18: In Lebanon a proposed tax on WhatsApp led to protests that brought down the government. Unsatisfied protesters want more reform, including the removal of elites from government.
Oct. 22: In Sudan protesters demanded the dissolving of the Bashir party from government even after the nation's leader, a member of that party, was ousted.
Nov. 1: In Iraq weeks of protests over corruption, unemployment and lack of basic services led the prime minster to resign.
In addition to all of the above protests, the month of October also saw worldwide climate change demonstrations organized by the radical group Extinction Rebellion. Demonstrators blocked roads, chained themselves to bridges and staged "die-in" protests in over 60 major cities around the world.
Despite all of differences in these events taking place in different parts of the globe for a variety of reasons, some similarities exist:
Protests are long-running and are continuing even after initial demands are met.
Protests are turning violent and attempting to paralyze their countries.
Protests are coordinated using encrypted message apps.
Protests are demanding elites be removed from office.
What is behind all of this division and unrest in our world today? How should Christians respond?
A house divided
In one of His most famous statements, Jesus warned that a kingdom, or house, that is "divided against itself will not stand" (Matthew 12:25). As we see divisions deepening in many nations, we are seeing some normal functions of society breaking down.
Hong Kong is a case in point. Consecutive weeks of protests, along with the U.S.-China trade war, have caused the territory to fall into a recession. As frustrations continue to rise, distrust and violence worsens.
We can only prosper if we find a way to live in harmony. But with the issues facing our world, unity and harmony seem more elusive than ever. Instead, our world seems on the path to continuing chaos and disorder.
Many of these protests show people demonstrating such end-time characteristics as being "unloving" and "brutal"—attitudes that the apostle Paul described in 2 Timothy 3:3. These characteristics are a result of mankind's rejection of God's law.
Now, more than ever, our world needs to learn what the Bible calls "the way of peace" (Romans 3:17). To learn more about that way, read our article "The Way of Peace."
Would Jesus get involved in these issues?
In a divisive world, people are becoming more polarized—pitting themselves against others and using violent words (and sometimes deeds) against those on the other side. Recent polls have shown that many people won't even associate with people who think differently on certain issues.
In a divisive world, people are becoming more polarized—pitting themselves against others and using violent words (and sometimes deeds) against those on the other side.Divisive political issues and unpopular rulers are nothing new. Both existed in the first century world Jesus Christ lived in. But a study of His life and ministry shows He did not choose sides in those issues. He stood above the political squabbles of His day.
He did not come to earth to protest the brutal policies of the Holy Land's Roman occupiers or to reform (or support the overthrow of) Caesar or Herod. Instead, He showed them respect and understood that the Father permits political leaders to rule in this evil world (Matthew 22:21; John 19:11).
Jesus taught that His disciples, those who follow Him, should not get involved in the politics of this world because His "kingdom is not of this world" (John 18:36).
The apostles, too, taught that as a "good soldier of Jesus Christ" we are not to entangle ourselves "with the affairs of this life" (2 Timothy 2:4). A Christian's focus should be centered squarely on the Kingdom of God (Matthew 6:33). That Kingdom will soon bring the real answers to this world's deepest problems. (See a related blog post from 2013, "When Will Protests End?")
Be on God's side
God saved the Israelites from slavery in Egypt. They left Egypt and went to Mount Sinai to receive God's law, but they showed by their continual disobedience that they would not live by it.

Because of that, God refused to let them enter the Promised Land for 40 years (Numbers 14:22-23). They wandered the desert until that generation—all who were 20 years of age or older—died (Numbers 14:29, 33-34).

Forty years later, Joshua took the next generation into the Promised Land. God performed a mighty miracle by driving the Jordan River back so the Israelites could walk across it on dry land (Joshua 3:14-17). It appeared that God was on their side again. But then Joshua saw a Man standing with a sword in hand. Joshua asked, "Are You for us or for our adversaries?" (Joshua 5:13)—in other words, whose side are You on?

Instead of choosing a side, the Man said, "No, but as Commander of the army of the LORD I have now come" (verse 14). The being who spoke these words to Joshua was very likely the One who would later come to earth as Jesus Christ. The lesson for Joshua was that God was going to ensure the success of the Israelites as they entered the Promised Land. Joshua fell on his face in humble respect. The continuing lesson for today is that Christians shouldn't be seeking human sides—but instead God's side, God's perspective.

As we continue to witness our world breaking further apart and our societies becoming more divided, the best place for us to be is on God's side—praying for His Kingdom to come and modeling that Kingdom in our lives today.


Photo Credits:
Associated Press
Medol [CC BY-SA 4.0 (https://creativecommons.org/licenses/by-sa/4.0)]

Topics Covered: News and Trends, Social Issues, Violence