Pentecost reminds us that wind can represent the power of the Holy Spirit. It is only through the Spirit that we can develop godly love and a sound mind.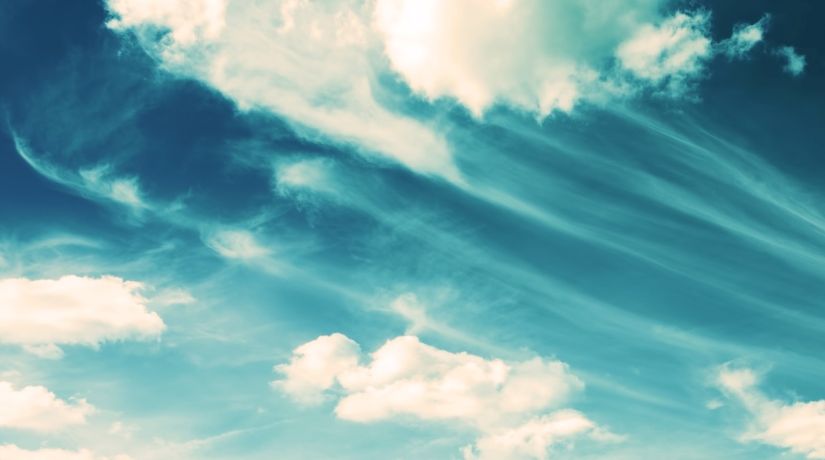 On the Day of Pentecost after Jesus Christ's death and resurrection, the disciples were all together. Suddenly great miracles began to get people's attention and to mark the beginning of the New Testament Church.
The first of those miracles was a "sound from heaven, as of a rushing mighty wind" (Acts 2:2). If you were thinking about deadly and devastating tornadoes and other windstorms, you probably wouldn't look forward to hearing such a sound. However, there is a biblical connection between the power of the wind and the power of God's Holy Spirit given on the Day of Pentecost. But, as we'll see, God's power is always controlled by love and a sound mind.
The awesome power of wind
I've always had a hard time understanding windstorms. I mean, usually the air around us is invisible, and we don't even notice it. We walk through the air as if there was nothing there. So when a gust of wind comes up, it's a surprise to me. To imagine wind having power to destroy half-mile wide swaths of towns seems like science fiction to me. That air could rip houses apart like balsa wood seems incredible.
But hearing some of the stories makes it real. I remember one description of the devastating tornado that hit Joplin, Missouri, in 2011. Time magazine told about Pamela Merriman and her two kids, who survived by crouching in their bathroom as the brick fireplace tumbled through the living room floor and the garage door crashed through the wall beside them and the high school bleachers wrapped around a tree in their front yard.
How the Holy Spirit is—and isn't—like wind
In what ways is the Holy Spirit like those windstorms—and in what ways is it not like that?
For one thing, as Jesus pointed out to Nicodemus, the Holy Spirit is invisible like the wind. You can see its results, but you can't see the air itself (John 3:8). You might even say it's kind of a play on words, because the "Greek word translated Spirit also means 'wind,'" as it says in the notes of the NKJV Study Bible.
So the Holy Spirit is like the wind, in that it is invisible and it is powerful. But now let's look at what makes the Holy Spirit different from the raging, uncontrolled, destructive power of a tornado.
Elijah's experience
Consider the story of Elijah, who had become discouraged and disheartened, fleeing from evil Queen Jezebel. God was going to meet with Elijah, and He chose to do it in a very interesting way.
"Then He said, 'Go out, and stand on the mountain before the LORD.' And behold, the LORD passed by, and a great and strong wind tore into the mountains and broke the rocks in pieces before the LORD, but the LORD was not in the wind; and after the wind an earthquake, but the LORD was not in the earthquake; and after the earthquake a fire, but the LORD was not in the fire; and after the fire a still small voice" (1 Kings 19:11-12).
God wants us to know He controls the wind—and all the power in the universe—but He can speak softly and gently. His awesome power is always under control.
Jesus' power over the wind
We can see more about God's power in Mark 4:35-41. In this passage, after a long day of preaching to the crowds, Jesus and His disciples were sailing across the Sea of Galilee, and Jesus fell asleep even though a terrible windstorm came up! The disciples, several of them seasoned fishermen, were terrified and thought they were all going to die! They woke Jesus up, amazed He could sleep through this, and yelled to Him in essence, "Don't you care that we're all going to drown?"
Then Jesus said: "'Peace, be still!' And the wind ceased and there was a great calm."
God won't give us His incredible power if we are going to misuse it.The disciples were even more afraid now—in awe of Jesus Christ's power over the strongest forces of their world, the wind and the sea. This was another example that shows that God's great power is always under His control. And He wants us to be like Him. He wants to give us power, but only power to be used for right reasons. He won't give us His incredible power if we are going to misuse it.
Sons of Thunder?
Remember the time the Samaritans turned Jesus away, and James and John, the Sons of Thunder, wanted the power to call down fire from heaven to punish these people? Jesus Christ said they didn't know what spirit they were of (Luke 9:51-56). It was not His Spirit that was inspiring their feelings of anger and retribution.
We are not called to be the Sons of Thunder, but the sons of encouragement and love, joy, peace, patience, kindness, goodness, faithfulness, gentleness and self-control (Galatians 5:22-23).
That's one list of what God's Spirit does. There's another list in 2 Timothy 1:7. Paul wanted Timothy to make use of the wonderful gift of God's Spirit to empower his ministry and do God's work, so he told him: "For God has not given us a spirit of fear, but of power and of love and of a sound mind."
Looking for the church behind Life, Hope & Truth? See our "Who We Are" page.
Love and a sound mind
We've looked at the aspect of power—God's Spirit is the very power that God used to create the universe! It is limitless—it is unimaginable power! But Paul also lists two other elements that show not only what the Holy Spirit gives us, but what we need to grow in to be able to use the power God gives correctly.
We need to have the same underlying motivation and attitude that God has: Love! Outgoing concern for others. An unselfish approach that treats others as God treats us. The kind of love that Jesus Christ showed when He was willing to sacrifice everything for us. He could have called down fire or legions of angels, but instead He prayed, "Father, forgive them, for they do not know what they do" (Luke 23:34).
Along with that love, we need a sound mind. This is not just talking about sanity, but about discipline and self-control. It's moderation. It's a self-correcting approach to want to grow and change and have more of the mind of Jesus Christ.
So, as we think of that sound of a mighty rushing wind on Pentecost, we can think of power, yes. But we can also think of the love and sound mind we need to be able to use the power of the Holy Spirit as God wants us to. Then God can give us not only the down payment of His Spirit in this life, but the fullness of His spiritual power as sons and daughters forever in His Kingdom!
For additional reading, see "How Do You Know You Have the Holy Spirit?" and "Pentecost: God Gives the Holy Spirit."