Proverb: "Aging—Better Than the Alternative"
Growing older is often seen as a negative and frustrating part of life. What can we learn about aging from literature that is literally ancient?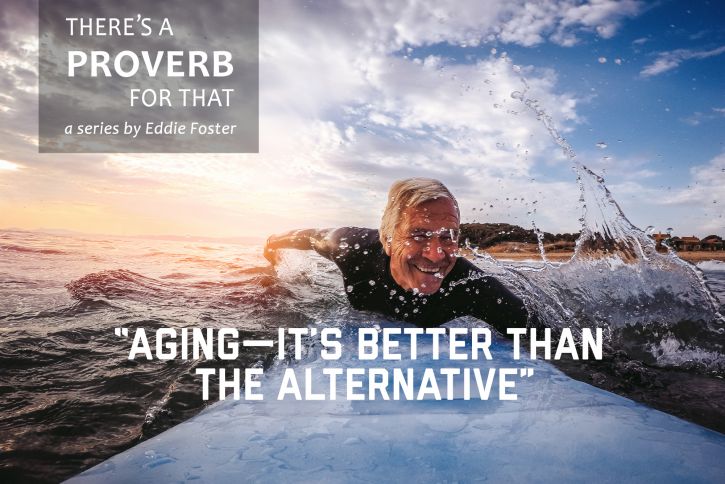 Does it seem like society is obsessed with aging? "Buy this age-defying cream that uses anti-aging technology and drink from the fountain of youth so that 80 can be the new 20!"
Hyperbole aside, aging appears to be on the collective mind of us all, whether we are going through a quarter-life or midlife crisis or simply realizing we can't do the things we did when we were 20.
The most often mentioned positives of aging include gaining more wisdom and enjoying grandchildren. The negatives tend to be a bit more prevalent in our minds: being slower in wit and movement, feeling random pain that seems to come from no discernible cause and sporting those lovely gray (or thinning) locks.
The Bible states that older men and women should be treated with the respect due fathers and mothers (1 Timothy 5:1-2) and should be examples of reverent and honorable behavior (Titus 2:2-3). How can we make sure we are demonstrating these traits in our older years? Yes, there's a proverb for that.
Proverbs and implications
1. Proverbs 20:29: "The glory of young men is their strength, and the splendor of old men is their gray head."
What, gray hair a good thing? As things get harder through the aging process, we need to remember that God never intended for human beings to stay young forever. There are tremendous blessings to be gained by getting older. Other proverbs mention how young men need to learn knowledge and discretion (Proverbs 1:4)—which usually comes through age and experience. The earlier we can learn these things, the more painful mistakes we can avoid.
We need to remind ourselves daily that different does not always mean worse. Implications: We need to remind ourselves daily that different does not always mean worse. Just because it may seem as if the grass was greener years ago does not mean it actually was. Youthful strength and energy are wonderful, but so are mature wisdom and experience. Basketball practice and college courses are fun, but so are watching your children laugh, getting out of debt and avoiding bad situations due to wisdom.
2. Proverbs 19:20: "Listen to counsel and receive instruction, that you may be wise in your latter days."
Life is full of instruction, all the way from touching a hot stove as a child to trusting a shady individual with our possessions during adulthood. The greatest tragedy of aging would be not learning from our mistakes. King Solomon, the primary author of Proverbs, mentions in Ecclesiastes 4:13 that it would be better to be a poor wise youth than an old king who doesn't accept correction.
Implications: Let life experience counsel and instruct us. Some of what we learn comes through trial and error—learning what works vs. what doesn't. Within the bounds of God's righteous and beneficial laws, we should step out of our comfort zone and try things that have a good chance of producing good results, then note what worked and what didn't—or what to avoid and what to improve. This should continue into our old age because we want to avoid being described as "old and set in our ways."
3. Proverbs 3:1-2: "My son, do not forget my law, but let your heart keep my commands; for length of days and long life and peace they will add to you."
God's wisdom and laws should be the constant source of positivity during every stage of our lives. Even when things don't turn out the way we want (such as when we face an untimely death), this remains true: All stages of life are better when God is involved in them. Another proverb calls the commandment a lamp, the law a light and reproofs of instruction the way of life (Proverbs 6:23).
Implications: We should make God and His Word a consistent part of our lives as we age. Everything else may change for us, from our appearance to our interests, but remembering the will and wisdom of God must remain consistent. Whether we are 20 or 80, we must not forget the law and all the peace it provides for us.
Plenty more where those came from
Many more proverbs indirectly deal with aspects of aging, but the ones listed above give us a theme: "The process and results of our aging, which can be very positive, are directly related to what we learn from our mistakes and how we apply God's law in our lives." Next time we hear the Rolling Stones sing, "What a drag it is getting old," remember there's a proverb for that.
Read these Life, Hope & Truth articles for further insight into the aging process:
Read the next blog post in this series: There's a Proverb for That: Shut Your Mouth!