The General and the Tree: A Lesson in Moving Forward
When we find ourselves hurting or angry about the past, what can we do to move forward with our lives? The Bible offers a road map for doing just that.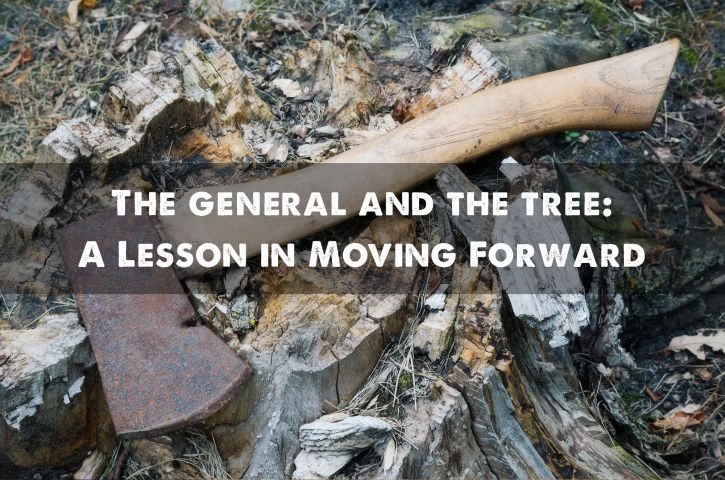 A little over 150 years ago, Georgia was burning. General William Tecumseh Sherman and his Union troops were on their infamous March to the Sea, looting and pillaging cities and towns of the Confederacy as they went. Sherman's goal was to "make Georgia howl"—to cripple the South so completely that retaliation would be impossible.
The march was more than just a physical tactic, though—it was also intended to be a form of psychological warfare. Sherman intended to break the spirit of the Southern states by showing them the futility of resisting the Union army. Wherever Sherman's troops encountered resistance, their response was swift and terrible. They burned mills and cotton gins to the ground. They looted houses, ransacked plantations and tore up railroad tracks. They left a trail of devastation and an unmistakable message: "Give up, or you're next."
It worked.
Sherman's methods were harsh, even brutal, and they gradually wore down Southern morale. When his troops reached Savannah, the city surrendered without a fight. Less than five months later, America's four-year Civil War was over.
A general and a tree
Unfortunately, "over" is not the same thing as "fixed." The Civil War sharply divided Americans and inflicted wounds that would take decades to heal. Even today, a century and a half later, Sherman's march is far from forgotten in some areas of the South.
Shortly after the war, a woman brought former Confederate General Robert E. Lee to see her yard. One of her trees was in particularly rough shape, having been caught in the crossfire of a skirmish between Confederate and Union forces. Bullets and cannonballs from both sides had stripped the bark and blown apart entire branches. It stood as a painful reminder of the violence and death brought about by the long and miserable war—and if anyone could understand that pain, it was Lee.
General Lee had commanded the Confederacy's largest army during the Civil War. He had watched thousands of men die in gruesome battles that ultimately ended with the South's begrudging surrender to the North. He knew what the South had suffered—he knew the pain, the frustration and the bitterness this woman was feeling when she showed him her poor, mangled tree.
His response must have come as a total shock, then. He could have cursed the North; he could have said something about the unfairness and the injustice of it all—but he didn't. Instead, he gave the woman a single piece of advice:
"Cut it down, my dear madam, and forget it."
In the way of healing
What are your trees? What reminders of past wrongs and injustices are you keeping alive? It's easy to do—to hang onto reminders of the ways we've been hurt or mistreated. It's probably not a tree in your backyard, but a moment in time you keep coming back to in your mind. If so, Lee's advice is worth following:
Cut it down, dear reader, and forget it.
If our goal is to move forward, then our only option is to cut down the tree.Easier said than done, to be sure. Some wounds run deep, and forgetting doesn't happen overnight. But here's the thing about bitterness and grudges: we can either feed those feelings or starve them. If we choose to feed them by dwelling on the past and surrounding ourselves with reminders of how we've been hurt, then that bitterness and those grudges will eventually feed on us—eating away at our peace of mind, consuming our thoughts and feelings and leaving us angry and frustrated.
Lee didn't want the woman who showed him her tree to be consumed with bitterness every time she looked out her window. He didn't want her to have a constant reminder of the past. Lee recognized that the mangled tree stood between the woman and healing—if she was going to have any hope of finding peace, the tree had to go.
Finding peace
God wants us to find peace as well. The apostle Paul wrote about "the peace of God" that can "guard your hearts and minds through Christ Jesus" (Philippians 4:7).
The problem is that all too often we sabotage ourselves. We circumvent that peace by turning our attention to the mangled trees in our lives—the past hurts that we're not willing to let go of quite yet. But we can't have both. We can't feed our own bitterness and be at peace. If our goal is to move forward, then our only option is to cut down the tree.
But how do we do that?
Knowing where to look
The key is knowing what to focus on instead. Paul, who wrote about the peace of God, also wrote, "Yet indeed I also count all things loss for the excellence of the knowledge of Christ Jesus my Lord, for whom I have suffered the loss of all things, and count them as rubbish, that I may gain Christ and be found in Him. … One thing I do, forgetting those things which are behind and reaching forward to those things which are ahead, I press toward the goal for the prize of the upward call of God in Christ Jesus" (Philippians 3:8-9, 13-14).
Paul had his eyes fixed on something more important than the injustices and grievances of his past (and he had plenty of those; see 2 Corinthians 11:24-28). He was focused on a future that made everything in his life—the good and the bad—look totally inconsequential. "For I consider," he wrote, "that the sufferings of this present time are not worthy to be compared with the glory which shall be revealed in us" (Romans 8:18).
The trees get a whole lot easier to part with when we know where we're going and why we're here. If you're looking for the answers to those questions, we can help. Check out our Discover video series on the "Feasts of the Lord" for a deeper look at God's plan for you and the rest of the world. And in those moments when it becomes tempting to focus on how we've been wronged, remember General Lee's advice and Paul's vision:
Cut it down and forget it. There are better things ahead.