Lessons I Learned From Cancer
At the age of 29, I was diagnosed with cancer. Thankfully, I am now in remission. In this post, I would like to share lessons I learned from this experience.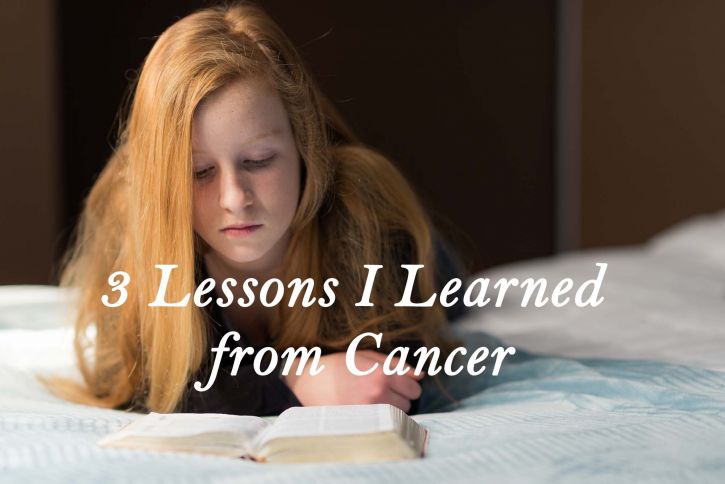 I remember the call from the doctor like it was yesterday. She called me at work, and I don't think she quite knew how to break it to me. I remember her stumbling over her words, and then she said it: "It's pretty much Hodgkin's."
I was 29 years old, and I had a positive cancer diagnosis. Initially the thoughts that came to me were dark and frightening.
This was the beginning of a long battery of tests, chemotherapy and radiation that lasted about a year. I wondered why God had allowed me to have such a terrible illness when I'd always been healthy before. I wondered if the prescribed treatments would work and if I'd be able to maintain a normal lifestyle, or if I would be too ill from the chemotherapy to work and maintain a normal routine.
My family and congregation rallied to help me with such support as rides to chemotherapy treatments, cooked meals and healthy groceries. I knew many, many people were praying for me.
Throughout the ordeal, I saw God's hand through little blessings that gave me encouragement as I dealt with the biggest trial of my life. Despite the trial, there were good things that happened during this time. I can say that I truly drew closer to God than I ever had before. Throughout the ordeal, I saw His hand through little blessings that gave me encouragement as I dealt with the biggest trial of my life. I would like to share three lessons, based on Scripture, I learned from this trial.
1. I learned to find positives in the trial.
James 1:2-3 says, "Count it all joy when you fall into various trials, knowing that the testing of your faith produces patience."
I have found that what I went through helped me to be able to empathize more fully with others who suffer serious health trials, enabling me to pray for them with more compassion and feeling. In addition, it helped me appreciate the blessing of good health when I did recover. I've learned never to take health for granted, and I encourage you to consider that lesson.
2. I learned to pray for peace through the trial.
Philippians 4:6-7 tells us, "Be anxious for nothing, but in everything by prayer and supplication, with thanksgiving, let your requests be made known to God; and the peace of God, which surpasses all understanding, will guard your hearts and minds through Christ Jesus."
It's difficult to put that peace of God into words. Throughout the entire experience, there would be times I felt completely overwhelmed with the circumstances or with a particular element of the treatments. After praying, though, there would often be a calm and relieved feeling that would eventually settle over me. I know that didn't come from me, but directly from God—because of the promise of this scripture.
3. I learned that God was helping me throughout the trial.
In 1 Corinthians 10:13 Paul says, "No temptation has overtaken you except such as is common to man; but God is faithful, who will not allow you to be tempted beyond what you are able, but with the temptation will also make the way of escape, that you may be able to bear it."
Since I'd never had a major health trial before, I felt overwhelmed through much of the experience, unsure what to do at every turn. Thankfully, things seemed to fall into place over and over again. I had a positive, enthusiastic oncologist and caring, proficient chemotherapy nurses who helped make the treatments seem easy (if that's a word that can be applied to such a serious situation!). There is no doubt in my mind that God was involved and providing daily blessings that helped me make it through the trial.
Now that I'm in remission and have been healthy for several years, I can look back on the trial and see that God was there—providing help, strength and encouragement. Knowing that He was there with me throughout the entire trial enables me to have more faith when I face trials now.
If you're going through a major trial, here are some resources you may find helpful: