Keeping Up With the @Joneses
Facebook, Instagram and Pinterest all give us a million windows into the lives of our friends and acquaintances—and throw in feelings of inadequacy for free.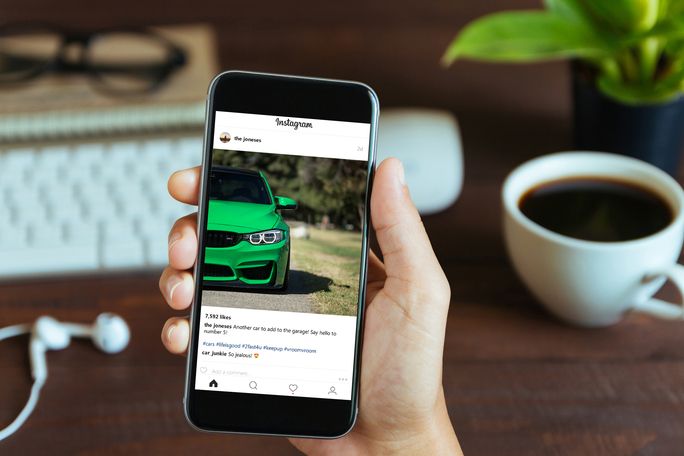 Another day, another scroll through the Facebook news feed.
Ah, there's your friend and her family in … Europe? Again? Weren't they just there last week? How can they possibly afford …
You decide to keep scrolling before you start having unkind thoughts. Here's a picture of your nephew playing with your cousin's dog. Adorable. You think: I'd have a dog, too, if I just had the time to take care of it—or the space.
Speaking of space, it looks like another friend just finished remodeling his kitchen. It looks incredible—not at all like your kitchen. Yours is filled with unwashed dishes and cabinets that weren't popular even in the '70s, which is probably when they were installed.
Down the hall, you hear the all-too-familiar sound of your children fighting over their toys. Again. Sighing, you close your news feed and step away from your friends' perfect lives and back into your own extremely imperfect one.
Measuring up
But there's a secret you should know about your news feed—and the perfect lives of the perfect people it shows you:
It's an illusion.
You're seeing hundreds of carefully curated moments, not an actual glimpse into someone's life. It's not a malicious illusion; it's just what happens. Most of us want to share our very best moments, but we're slightly less eager to share our worst ones. The end result is a news feed largely filled with "fairy tale-esque" lives, each one seemingly better than yours. We see that, and then we have to deal with the nagging question, the one that's always there, floating in the background:
"Why isn't my life that good?"
Why aren't you and your spouse as happy and as in love as the couple that's always posting pictures of themselves staring dreamily into each other's eyes? Why isn't your house filled with the nice furniture and expensive gadgets of your friend with the high-paying job? How is it possible that some of your peers are teaching their 3-year-olds to speak French while you're just praying you'll find a way to teach yours to stop wiping his nose on the wall?
How on earth are you supposed to measure up to all of that?
Here's the good news:
You're not.
The unreachable bar
Social media sets an impossibly high bar—one none of us is capable of reaching. You can't live the life your friends appear to be living, because even they aren't living that life. They have problems you're not seeing. They deal with things they're not posting about. As perfect as their lives might look on your news feed, we all have our own set of problems and shortcomings to deal with. Your life isn't the exception to the rule.
As perfect as their lives might look on your news feed, we all have our own set of problems and shortcomings to deal with. Your life isn't the exception to the rule.But then, that isn't the point either.
This is the point:
Your news feed is the wrong standard. Those impossible fairy tale lives are the wrong standard. Long before social media was even a thing, the apostle Paul was warning the Corinthian church, "When they measure themselves by one another and compare themselves with one another, they are without understanding" (2 Corinthians 10:12, English Standard Version). Why is that?
Because there's a better standard.
No comparisons necessary
At the end of the day, what matters isn't your life compared to the lives of others, real or imagined. What matters is how you're doing with God. The prophet Micah was inspired to ask, "He has shown you, O man, what is good; and what does the LORD require of you but to do justly, to love mercy, and to walk humbly with your God?" (Micah 6:8).
That's what counts. Your news feed doesn't play a role in this equation. The only players that matter are you and God. Are you doing the right thing? Do you take joy in expressing mercy? Are you humbly seeking and following God?
These three areas aren't always easy to do well in—but, unlike living up to your news feed, with God's help they are possible. More than that, God is rooting for you—He wants you to succeed. "For I know the thoughts that I think toward you, says the LORD, thoughts of peace and not of evil, to give you a future and a hope" (Jeremiah 29:11).
God has a plan for you. A future and a hope that will turn even the darkest, most difficult moments of this life into a distant memory. Paul wrote, "For I consider that the sufferings of this present time are not worthy to be compared with the glory which shall be revealed in us" (Romans 8:18).
Not worthy to be compared.
What's coming is going to put everything we've ever experienced in this life to shame. God wants you to be His child, to share in His glory and to live forever with Him in a universe filled with peace and joy (1 John 3:2; Revelation 21:4).
Kitchen remodels and European vacations are nice, but they're just moments—moments that will be completely overshadowed by the future and the hope God has for all of us.
Let the @Joneses keep up with the @Joneses. You have better things to do.
To further explore what God has planned for you, read "Hope for the Future Found in God's Festivals."