Is Baptism Necessary for Salvation?
Different churches have varying teachings on baptism. Is baptism a prerequisite for salvation? What does the Bible say about baptism?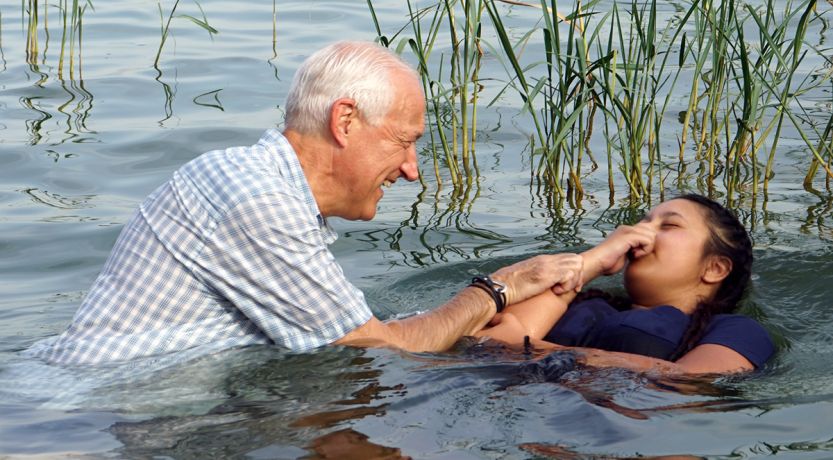 The teaching of baptism is directly labeled by Scripture as a foundational belief and practice of true Christianity (Hebrews 6:2).
So, why have many churches today radically departed from teaching the necessity of baptism? Is any religious leader authorized to throw out a precedent that Jesus and the apostles established?
It may seem bizarre, but scores of groups claiming to represent Jesus Christ deny certain practices that He sanctioned as essential to the faith, like baptism.
Yes, the preponderance of evidence in the New Testament proves that baptism is necessary for every believer's salvation.
What did Jesus say about baptism?
We should always carefully and open-mindedly compare our beliefs and practices to those taught by Jesus and the apostles. If we find a discrepancy, we resolve it by changing what we ourselves believe and practice, not what Scripture says. Nobody can ignore a glaring contradiction and still claim to be in lockstep with true Christianity.
Jesus' conversation with Nicodemus points our thinking in the right direction regarding the necessity of baptism. He told this leading Pharisee, "Most assuredly, I say to you, unless one is born of water and the Spirit, he cannot enter the kingdom of God" (John 3:5; emphasis added throughout). (To learn more about Jesus' conversation with Nicodemus, read "What Does It Mean to Be Born Again?")
Note that the requirement to be "born of water," or baptized, was the first item the Founder of Christianity mentioned. But why?
In short, baptism represents a crucial step on the path to salvation. It symbolizes an individual's solemn commitment to turn from sin—the transgression of God's law (1 John 3:4)—and surrender his or her life in obedience to Jesus Christ.
The ceremony consists of two parts: First, there is a full-body plunge into water to symbolically wash away the repentant believer's sins and to represent the death and burial of the "old man" (Acts 22:16; Romans 6:3-6). Second, the "laying on of hands" takes place, during which the minister asks God to impart His Spirit to the believer.
To begin a new life—to be a "new creation" (2 Corinthians 5:17)—directed by God, we must follow those steps.
Baptism involves two prerequisites for eternal life—the forgiveness of sins and the gift of the Holy Spirit. Without baptism, we "cannot enter the kingdom of God."
Why was Jesus baptized?
We should also remember the fact that Jesus Himself was baptized (Matthew 3:16). You might wonder why Jesus was baptized. After all, Jesus had no sin and, therefore, no need for forgiveness.
If the only sinless human being ever to live was baptized, how much more should we—who are sinners down to the core—be baptized?A similar question baffled John the Baptist (verse 14). His shock even caused him to initially refuse to baptize Jesus when asked. But the Lord insisted, "Permit it to be so now, for thus it is fitting for us to fulfill all righteousness" (verse 15).
In other words, Jesus was determined to be a perfect example and do everything someone seeking true righteousness would do. If the only sinless human being ever to live was baptized, how much more should we—who are sinners down to the core—be baptized?
Peter's instruction to "follow His steps" is a powerful reminder that we should always model our lives after Jesus Christ, even in the act of baptism (1 Peter 2:21).
To learn more about the importance of following Christ's example, read "Walk as He Walked."
Did Jesus tell His disciples to baptize?
Before Jesus Christ passed through the heavens and sat down at the right hand of God the Father, He spent 40 days with His disciples, "speaking of the things pertaining to the kingdom of God" (Acts 1:3). A critical mission was ahead of them, and Jesus knew they needed to be adequately equipped in order to complete it.

Even though we lack a complete record of every detail and instruction Jesus gave the disciples, one passage spells out His expectation:

"Go therefore and make disciples of all the nations," He told them, "baptizing them in the name of the Father and of the Son and of the Holy Spirit, teaching them to observe all things that I have commanded you" (Matthew 28:19-20).

These were the marching orders of the apostles. Jesus' words undoubtedly echoed in their minds until their dying breath—"make disciples," "baptize" and "teach." It was an unambiguous commission as far as they were concerned—nobody was left wondering what to do.

That said, let's stop and think. Did Peter—who denied Christ and then wept bitterly for doing so—deviate from his Lord and Master's instructions? Did he think they were just suggestions?

A sudden change of heart in Peter would be inconsistent with his thunderous call to action during his first sermon on the Feast of Pentecost: "Repent, and let every one of you be baptized in the name of Jesus Christ for the remission of sins" (Acts 2:38).

Notice he said, "Let every one of you be baptized," not, "You can get baptized if you want."

Peter had a complete grasp of what Jesus had told him to do. Not a single shred of evidence suggests he went against that.
More New Testament examples of baptism
The importance of baptism is emphasized by the fact that it's discussed repeatedly in the book of Acts, even after Peter's sermon on the Day of Pentecost. It means that baptism was, and is, a must for anyone seeking membership in the New Testament Church.
Does baptism mean we are saved by works and not by grace?
Make no mistake: baptism is a physical act. But it's one packed with profound spiritual meaning. Still, given the physical nature of baptism, some will cite Galatians 2:16 like a well-rehearsed script: "A man is not justified by the works of the law but by faith in Jesus Christ."

They make the overly simplistic conclusion that baptism is unnecessary for salvation, just like any other "work." "All someone needs to do is believe," they say.

Confusingly, the same people will often maintain that repentance is required.

But isn't the act of repentance a form of work? Biblical repentance means change—a change sparked by regret and the commitment to stop sinning. Why would baptism be an attempt to earn salvation by a physical act, when repentance gets to ditch the label of "work"?

The argument falls flat on its face.

Besides, works are involved in salvation. Scripture says so. Paul wrote, "The doers of the law will be justified" (Romans 2:13). James also said, "A man is justified by works, and not by faith only" (James 2:24).

Concerning Galatians 2:16—the supposed silver bullet for those who say baptism is optional—it's important to recognize that genuine faith in Jesus Christ involves more than belief in His identity and actions. Faith is complete trust not only in who He is, but also in what He said—the instructions He gave.

Baptism is one of those instructions, and whoever believes Jesus Christ will obey Him (John 10:27; 14:15).
Following Jesus' command on baptism
Jesus Christ and the apostles established a precedent. The precedent is the rule.
A more helpful question might be this: If Jesus Christ commanded baptism, why would I want to disregard His instructions?
"Repent and be baptized" is the New Testament teaching (Acts 2:38).
Someone who argues that people can have salvation in some other way fits Jesus' description of those who try to find their own way to enter "the sheepfold" (the Church of God).
"Most assuredly, I say to you, he who does not enter the sheepfold by the door, but climbs up some other way, the same is a thief and a robber . . . The thief does not come except to steal, and to kill, and to destroy" (John 10:1, 10).
According to the Bible, there is only one pathway to God's Kingdom, and it includes baptism.
Baptism is necessary for salvation.
Topics Covered: Doctrine, Christian Living