How to Gain Control of Your Life When You Feel Helpless
Overwhelming feelings of helplessness can have devastating results in our lives. How can we take back control when we feel like everything is out of our hands?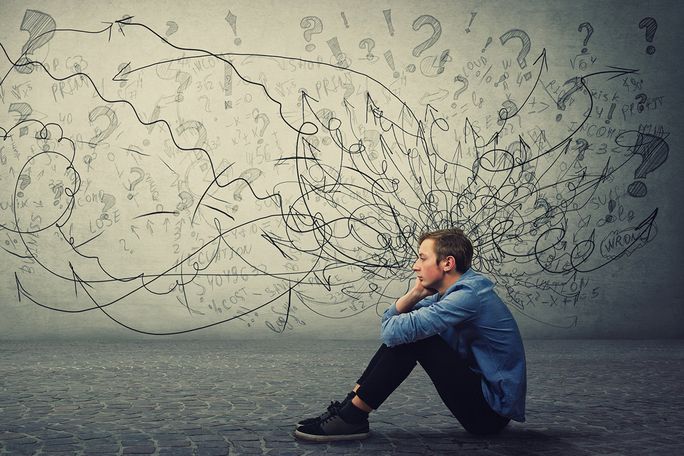 Debilitated by anxiety. Crushed by depression. Enslaved by addiction.
These three things have wreaked great havoc on human beings around the world.
As doctors, scientists and mental health professionals try to identify the causes of these situations that so many find themselves in, a striking theme arises often: helplessness.
In his book Breaking Addiction: A 7-Step Handbook for Ending Any Addiction, Dr. Lance Dodes explains the powerful effect the feeling of helplessness can have on human beings and how it is one of the primary drivers of addiction. This is shown throughout the book through several case studies.
One of the book's constant themes is that unhealthy, addictive behaviors are often ways people try to take back control of their lives when they feel totally helpless.
An important takeaway is that when people experience helplessness, it is essential that they try to regain control of their life in a healthy, constructive manner. If not, they will often try to regain a feeling of control through unhealthy behavior.
The same general principle can also apply to anxiety and depression. Anxiety and depression can lock us into unhealthy "shutdown" reactions. The reality is, these reactions never lift the feeling of helplessness. Instead, they often add to the problem and make it worse (Proverbs 12:25).
For more insight into unhealthy behaviors that can arise when we feel helpless, read our blog post "6 Steps to Overcoming Bad Habits."
What makes us feel helpless?
What sparks these feelings of helplessness?
Is it that extra work laid on our desks when we are already swamped? Is it that crying baby that wakes us up several times during the night? Is it that feeling that no one listens to us or cares what we think?
Is it the nightmare year 2020 that brought crisis after crisis, all of which were completely out of our control, yet directly affected our daily lives (restrictions, job loss, canceled plans, etc.)?
Whatever it is that makes us feel helpless, too often we retreat into the throes of addiction, depression and anxiety to cope. We must remember we have an adversary, Satan, who wants us to resort to these behaviors. He often uses feelings, such as feeling out of control, to lead people down the path of destructive behavior. To learn more about Satan and his destructive influence, read "Satan: A Profile."
But there are alternative ways to deal with feelings of helplessness. Let's look at two healthy ways we can take back control of our lives when we feel helpless.
1. We can strive to do small, healthy actions throughout the day.
When we start to feel helpless, we can try to take small steps to actively take back control of our lives. Here are some small things we can do every day:
Choose to pray and study the Bible every day. Try not to let the happenings of life get in the way of these priorities.
Choose to reframe circumstances and feelings thrust upon you in a positive light. Choose to be actively in control of your health every day. Try to be physically active and mindfully select what you eat at every meal. Remember that your body is the temple of God's Holy Spirit, so maintain control of your health (1 Corinthians 6:19).
Choose to reframe circumstances and feelings thrust upon you in a positive light. When challenges arise, view them as growth opportunities.
Choose to put things that are out of your control into the hands of God. We can do this by regularly praying, "Your will be done" (Matthew 6:10).
2. We can take immediate action when we start experiencing feelings of helplessness.
No matter how well we do at keeping our life under control, there will be times when we'll feel like we're losing control. Rather than letting those feelings fester and grow into unhealthy actions later, we can actively take steps to take back control.
Here are some things we can immediately do when those feelings arise:
Pray immediately and take the situation to the God who has ultimate control (Jeremiah 32:27). Instead of harboring anxiety, use it as an impetus to go to God in focused prayer. Prayer is actually one of several pieces of spiritual armor God has given us to deal with challenges like this. Read our article "How to Put on the Armor of God" to learn more about these spiritual tools.
Before responding to whatever situation has arisen, take a short break to fully process the situation. Sometimes our knee-jerk reaction can make things worse and cause the situation to get even further outside our control. This could simply involve taking a five-minute walk to collect your thoughts and get control of your feelings. Some people may find journaling helpful.
When something is too much to bear and you need extra support, talk to a trusted friend, mentor or counselor.
The point is this: In order to avoid or fight feelings of helplessness, we have to find things we can proactively do to maintain a sense of control over our lives. This is very important, because if we don't do something, we can quickly begin to go down a destructive personal path and feel even more helpless. We should also remember that Satan will often try to exploit these feelings and use them to our detriment.
Scriptures to read when you feel helpless
When we feel helpless, one of the first places we can go for help is God's Word. Here are some scriptures to read and meditate on when you start to develop feelings of helplessness:
Job 42:2: "I know that You can do everything, and that no purpose of Yours can be withheld from You."
Psalm 27:14: "Wait on the LORD; be of good courage, and He shall strengthen your heart; wait, I say, on the LORD!"
Psalm 56:3: "Whenever I am afraid, I will trust in You."
Psalm 138:7: "Though I walk in the midst of trouble, You will revive me; You will stretch out Your hand against the wrath of my enemies, and Your right hand will save me."
Isaiah 41:10: "Fear not, for I am with you; be not dismayed, for I am your God. I will strengthen you, yes, I will help you, I will uphold you with My righteous right hand."
Romans 8:28: "And we know that all things work together for good to those who love God, to those who are the called according to His purpose."
1 Corinthians 10:13: "No temptation has overtaken you except such as is common to man; but God is faithful, who will not allow you to be tempted beyond what you are able, but with the temptation will also make the way of escape, that you may be able to bear it."
Philippians 4:6: "Be anxious for nothing, but in everything by prayer and supplication, with thanksgiving, let your requests be made known to God."
1 Peter 5:7: "Casting all your care upon Him, for He cares for you."
You can find more helpful scriptures on our "Encouraging Bible Verses" pages.
Doing something positive is much better than doing nothing
If we often experience feelings of helplessness, we must take steps to take back control. Doing something healthy to regain control will help us avoid allowing unhealthy behaviors to arise in our lives.
As far as what we can't control, no amount of anxiety, depression or addiction will give us control over that helplessness. We must let God be God and trust in Him to take care of those things. He is far better at that than we are!
Topics Covered: Christian Living, Social Issues