3 Lessons the Berlin Wall Can Teach Us About Sin
The Berlin Wall was built 58 years ago and fell 30 years ago. What spiritual lessons can we learn from this wall that divided Germany for almost 30 years?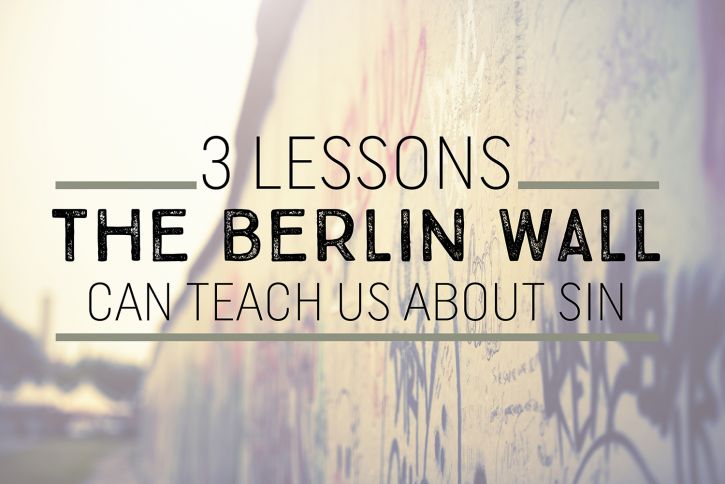 "Niemand hat die Absicht, eine Mauer zu errichten!"
It was June of 1961, and Walter Ulbricht, the first secretary of the Socialist Unity Party, was adamant: No one has the intention of erecting a wall!
In the years after World War II, Soviet-controlled East Germany was experiencing a brain drain, with many of its younger, well-educated populace immigrating to West Germany in droves. By 1961, 3.5 million East Germans—a staggering 20 percent of the population—had defected to West Germany.
The problem for East Germany was West Berlin. Surrounded on all sides by East German territory, West Berlin was a Western-controlled haven in the middle of Soviet territory. It was also a gaping emigration loophole, the sieve through which millions fled the Eastern Bloc. But a wall, Ulbricht said, was out of the question.
Two months later, construction on the Berlin Wall officially began. The order had been signed by Ulbricht himself.
Lessons from history
But all that is history now.
Tomorrow marks the 30th anniversary of the day the Berlin Wall fell: Nov. 9, 1989. Two years later, Germany was reunified and the Soviet Union had collapsed. But even though the wall itself hasn't existed for three decades, its legacy remains to this day—and with that legacy comes lessons we can all take to heart.
Sin is a wall too. Unlike the Berlin Wall, it's not a physical edifice that can be seen or touched, but it's a wall all the same, and the impact it can have on our lives is remarkably similar to the impact the Berlin Wall had on the lives of East Germans for nearly 30 long years. The history of the wall is a warning for Christians everywhere—a reminder of several biblical truths about sin.
Consider these three lessons:
1. Sin keeps us separated from what matters.
The Berlin Wall sprang up overnight. Ulbricht signed the order on Aug.14, and at midnight, construction workers and soldiers set about tearing up roads leading into West Berlin, laying down concrete blocks and stringing up barbed wire. By the morning of the 15th, West Berlin was completely walled off.
Officially, the purpose of the Antifaschistischer Schutzwall (the "Anti-Fascist Protective Wall") was to keep West Berliners out of East Germany, but the truth was clear to everyone. The Berlin Wall existed to keep East Germans out of West Berlin—and that's exactly what it did. When Berliners woke up on the morning of Aug. 15, they discovered that whichever side of town they'd slept in the night before had determined the side of town they'd be seeing for the next three decades.
Sin works a lot like that. If you're familiar with the story of David and Bathsheba (2 Samuel 11-12), then you know that David—a man after God's own heart (Acts 13:22)—once made a series of terrible decisions as he traveled deeper and deeper into sinful territory. He committed adultery, had a loyal servant murdered, and then attempted to cover the whole thing up through ruses and subterfuge. For a long time, it looked like he'd gotten away with it—like sin wasn't a boundary he had to be concerned about.
He didn't get away with it, though. When a prophet came and forced him to look at what he'd done (2 Samuel 12:7-12), David's world came crashing down. He was entrenched in sin, he'd committed unspeakable things, and he was powerless to simply walk away from it all.
The same thing can happen to us. At first, sin often looks like a boundary we can traverse freely and without restriction—and then, when we're lulled into a false sense of security, the wall goes up. Suddenly and without warning, we're trapped, stuck with a habit or a lifestyle or a repercussion we thought we could walk away from whenever we wanted.
James writes, "Each one is tempted when he is drawn away by his own desires and enticed. Then, when desire has conceived, it gives birth to sin; and sin, when it is full-grown, brings forth death" (James 1:14-15). Isaiah adds, "Your iniquities have separated you from your God; and your sins have hidden His face from you, so that He will not hear" (Isaiah 59:2).
The Berlin Wall cut East Germany off from West Berlin—and sin cuts us off from God. However inviting it looks, however harmless it appears to be, sin—all sin—builds a wall between us and our Creator, and it holds us captive.
However inviting it looks, however harmless it appears to be, sin—all sin—builds a wall between us and our Creator, and it holds us captive. 2. The longer we stay, the harder it is to leave.
The Berlin Wall that went up in 1961 was not the wall that came down in 1989. That's because the wall underwent four distinct renovations during its tenure, with each iteration making the wall more and more imposing—and the prospect of escaping even more impossible. Initially, the Berlin Wall was nothing more than a cinder block foundation topped with a barbed wire fence.
By the end, it was a combination of enormous, reinforced concrete slabs and a "death strip" filled with fakir nail beds, Czech hedgehogs, guard towers and more. For most East Germans, that was enough of a deterrent to stay put—but for others, it was an obstacle they were determined to get past.
From 1961 to 1989, some 5,000 people would attempt to circumvent the wall, with more than 130 dying in the process. Those who made the decision to leave during the wall's earlier iterations had fewer obstacles to face, while those who waited only found their opportunities to escape dwindle considerably.
Once again, sin works in a similar fashion. Breaking free gets harder over time, never easier. The longer we choose to stay in it, the tighter its grip grows, and the more imposing the wall becomes. Apathy or guilt tells us that escape is a lost cause.
But it isn't. Escape from sin is possible.
It just isn't easy.
3. Getting out takes hard work.
At this point, you might be wondering where the sacrifice of Jesus Christ factors into the analogy. After all, Paul reminds us that "by grace you have been saved through faith, and that not of yourselves; it is the gift of God" (Ephesians 2:8). And it's true. Through His sacrifice, Christ paid the penalty for our sins, and He applies that sacrifice to our sins when we genuinely repent.
But Paul also wrote, "I see another law in my members, warring against the law of my mind, and bringing me into captivity to the law of sin which is in my members. O wretched man that I am!" (Romans 7:23-24).
Being free of the penalty of sin doesn't mean we're free of the pull of sin. Paul, as a veteran of the Christian faith, was quite familiar with the redemptive power of Christ's sacrifice, but he also understood that forgiveness of sin is not immunity from sin. He understood that he could still become entangled in sin, and that he had to fight back.
So must we. We must "lay aside … the sin which so easily ensnares us" (Hebrews 12:1) and "fight the good fight of faith" (1 Timothy 6:12). The 5,000 people who attempted to flee to West Berlin were willing to risk everything to escape from the country that was holding them hostage. We need that same dedication if we want to break free of the sin that so easily ensnares us.
Taking the next step
Making the decision to break free of sin is really only the first step in a much longer process—but thanks to the sacrifice of Jesus Christ, it's a step you and I both can take. The Berlin Wall stood for almost 30 years, but the walls of sin that separate you from God can (and should) come down immediately!
It's time to fight the good fight.
Topics Covered: Historical Events, Life Lessons