Three Reasons I Believe the Bible Is True
Many view the Bible as a book of myths. Others believe it contains some truth, but isn't necessarily inerrant. Here's why I believe the Bible is true.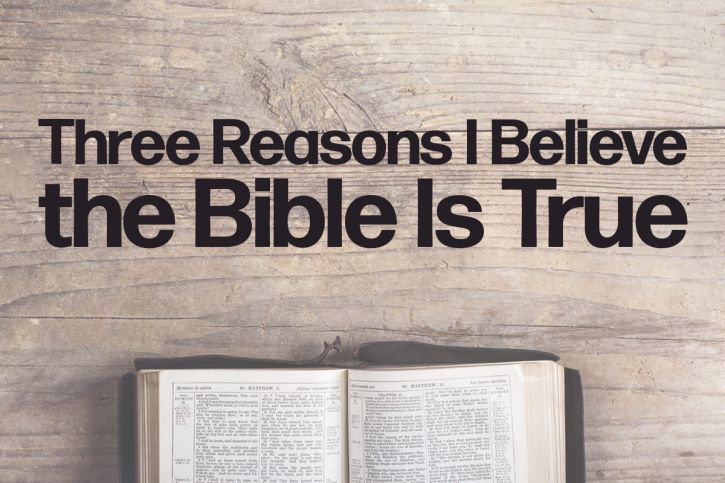 The Bible holds the keys to a happy life and answers to life's biggest questions, yet it is the most undervalued book in the world.
Lots of people own a physical Bible, and it's freely accessible on the Internet. But regardless of its widespread availability, most don't seek it out for the answers it provides. And, among those who do read the Bible, most don't fully understand it.
Is God's intervention necessary to understand the Bible?
When I was younger, I read the Bible cover to cover and didn't understand it. My lack of understanding was partly because God must reveal its full meaning to us. We can really "see" its spiritual truths only when God opens our eyes to them. Notice these scriptures that show someone can deeply understand God's Word only when He calls him or her.
"No one can come to Me unless the Father who sent Me draws him" (John 6:44).
"And He said, 'Therefore I have said to you that no one can come to Me unless it has been granted to him by My Father'" (John 6:65).
"For the promise is to you and to your children, and to all who are afar off, as many as the Lord our God will call" (Acts 2:39).
"For many are called, but few are chosen" (Matthew 22:14).
"Blessed are you . . . for flesh and blood has not revealed this to you, but My Father who is in heaven" (Matthew 16:17).
"The natural man does not receive the things of the Spirit of God . . . because they are spiritually discerned" (1 Corinthians 2:14).
When God opened my eyes and called me, the Bible opened up as it never had before. Things I never understood before started to become clear.
To learn more about God's calling, read "Many Are Called, but Few Are Chosen."
I'd like to share some of the truths God revealed to me that strengthened my conviction that His Word is true.
Reason 1: Three days and three nights
One of the first truths I learned concerned the "sign of Jonah" that Jesus spoke about in Matthew 12:39-40. In response to a request for a sign from heaven (Luke 11:16), Jesus said that generation would receive only one such sign—that He'd be entombed for "three days and three nights."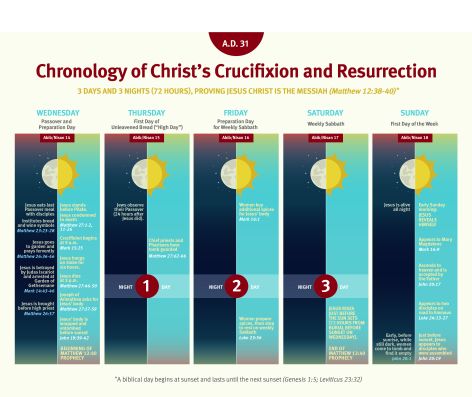 But in most of the mainstream Christian world, people believe Jesus died late on Friday afternoon and rose early on Sunday morning. The problem is, it's impossible to get three days and three nights from Friday afternoon to Sunday morning!
By putting all the scriptures together, I discovered that Jesus was buried on Wednesday evening and resurrected on Saturday evening, as the Sabbath was ending. This was exactly three days and three nights.
If we study the many scriptures on Jesus' death, burial and resurrection, we see that what Jesus said came to pass exactly as He said it would. You can learn more details about this in our article "How Do You Count Three Days and Three Nights?"
This amazing truth also taught me:
Just as I did at one time, many people believe assumptions about the Bible that aren't true.
God means exactly what He says. We must let the Bible interpret itself instead of reading our preconceived notions into it.
This leads to the second reason I believe in the Bible.
Reason 2: Fulfillment of Bible prophecy
In the Bible, God makes the incredible claim that He knows the "end from the beginning" and declares what will happen in the future from "ancient times" (Isaiah 46:10). This bold statement either proves or disproves that the Bible is God's Word.
Consider the many Old Testament prophecies of Christ's first coming and how they were fulfilled:
It would have been impossible to fake all of these fulfillments or for them to all be coincidences. For those with open eyes, it's clear that God prophesied what would happen—and it happened.
We should also keep in mind that there are many more prophecies of Christ's second coming that await fulfillment. Understanding how He fulfilled prophecies of His first coming should give us confidence that the rest of the Bible's prophecies will be fulfilled.
To learn more, read "Fulfilled Prophecy Helps Prove the Bible."
Reason 3: A plan of hope that makes sense
A question we often ask ourselves is, What is God's plan and purpose for me?
When we are at a low point in life, we often question the meaning of life or what God is doing. There's nothing wrong with asking these questions. But, sadly, most never find the right answers.
When I used to read the Bible, I had so many questions about what God was doing, not just in my life, but in the world.
Here are some of the big questions that people ask, but have no answers for:
If we can be saved only through Jesus Christ (Acts 4:12), what happens to those who died without ever hearing anything about Him? And what happens to all the people who lived in the 4,000 years before His first coming?
What happens to the millions of babies who died shortly after birth or were aborted? Does God have a plan for them?
Why did God allow people's lives to end prematurely—like the firstborn of Egypt or the people living in Jericho when the walls came down (Exodus 11:5; Joshua 6:17)? Does God have a plan for them?
Many wrongly assume that the Bible teaches that everyone who doesn't accept Christ now will go to hell or purgatory. Such people are setting themselves up to become skeptics.
A correct understanding of the Scriptures shows that God has an awesome plan that includes everyone. It's a logical plan, and it reveals how God is both just and fair. He will give everyone an opportunity to be saved. Here is a sampling of scriptures that show a glimpse of the awesome plan God has set in motion:
"And they shall all be taught by God" (John 6:45).
"For the earth shall be full of the knowledge of the LORD as the waters cover the sea" (Isaiah 11:9).
"No more shall every man teach his neighbor, and every man his brother, saying, 'Know the LORD,' for they all shall know Me, from the least of them to the greatest of them, says the LORD" (Jeremiah 31:34).
"The Lord is not slack concerning His promise, as some count slackness, but is longsuffering toward us, not willing that any should perish but that all should come to repentance" (2 Peter 3:9).
"For it is written: 'As I live, says the LORD, every knee shall bow to Me, and every tongue shall confess to God'" (Romans 14:11; compare Philippians 2:10-11).
The plan revealed in the Bible is one of the most compelling proofs of the Bible's authority as God's Word. God has a plan that is methodical, is logical and includes everyone.
To learn more about that plan, read "The Greatest Story Never Told" and "What Is the Great White Throne Judgment?"
For further study
This post covered just three areas that helped me come to accept the truth and inspiration of the Bible. But there's so much more to study and consider. Here are four other ways the Bible can be proven true, with links to help you explore each in greater depth:
Topics Covered: Bible Study