Taking a closer look at this marvelous little creature provides an important spiritual lesson. Christian conversion means total transformation.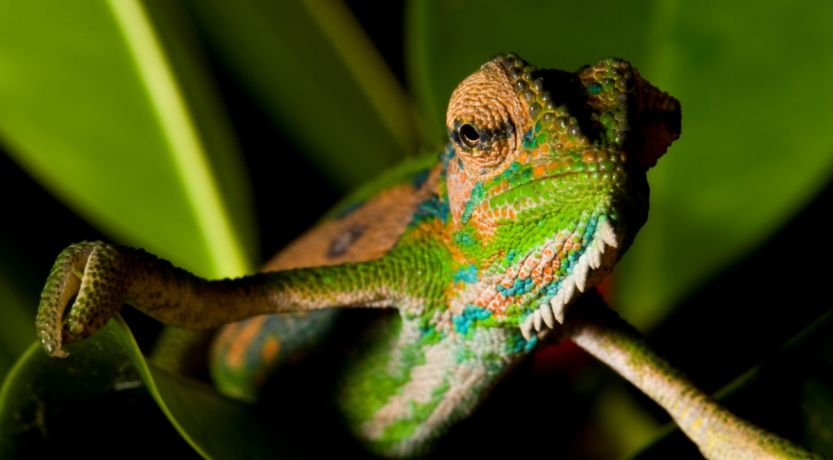 Years ago, working in my office at home in central Georgia, I glanced out the window and caught a slight movement in the foliage. Over the next several weeks that summer, a little chameleon won my admiration.
He was about five inches long with a tongue that must have been more than seven inches! For some reason, he liked it there by that window—probably because it was a handy place to grab an occasional bug trying to sneak into our house under the edge of the window screen. Most of the times I observed him, he just sat there and waited for his next snack to show up. Then, almost like lightning, his sticky tongue would dart out and capture his next victim.
The chameleon is a member of the lizard family. The origin of its name is interesting: "Chameleon comes to us, via Latin, from Greek chamaileōn, a combination of 'chamai' ('on the ground') and 'leōn' ('lion')—a tribute, perhaps, to the lizard's fearsome aspect" (merriam-webster.com).
The chameleon is one of the more interesting of God's creatures. He possesses not only a projectile tongue that picks small insects off limbs and leaves, but also eyes that can turn independently of each other. However, the most amazing thing about him is his ability to change colors, ranging from a dull gray or grayish brown to red, pink, yellow, green or blue.
He is a master of camouflage, blending in with whatever color of limb or leaf he is perched on. Of course, all that camouflage vanishes, giving way to some brighter colors, if a lady friend or a competing male happens by. Most of the time, the chameleon outside my window was a beautiful green, matching the shrub he claimed for his territory.
The ability to adapt
The ability to adapt to its surroundings is not uncommon for God's creatures. God designed many of the birds and animals living in the far northern climes to turn snow-white for a few months in the winter instead of migrating south. Then when summer approaches, their fur or feathers return to their normal gray or brown. The arctic fox and snowshoe rabbit are a couple of examples.
How awesome are the creative powers of God! David wrote, "The heavens declare the glory of God; and the firmament shows His handiwork [workmanship]" (Psalm 19:1). The variety and complexity of all living things demand a Creator. Yet the beauty and complexity of God's creation have been twisted to teach the lie that this earth and all that lives in and on it evolved from nothing (Romans 1:18-19, 20-21, 22-23; see "Intelligent Design: Can Science Answer the Question, Does God Exist?").
Human adaptability
Humans are probably the most adaptive of all living creatures. There are astronauts circling 250 miles above the earth at over 17,000 miles per hour, and there are thousands of sailors living for months as deep as a quarter mile under the oceans in modern submarines.
Man has walked on the moon, lived in the scorching heat of the Sahara and explored the frigid conditions around both poles at 60 degrees below zero.
Not only are we humans able to adapt physically to a wide variety of conditions, but history records the mental and psychological resilience of many people through the centuries.
Good or bad?
The ability to adapt can be both good and bad. People can work and live in a wide range of environmental conditions, but they can also conform to degrading surroundings, confusion or abuse rather than change it or leave. In time, people can even perceive such destructive environs as normal.
Anyone who decides to live a more godly life will soon find he or she will need to change or turn away from much of what is going on around him or her. "Do not love the world or the things in the world. If anyone loves the world, the love of the Father is not in him. For all that is in the world—the lust of the flesh, the lust of the eyes, and the pride of life—is not of the Father but is of the world. And the world is passing away, and the lust of it; but he who does the will of God abides forever" (1 John 2:15-17).
There is a lot of pressure to keep up with the Joneses. Advertising is not designed to teach contentment. Most music and entertainment does not extol modesty and high standards of morality.
If we begin to think this world is designed to indoctrinate us in things that are wrong, then we would be right. For now, we live in societies designed and influenced by Satan.
Don't conform, instead be transformed
The apostle Paul and others have urged us to resist the pressure to become a part of this evil world.
"I beseech you therefore, brethren, by the mercies of God, that you present your bodies a living sacrifice, holy, acceptable to God, which is your reasonable service. And do not be conformed to this world, but be transformed by the renewing of your mind, that you may prove what is that good and acceptable and perfect will of God" (Romans 12:1-2).
We should not allow the behavior, culture or lifestyle of what is around us to mold us and make us like it.To be conformed means to put on the form, fashion or appearance of another. This passage means we should not allow the behavior, culture or lifestyle of what is around us to mold us and make us like it.
Instead, we are to seek help and guidance from God to become more like Him. Paul goes on to speak of the need for a renewal of the mind, because we can't permanently change the outside without also changing the inside.
As King David wrote, "Create in me a clean heart, O God, and renew a steadfast spirit within me" (Psalm 51:10).
We may find ourselves among friends that are involved in behavior that is immoral or even criminal. Sometimes we need to ask ourselves: Is my environment uplifting, clean and orderly, or is it the opposite? Are my friends enriching my life, or are they pulling me down? And what can I, or should I, do about it?
Those of us who are parents know how challenging it can be to encourage our teen children to resist pressures by some of their peers to experiment with behavior that can scar them for many years to come. "My son, if sinners entice you, do not consent. If they say 'Come with us …,' my son, do not walk in the way with them, keep your foot from their path" (Proverbs 1:10-11, 15).
Paul wrote, "Do not be deceived: 'Evil company corrupts good habits'" (1 Corinthians 15:33), or as the Contemporary English Version has it, "Don't fool yourselves. Bad friends will destroy you."
And from the Pentateuch: "You shall not follow a crowd to do evil" (Exodus 23:2).
Looking for the church behind Life, Hope & Truth? See our "Who We Are" page.
Set high moral and spiritual goals
Many scriptures explain what we must do to live a transformed life:
"For we have spent enough of our past lifetime in doing the will of the Gentiles—when we walked in lewdness, lusts, drunkenness, revelries, drinking parties, and abominable idolatries. In regard to these, they think it strange that you do not run with them in the same flood of dissipation, speaking evil of you" (1 Peter 4:3-4).
"Therefore 'Come out from among them and be separate, says the Lord. Do not touch what is unclean, and I will receive you.' 'I will be a Father to you, and you shall be My sons and daughters, says the LORD Almighty'" (2 Corinthians 6:17-18).
"This I say, therefore, and testify in the Lord, that you should no longer walk as the rest of the Gentiles walk, in the futility of their mind, having their understanding darkened, being alienated from the life of God, because of the ignorance that is in them, because of the blindness of their heart; who, being past feeling, have given themselves over to lewdness, to work all uncleanness with greediness.
"But you have not so learned Christ, if indeed you have heard Him and have been taught by Him, as the truth is in Jesus: that you put off, concerning your former conduct, the old man which grows corrupt according to the deceitful lusts, and be renewed in the spirit of your mind" (Ephesians 4:17-23).
If we truly want to be more like God, we will examine where we go and what we do for entertainment and recreation. Is it something that Christ would approve of? Is it making us a better person?
It is sad how much the morality of the Western world has declined in the past few decades. Mankind has clearly been influenced by the current god of this world. In the media, filthy language and illicit love scenes have become ordinary.
"We know that we are of God, and the whole world lies under the sway of the wicked one" (1 John 5:19). Through the influence of his world and culture, he would love to lure us away from what God is offering.
"Therefore gird up the loins of your mind, be sober, and rest your hope fully upon the grace that is to be brought to you at the revelation of Jesus Christ; as obedient children, not conforming yourselves to the former lusts, as in your ignorance; but as He who called you is holy, you also be holy in all your conduct" (1 Peter 1:13-15).
The chameleon will match his color to his surroundings. Paul says that we are not to be like that—we are not to conform to our surroundings like the chameleon. We are not to match the world in our thinking and our behavior.
We must not adapt to or conform to it, but rather be transformed by a renewal through the power and guidance of God's Spirit and Word. With His help, we are to put on a new character and a new nature.
Transformation is the path worth choosing!
Take the next step by studying our article "What Is Conversion?"