Much of the focus of 1 Peter is on how Christians should conduct themselves during unjust persecution. These hardships will be replaced by a glorious future!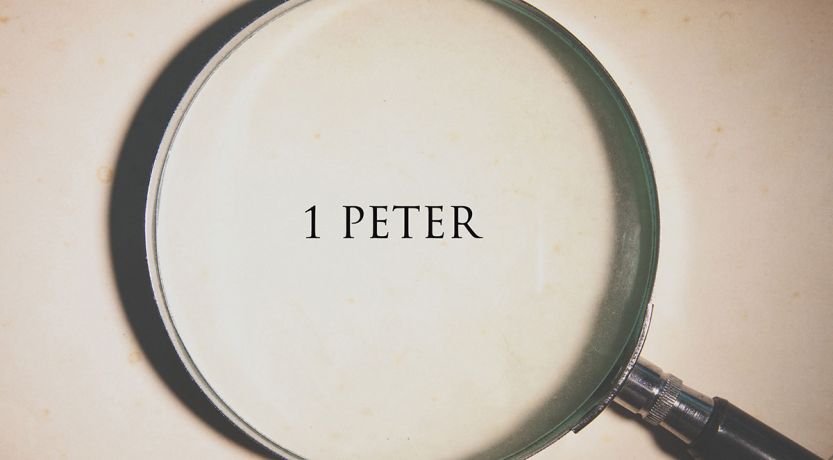 The epistle of 1 Peter is addressed to "pilgrims" (1 Peter 1:1)—Christians who had been called out of the world to be set apart as God's special people. That calling entails many hardships in this life and requires submission, self-sacrifice and patient endurance.
But thankfully all this prepares us to receive an eternal "crown of glory" when Jesus Christ returns (5:4).
Author
The epistle of 1 Peter claims to be written by the apostle Peter. Some scholars, however, reject Peter's authorship since they believe that the excellent Greek of the book could not have originated from a Galilean fisherman.
What factors should be considered?
It may be that Silvanus (5:12) acted as a scribe, with Peter dictating the subject matter and Silvanus writing the letter in proper Greek form. Peter stated he wrote the letter (5:12), and he would certainly have given the final approval.
In any case, it is a mistake to limit the power of God and reduce Him to our human level of competence and ability (Psalm 78:40-42). God was well able to provide Peter with the ability to write in scholarly Greek if He so desired. There is nothing too difficult for God (Jeremiah 32:17, 27).
Additional evidence
The author identifies himself as "a fellow elder and a witness of the sufferings of Christ" (1 Peter 5:1) and as "Peter, an apostle of Jesus Christ" (1:1)—further supportive evidence of Peter's authorship.
Most early Church leaders accepted that Peter, the apostle of Jesus Christ, was the author.
The Expositor's Bible Commentary comments: "What is striking is the relative absence of any credible voices that dissent. … With few exceptions, the Fathers held I Peter to be genuine. In the final analysis, attestation for I Peter's authenticity appears as strong as any NT document" (revised edition, p. 279).
William Barclay, in his Daily Study Bible series, states: "For our own part, however, we see no reason to doubt that the letter is the work of Peter himself, and that it was written … with the object of encouraging the Christians of Asia Minor to stand fast when the onrushing tide of persecution sought to engulf them and take their faith away" (p. 163).
The epistle of 1 Peter was written to Christians residing in the regions mentioned in chapter 1:1—the area covering the northeast corner of Asia Minor (modern Turkey). The recipients were called by God to form part of His Church.
The date most commonly accepted by scholars for the composition of the book is A.D. 67, shortly after the persecution of Christians by Emperor Nero. Others feel that an earlier date is likely, possibly 62-64.
Purpose of 1 Peter
Why was the epistle written?
Christians in these regions were experiencing relentless persecution and oppression. Peter wrote to encourage them to continue in the faith, with the absolute assurance of eternal life at Christ's return. Hope in the promises of God is one of the major themes in the epistle, together with their obligation to patiently endure sufferings and hardship while exhibiting godly conduct.
Zondervan Illustrated Bible Dictionary states the purpose as: "The keynote of this letter is suffering and the Christian method of meeting it. The writer endeavoured to convey a message of hope to Christians who had been undergoing persecution and who were succumbing to discouragement because they could find no redress. He brings an exhortation of Christian truth calculated to strengthen believers" (J.D. Douglas and Merrill C. Tenney, p. 1111).
William Barclay comments: "It has been said that its distinctive characteristic is warmth. E.J. Goodspeed wrote: 'First Peter is one of the most moving pieces of persecution literature. To this day it is one of the easiest letters in the New Testament to read, for it has never lost its winsome [charming, engaging] appeal to the human heart'" (The Letters of James and Peter, revised edition, p. 138).
Outline of 1 Peter
Following is a brief outline of 1 Peter:
1 Peter 1:1-2: Introduction.
1 Peter 1:3-12: Christian hope expounded.
1 Peter 1:13-21: Hope vested in the sacrifice of Christ and His present position of glory and power.
1 Peter 1:22–2:3: Obligations to change and grow in Christian conduct.
1 Peter 2:4-8, 21-25: Christ the spiritual Head of the Church.
1 Peter 2:9-20: Specific instructions for Christian spiritual growth.
1 Peter 3:1-7: Duties of husbands and wives.
1 Peter 3:8–4:19: Instructions on how to live righteously despite sufferings.
1 Peter 5:1-9: Advice to elders, including resisting the adversary—"the roaring lion."
1 Peter 5:10-14: Concluding remarks.
Where was 1 Peter written?
Peter wrote, "She who is in Babylon, elect together with you, greets you" (1 Peter 5:13). This implies the congregation in Babylon sent greetings, but some believe Babylon was used as a code word for Rome.
There is a wide divergence of opinion about whether this verse is a veiled reference to Rome or if, in fact, Peter was writing from the ancient city of Babylon located on the Euphrates River. Apart from tradition, there is no internal biblical evidence that this scripture is a reference to Rome or that Peter was there.
Rome is called "Babylon the Great" in the book of Revelation (Revelation 17:5), but this was penned about 20 years later than 1 Peter was written. There is no convincing proof in the Bible that Peter was in Rome.
Was Peter ever in Rome?
"Peter's connection with Rome has, however, been the subject of much controversy, due, in part, to the extravagant claims made by the Roman Church" (The Universal Bible Dictionary, 1963, p. 380).
What biblical proof, if any, is there that Peter lived in Rome?
Consider the following:
Would the apostle Paul have made the following statement to the Christians in Rome while Peter was in Rome? "For I long to see you, that I may impart to you some spiritual gift, so that you may be established" (Romans 1:11).
Paul greets around 28 different people in Rome, but omits Peter's name (Romans 16).
Paul dwelt two whole years imprisoned in Rome, but there is no mention of Peter visiting him (Acts 28:30-31).
Paul wrote: "And so I have made it my aim to preach the gospel, not where Christ was named, lest I should build on another man's foundation" (Romans 15:20). Then why would Paul preach to the Christians in Rome if Peter was there?
Now let's look at some of the messages Peter emphasized in this letter.
"To do good" and "grace"
A prominent feature of the epistle is the command "to do good" (or similar words) used in passages such as 1 Peter 2:14, 15, 20; 3:6, 11, 13, 16, 17; and 4:19.
One of Peter's primary forms of encouragement was the emphasis he placed on the hope of the resurrection.Another term Peter employed is the word grace. What does grace mean?
Commentaries state that grace carries various meanings, including "good-will, loving kindness, favour (i.e. the act of favouring) … is used of the kindness … of God towards men. The word contains the idea of kindness which bestows upon one what he has not deserved" (Thayer's Greek-English Lexicon of the New Testament).
The word grace is used in passages such as 1 Peter 1:10, 13; 3:7; 4:10; and 5:12.
True Christians described
Peter also used many phrases and words to describe God's people:
Hope and the resurrection
One of Peter's primary forms of encouragement was the emphasis he placed on the hope of the resurrection. For example, notice this passage:
"Blessed be the God and Father of our Lord Jesus Christ, who according to His abundant mercy has begotten us again to a living hope through the resurrection of Jesus Christ from the dead, to an inheritance incorruptible and undefiled and that does not fade away, reserved in heaven for you, who are kept by the power of God through faith for salvation ready to be revealed in the last time. In this you greatly rejoice … that the genuineness of your faith … may be found to praise, honor, and glory at the revelation of Jesus Christ, … receiving the end of your faith—the salvation of your souls" (1:3-9, emphasis added throughout).
Hope may be defined as a positive expectation of the future, even when there are adverse circumstances. With a firm belief in a living hope, Christians are assured that nothing that happens on this earth can negatively impact the inheritance promised to them.
The second coming of Christ
Peter places a great deal of emphasis on the second coming of Jesus Christ.
William Barclay states: "From the beginning to the end of the letter the second coming is in the forefront of the writer's mind. It is the motive for steadfastness in the faith, for the loyal living of the Christian life and for gallant endurance amidst the sufferings which have come and will come upon them" (revised edition, p. 139).
The expectation of the second coming is highlighted in these verses:
The message of 1 Peter and the whole Bible is that this present life is a training ground for the glorious future that awaits the people of God.
The crown of glory
This type of crown is not made with material that can wither, fall apart or disintegrate. Physical items are temporary and short-lived. The inheritance promised to God's people is not subject to decay or corruption (1:4-5; 5:4; Matthew 6:19-20).
What would you rather have?
Is it what this temporary, physical life offers? Or "the crown of glory that does not fade away"?
God leaves that decision up to each of us. But He shows us how to make the right choice throughout the Bible.
For further study, read the articles in the section "General Epistles."
For a quick link to all the other books of the Bible, see "Books of the Bible" on the Learning Center.