Not long before his death, Paul wrote this moving letter to Timothy, who was like a son to him. These last words had powerful meaning for Timothy—and us.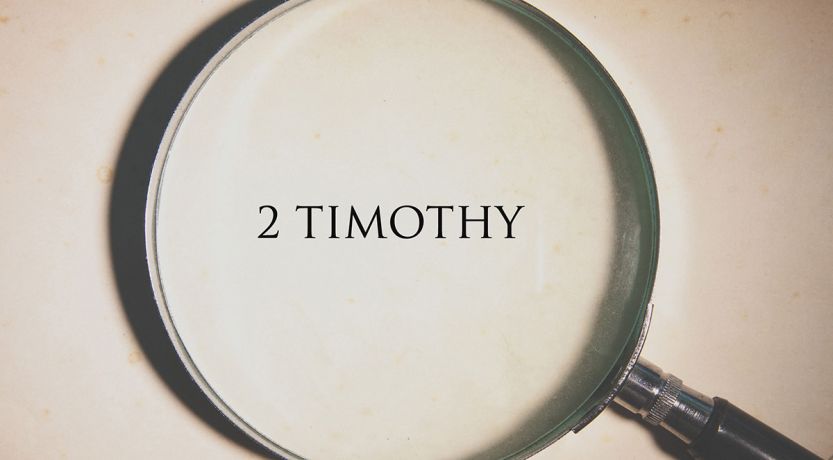 The book of 2 Timothy is the second of two short letters written to Timothy. It is also one of the three pastoral epistles attributed to Paul. The other two books of this collection are 1 Timothy and Titus. We believe 2 Timothy is the last book written by Paul that is included in the Bible.
Who wrote the book of 2 Timothy?
The belief that Paul wrote the three pastoral epistles (1 and 2 Timothy and Titus) has been almost universally accepted since the first century. This continuous belief that Paul was the author began to be challenged by modern critical scholarship in the 1800s. Citing slight differences between the texts of the Pastoral Epistles and those of other books written by Paul, these scholars argue that an anonymous author, who imitated Paul, wrote these epistles between A.D. 90 and 140.
We and conservative scholars, however, believe the traditional understanding—that Paul was the author—has strong support. Here are key considerations:
Paul claims to be the author. The book begins, "Paul, an apostle of Jesus Christ by the will of God, according to the promise of life which is in Christ Jesus, to Timothy, a beloved son: Grace, mercy, and peace from God the Father and Christ Jesus our Lord" (2 Timothy 1:1-2).
Slight changes in focus are not necessarily evidence of a different author. The setting and purpose of this book (and the other pastoral epistles) are different from Paul's other epistles, so we should expect to read about the issues that were on Paul's mind at this time.
"The conclusion of many scholars is still that the arguments which have been advanced to deny the Pauline authorship of the Pastoral Epistles . . . are not sufficient to overthrow the evidence, both external and internal, which authenticates them as genuine letters addressed by the apostle Paul to Timothy and Titus" (John R.W. Stott, The Message of 2 Timothy, p. 16).
When was the book of 2 Timothy written?
The apostle Paul wrote this very intense and personal letter to his "beloved son" in the faith, Timothy, sometime between A.D. 66-67 (see "Chronology of Paul's Journeys and Epistles"). At this time Paul was in his second imprisonment in Rome (2 Timothy 1:2, 8). It appears Paul's final imprisonment was much more severe than his first stint in prison there. He was in bonds with few visitors, and he felt his death was imminent (4:6-8).
It was a time of unrest for many reasons. In A.D. 64 Nero had allegedly burned sections of Rome and blamed the Christians. In 66 the Jewish wars began. Paul probably wrote his first letter to Timothy between 63 and 65. As already noted, this second letter to Timothy was then probably written in 66 or 67. Conybeare and Howson, in their book The Life and Epistles of St. Paul, date Paul's death as May or June 68.
Imperial persecution was on those who followed the Christian way of life, and no doubt such a renowned figure as Paul was closely guarded. Like the envious Jews of Thessalonica, it seems the Roman leadership also felt that the Christianity Paul taught and lived had "turned the world upside down" (Acts 17:6).
Second imprisonment
Paul's first imprisonment in Rome from approximately 61 to 63 had been less severe. It seems then he was under a kind of house arrest and could receive visitors, had access to the Scriptures and could freely teach (Acts 28:16, 23, 30-31).
Apparently Paul was then released from prison and continued traveling and teaching, since his later letters mention travels that were not recorded in the book of Acts. But as the years moved along and Paul's fame spread, Paul was again put in prison in Rome, perhaps from 66 to 68. This time he did not expect to be released.
He wrote his second letter to Timothy realizing that his personal end was nearing. He gave some very specific instructions to Timothy covering our commitment to God and the way we should do God's work. He also warned in a prophetic way what life will be like during the "last days."
As he concluded the letter, he encouraged Timothy to come quickly. Paul longed to see him and described his feelings of being abandoned by many. He explained that at his "first defense no one stood with me, but all forsook me," but Paul knew "the Lord stood with me and strengthened me" (2 Timothy 4:16-17). He was assured that he had "fought the good fight" and that a "crown of righteousness" was laid up for him (verses 7-8).
Outline of 2 Timothy
Here is one way to outline Paul's second letter to Timothy:
1:1-2: Personal greeting.
1:3-5: Thankfulness for Timothy's faith.
1:6-14: The need for courage and faithfulness.
1:15-18: Commendation of Onesiphorus.
2:1-13: Exhortation to steadfastness (comparisons to soldiers, athletes and farmers).
2:14-26: Exhortation to handle God's Word correctly.
3:1-9: A warning of coming perilous times and apostasy.
3:10 through 4:5: Paul's encouragement to preach the Word in spite of coming persecution.
4:6-22: A description of Paul's own trials; final greetings.
Encouragement to Timothy and the ministry
In chapter 1 Paul moved quickly into encouragement for Timothy. In verse 7 he wrote one of the most powerful and descriptive verses in the Bible about the Holy Spirit.
"For God has not given us a spirit of fear, but of power and of love and of a sound mind" (2 Timothy 1:7).
In this short verse Paul explains that the Holy Spirit is a source of power (dynamis), love (agape) and a sound mind (sophronismos, self-discipline and wise discretion). These were tools Timothy was to use in his ministry. Of course, the Holy Spirit also empowers all faithful Christians—not just ministers—to live as God desires.
In subsequent verses, Paul reminded Timothy of God's plan and power, that Christ "has abolished death and brought life and immortality to light through the gospel" (verse 10). So he exhorted Timothy to "hold fast" and stay committed (verses 13-14).
In chapter 2 verse 2 he told Timothy, "The things that you have heard from me among many witnesses, commit these to faithful men who will be able to teach others also." Paul was working to ensure the future of the Church by encouraging Timothy to continue preparing leaders who would be faithful to God's truth. He had already written similar instructions to Titus (Titus 1:5-9). Paul stressed the importance of ministers teaching as they had been taught. This concept takes on more urgency as Paul moves along in this final letter.
2 Timothy 2: applications to us all
When we read some of the principles Paul addressed to Timothy, it can be easy to excuse ourselves by saying, "These are instructions for the ministers, not directly for me as a church member."
But many of these principles apply to everyone. In fact, in chapter 2, Paul addressed six different professions that Timothy could measure himself against.
Let's briefly look at each of these:
A prophecy that sadly we see coming true
In 2 Timothy 3:1-5 Paul lists 19 end-time attitudes that will lead to stress or perilous times for all. Verse 5 clearly warns all to turn away from people displaying such characteristics. Such behavior leads to corruption of the members and an attack against the truth.In 2 Timothy 3:1-5 Paul lists 19 end-time attitudes that will lead to stress or perilous times for all. Verse 5 clearly warns all to turn away from people displaying such characteristics. Such behavior leads to corruption of the members and an attack against the truth.
A powerful personal message
Now Paul gets very personal toward Timothy. In 2 Timothy 3:10 Paul writes to Timothy with the meaningful words But you.
John R.W. Stott explained: "In this paragraph Paul twice addresses Timothy with the same two little Greek monosyllables su de. They come at the beginning of verses 10 and 14 . . . and should be translated 'But as for you . . .' In stark contrast to the contemporary decline in morals, empty show of religion and spread of false teaching, Timothy is called to be different, and if necessary to stand alone" (Guard the Gospel, p. 92).
Every Christian is called to be different from the world. "Don't let the world around you squeeze you into its own mold" (Romans 12:2, J.B. Phillips Translation).
Su de is again used in 2 Timothy 4:5, where Stott again points out that Paul "repeats his call to Timothy to be different. He must not take his lead from the prevailing passions of the day."
Timothy had known Paul from his youth, and Paul was like a spiritual father to him, so it seems Paul's use of "but as for you" would have had personal power that went to Timothy's heart.
What does 2 Timothy 3:16-17 mean?
While the importance of obeying God's words of instruction is emphasized throughout the Bible, Paul next addresses the fact that the Bible is a special book unlike any other.
After reminding Timothy that "from childhood you have known the Holy Scriptures, which are able to make you wise for salvation through faith which is in Christ Jesus" (2 Timothy 3:15), Paul wrote:
"All Scripture is given by inspiration of God, and is profitable for doctrine, for reproof, for correction, for instruction in righteousness, that the man of God may be complete, thoroughly equipped for every good work" (2 Timothy 3:16-17).
In this passage Paul is asserting two important truths: All Scripture is inspired by God, and it is profitable to us for our spiritual development. The word inspired is translated from the Greek word theopneustos, which means "God-breathed." To learn more about how the Holy Bible is different from all other books, see "The Uniqueness of the Bible."
Chapter 4 winds things up
Paul begins this chapter with 11 very powerful words: "I charge you therefore before God and the Lord Jesus Christ." This is very serious.
Then there follow warnings to Timothy that people will all too soon turn away from the truth to fables or myths. Sadly, modern Christianity too often turns away from the truth and offers much in the way of pagan customs and fables. The apostle John also reminds us of "the truth which abides in us and will be with us forever" (2 John 1:2). For that to be the case, however, we must "hold fast" to what we have been given.
His end is drawing near
Paul sums up his life of some 30 years of service to God and Christ in verses 6-8 as he looks forward to the resurrection to eternal life and to receiving his reward when Christ returns to establish His Kingdom.
He singles out members for special note. In fact, Onesiphorus (a member from Ephesus who had not abandoned Paul, but had refreshed him) is mentioned twice in the letter: 1:16 and 4:19.
Finally, as always, Paul looks as always to his Savior, who will not let him down and who will deliver him to the Kingdom.
Stott says: "Paul issues to Timothy his fourfold charge regarding the gospel—
to guard it (because it is priceless)
to suffer for it (because it is a stumbling block to the proud)
to continue in it (because it is the truth of God)
to proclaim it (because it is good news of salvation)" (Guard the Gospel, p. 126).
Paul ends in verse 22: "The Lord Jesus Christ be with your spirit. Grace be with you." The word you is in the plural and shows us that this message extends from Timothy to the whole Church. All may draw lessons from this very personal letter from one of God's greatest servants.
Read more overview of Paul's message and letters in the article "Epistles of Paul."
For a quick link to all the other books of the Bible, see "Books of the Bible" on the Learning Center.