Paul lists major events leading up to the return of Christ. These will dramatically impact the freedom, livelihood and security of people in the years ahead.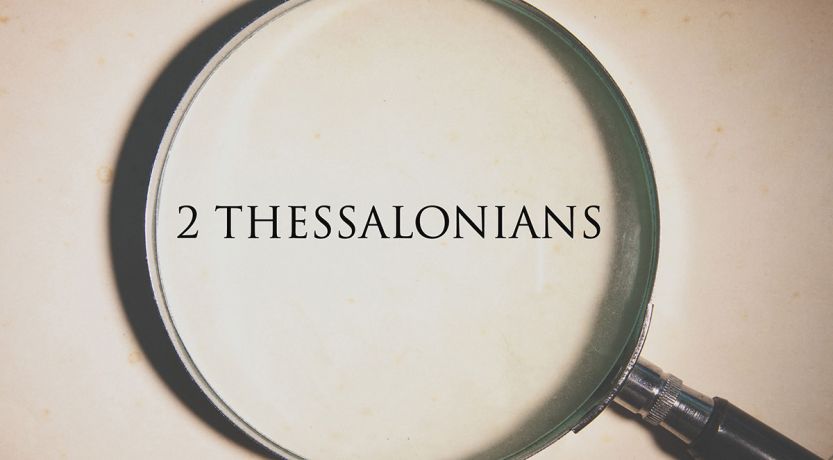 Apart from his letter to Philemon, 2 Thessalonians is the shortest of Paul's epistles. As with 1 Thessalonians, this second epistle was written from Corinth.
Paul's purpose for writing
After Paul's departure from Thessalonica, ongoing persecution of the faithful believers continued, which very much disturbed Paul.
Another serious problem was an erroneous assumption on the part of the Thessalonians that the Day of the Lord had actually begun, and that the Messiah would soon appear. Perhaps using this expectation as an excuse, some had given up their work and were making a nuisance of themselves among other members. Paul described them as disorderly busybodies (2 Thessalonians 3:11).
For these reasons, Paul thought it necessary to write a second letter to the Thessalonians.
The Expositor's Bible Commentary (Revised Edition) states that Paul "wrote the second letter a few months after he wrote 1 Thessalonians. The background of 2 Thessalonians is therefore essentially the same as that of 1 Thessalonians, with only slight additions. While still in Corinth (early 50s), Paul received further word about the condition of the church in Thessalonica. … The report's content was sufficiently important to prompt him to write 2 Thessalonians."
The New Unger's Bible Handbook notes that the occasion for writing "was a misunderstanding among the Thessalonians regarding the coming of Christ for His own (I Thess. 4:13-17) and the Day of the Lord (I Thess. 5:1-10). Because these believers were being persecuted severely, they erroneously concluded that the Day of the Lord had arrived (2:2). Paul writes to correct this misconception."
Outline of 2 Thessalonians
Chapter 1
As in the first epistle to the Thessalonians, Paul encouraged and comforted the brethren during their collective and individual trials and afflictions.
His words of encouragement include:
"Your faith grows exceedingly, and the love of every one of you all abounds toward each other" (verse 3).
"We ourselves boast of you among the churches of God for your patience and faith in all your persecutions and tribulations that you endure" (verse 4).
Pointing them to their ultimate reward: "That you may be counted worthy of the kingdom of God, for which you also suffer" (verse 5). Furthermore, "But to those whom he has made holy his coming will mean splendour unimaginable. It will be a breath-taking wonder to all who believe—including you, for you have believed the message we have given you" (verse 10, J.B. Phillips Translation).
Paul prayed that God would account them worthy of His calling, and that they would receive "all the good pleasure of His goodness and the work of faith with power" (verses 11-12).
Chapter 2
In verses 1-12 Paul clarified the misconception that Christ's second coming was going to immediately occur. He was dogmatic that two events must come to pass before Christ will return. These are:
"The falling away comes first" (verse 3).
"The man of sin is revealed, the son of perdition" (verse 3).
Paul encouraged them to "stand fast" and to hold firmly to the teachings they were taught (verses 13-17).
Chapter 3
Paul urged them to pray for him and his party (verses 1-2). The Thessalonians were given the assurance that "the Lord is faithful, who will establish you and guard you from the evil one" (verse 3). At the same time Paul expressed confidence in God who would help them to be obedient and develop "the patience of Christ" (verses 4-5).
Perhaps as a result of the mistaken belief that Christ would soon appear, some members had stopped working and relied upon the generosity of others to support them and their families. Paul condemned these individuals and gave strict instructions that such disorderly conduct should end. He declared that "if anyone will not work, neither shall he eat" (verse 10).
Paul was obviously addressing able-bodied individuals who were capable of working, and not those who were elderly or infirmed and unable to work.
He concluded with a prayer that God's peace and presence remain with and among them. He ended with his personal signature to authenticate his letter (verses 16-18).
"The man of sin"
The context of 2 Thessalonians chapter 2 shows that the individual spoken of is a religious figure. For a second time Paul warned them about a religious deception he had discussed with them on his previous visit (verse 5).
Consider these relevant points:
The time setting: The man of sin will appear on the scene just before the second coming of Christ—he will be destroyed by "the brightness of His coming" (verse 8).
The man of sin will be extremely arrogant: "Who opposes and exalts himself above all that is called God or that is worshiped, so that he sits as God in the temple of God, showing himself that he is God" (verse 4).
This skillful deceiver is controlled and influenced by Satan the devil, and he will perform spectacular miracles to deceive: "The coming of the lawless one is according to the working of Satan, with all power, signs, and lying wonders" (verse 9).
The man of sin is part of "the mystery of lawlessness," and he will mislead people into "unrighteous deception" (verses 7, 10) and, therefore, unrighteous and ungodly behavior.
He will encourage people to reject the truths of the Bible, and instead will teach lies about what the Word of God actually instructs (verses 10-12).
Comparing 2 Thessalonians 2 with Revelation 13
Note the clear similarities between the second beast (an end-time false prophet) described in Revelation 13:11-18 and the man of sin described in 2 Thessalonians 2.
Revelation 13:13-14: "He performs great signs, so that he even makes fire come down from heaven on the earth in the sight of men. And he deceives those who dwell on the earth by those signs which he was granted to do in the sight of the beast."
2 Thessalonians 2:9-11: "The coming of the lawless one is according to the working of Satan, with all power, signs, and lying wonders, and with all unrighteous deception among those who perish, because they did not receive the love of the truth, that they might be saved. And for this reason God will send them strong delusion, that they should believe the lie."
This false prophet, along with the political leader called the "beast," will be destroyed in the lake of fire at the return of Christ (Revelation 19:20; 2 Thessalonians 2:8), followed shortly afterwards by the binding and restraining of Satan (Revelation 20:1-3).
The great impostor
This great impostor will be led by Satan and will use his power to perform various counterfeit miracles, signs and amazing wonders. His actions will be so convincing that millions will fall prey to his deceptive powers, and even regard him as God in the flesh (2 Thessalonians 2:4)!
Paul makes it clear that one sure way to escape the coming deception is to receive the love of the truth and to make that truth an important part of our lives.In context, this man of sin is an influential end-time religious figure who will arise just before the return of Christ to the earth. To learn more about this "man of sin," who is also called the Antichrist and the false prophet, see the article "Antichrist."
How to escape the coming deception
How can we escape this masterful deceiver empowered by our adversary, Satan the devil? The Word of God gives the answer.
Those who are deceived and receive condemnation "did not believe the truth but had pleasure in unrighteousness" (2 Thessalonians 2:12). Paul makes it clear that one sure way to escape the coming deception is to receive the love of the truth and to make that truth an important part of our lives. (See our article "What Is Truth?")
Paul continued: "Therefore, brethren, stand fast and hold the traditions [the truth] which you were taught, whether by word or our epistle. Now may our Lord Jesus Christ Himself, and our God and Father, who has loved us and given us everlasting consolation and good hope by grace, comfort your hearts and establish you in every good word and work" (verses 15-17).
Take this solemn warning to heart
These verses should be a grave warning to all of us. It is vitally important that each of us ensures we are firmly and resolutely grounded in the truths of God's Word, so that when the great deception begins, we will have the spiritual character to stand firmly upon our beliefs. Our eternal lives depend upon our ability to believe the truths of God rather than the lies of Satan.
These prophetic warnings are not idle threats, but events that may very well occur during the lifetime of many who read this article.
Act now and grasp the opportunity
Paul's earnest desire for the Thessalonians was for them to appear "in the presence of our Lord Jesus Christ at His coming" (1 Thessalonians 2:19). This will be the time "when He comes, in that Day, to be glorified in His saints and to be admired among all those who believe, because our testimony among you was believed. Therefore we also pray always for you that our God would count you worthy of this calling, and fulfill all the good pleasure of His goodness and the work of faith with power" (2 Thessalonians 1:10-11).
It is up to each of us to act on the truths of God while we have the opportunity. May it never be said that due to neglect we lost the greatest gift ever offered to humanity. Keep in mind these words: "Behold, I am coming quickly! Hold fast what you have, that no one may take your crown" (Revelation 3:11).
What a wonderful opportunity and ultimate reward we have been offered!
Read more about Paul and his letters in the section "Epistles of Paul."
For a quick link to all the other books of the Bible, see "Books of the Bible" on the Learning Center.