Psalm 119:169
Let my cry come before You, O LORD; give me understanding according to Your word.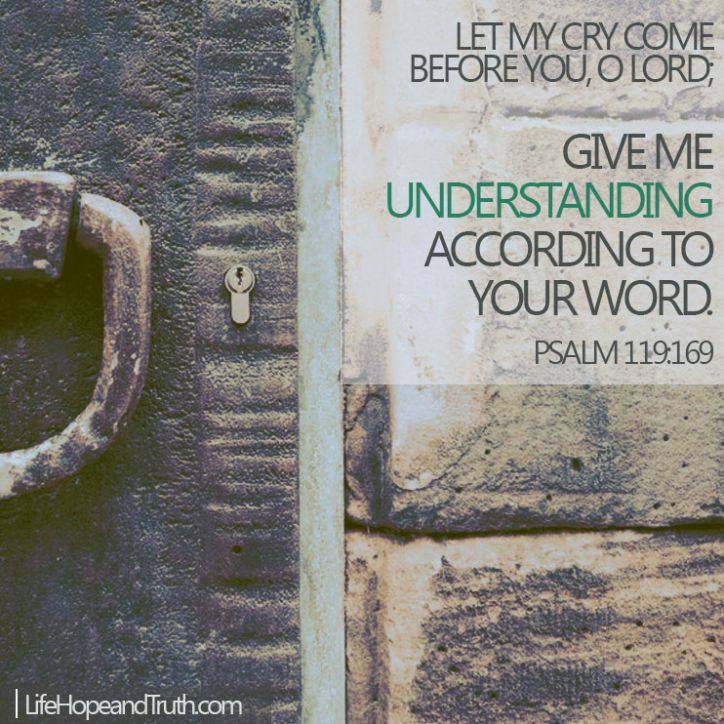 Here we read the psalmist directly praying to God. Breaking this verse down, we learn two very important lessons about prayer:
Sometimes it is necessary to pray with deep emotion. God wants us to share our deepest needs, problems and circumstances with Him openly and to pour our heart out to Him. God doesn't want dull, repetitive and monotone prayers. The purpose of prayer is to communicate with God on a deep level, and sometimes that will be with tears and emotion. James 5:16 tells us that "the effective, fervent prayer of a righteous man avails much" (emphasis added). Fervent prayers require us to pray with our "whole heart" (Psalm 119:145). An example of this type of prayer in a dire circumstance is Christ's prayer the night of His arrest. Luke records that Christ's prayer was so intense and earnest that "His sweat became like great drops of blood falling down to the ground" (Luke 22:44).
Praying for wisdom and understanding should be a regular part of our prayers. Prayer is part of a two-way process of communication with God. Prayer is our means of communicating with God, and the Bible is God's means of communicating with us. The Bible contains "the words of eternal life" (John 6:68). That's why understanding and wisdom based on God's Word is so important. Whenever we study the Bible, it is important to specifically go to God and ask for understanding of what we read and the wisdom and character to put it into practice in our lives (Proverbs 2:3-5; James 1:5).
To learn more about how to effectively communicate with God through prayer, read "How to Pray."
Tomorrow on the Daily Bible Verse Blog: "Strive to Stop Striving."