The Greatest of These Is Love
1 Corinthians 13:13
And now abide faith, hope, love, these three; but the greatest of these is love.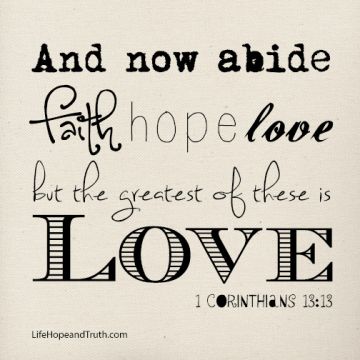 At the conclusion of what is commonly known as the Love Chapter, the apostle Paul again emphasizes the supremacy of love. Faith and hope are vital aspects of the Christian life and not to be minimized. But even greater is the outgoing concern that epitomizes the nature of God (1 John 4:16).
William Barclay summarizes the point this way: "Great as faith and hope are, love is still greater. Faith without love is cold, and hope without love is grim. Love is the fire which kindles faith and it is the light which turns hope into certainty" (William Barclay, The Daily Study Bible Series, note on 1 Corinthians 13:8-13).
For more on godly love, see "The Great Commandment."