Psalm 119:136
Rivers of water run down from my eyes, because men do not keep your law.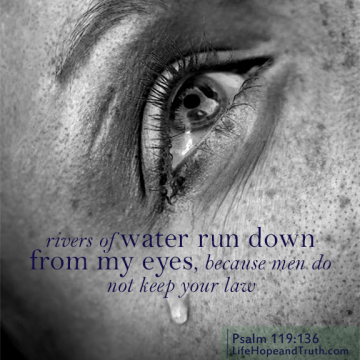 When we observe the world around us, we constantly see the negative consequences and suffering brought upon people's lives by their own (and others') disobedience to God's law. What kind of reaction should we have when we view the tragedies and suffering that result from ignorance of the law of God?
This psalm shows that we should have a genuine sense of sadness. The prophet Jeremiah (who prophesied before, during and after the fall of Jerusalem to Babylon) had the same reaction to the consequences that came on the nation of Judah as a result of their disobedience (Jeremiah 9:1; 13:17; Lamentations 1:16).
People who have a genuine love for God's law and other people will feel a sense of sadness when they see this kind of suffering that could have been prevented by obedience.
But we are not to live our life in constant sadness. The Bible talks much more about joy and happiness as a result of keeping God's law (Psalms 1:1-2; 119:174).
To learn more about the way of life that makes life work and brings happiness, read "The 10 Commandments and God's Way of Life."