Psalm 119:147
I rise before the dawning of the morning, and cry for help; I hope in Your word.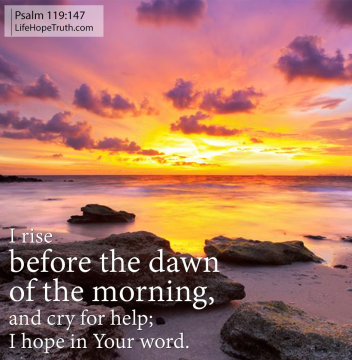 Jesus Christ taught that prayer is necessary for His followers (Matthew 6:6; 7:7-11; Luke 10:2). Sometimes people find it difficult to "fit" regular prayer into their lives and schedules. This psalm gives us a practical key to prayer: Instead of trying to fit prayer into our schedule, we can make and dedicate time for prayer outside of our regular schedule.
Christ, our example, got up early to pray to His Father (Mark 1:35). David also followed this custom (Psalms 55:17; 88:13).Though it takes character and dedication to go to bed early and get up early, early morning prayer is a custom that can greatly strengthen our relationship with God and improve the quality of our everyday life.
To learn more about prayer, read "How to Pray."
Tomorrow on the Daily Bible Verse Blog: "Overcome Anger Through Self-Control and Forgiveness."