When faced with trials and troubles, many people seek the comfort of the Scriptures. Here are a few reassuring passages for comfort and sharing.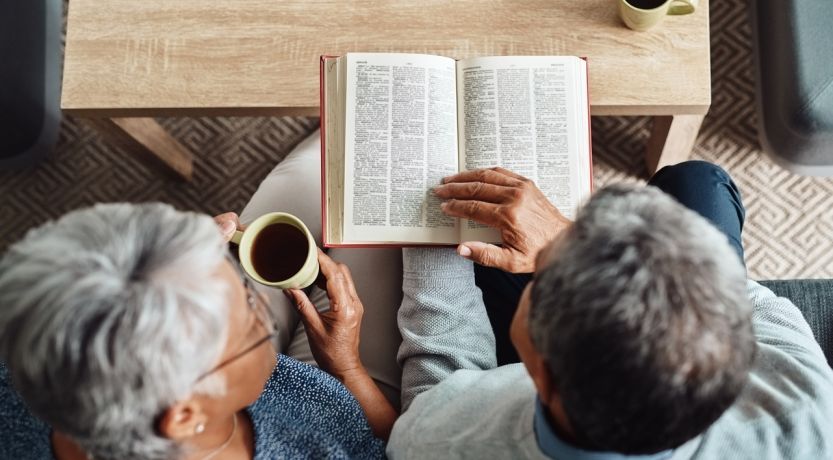 All of us experience setbacks in life—illness, loss of a job, loss of a loved one. Some of these experiences leave us afraid or depressed. Others leave us with deep feelings of sadness and discouragement.
Where do you turn for comfort in times such as these?
The apostle Paul and the comfort of the Scriptures
In his letter to the church at Rome, the apostle Paul wrote about a great source of comfort and hope, the "comfort of the Scriptures" (Romans 15:4).
The entire verse tells us that "whatever things were written before were written for our learning, that we through the patience and comfort of the Scriptures might have hope."
The New Revised Standard Version translates it: "For whatever was written in former days was written for our instruction, so that by steadfastness and by the encouragement of the scriptures we might have hope."
If anyone understood suffering, Paul surely did! He had been "in weariness and toil, in sleeplessness often, in hunger and thirst, in fastings often, in cold and nakedness" (2 Corinthians 11:27).
And those weren't the worst of his troubles. At the time he wrote 2 Corinthians, Paul had been scourged five times, shipwrecked three times, beaten with rods three times, and stoned once (verses 24-26). (And Acts 27 tells about yet another shipwreck!)
Most of us have not experienced anything quite so severe, but we all have times when we need to be comforted. And we, like Paul, can come to appreciate the comfort offered in the pages of Scripture.
Here are a handful of Bible verses I find comforting.
Isaiah 40:31
"But those who wait on the LORD shall renew their strength; they shall mount up with wings like eagles, they shall run and not be weary, they shall walk and not faint."
This verse is the culmination of a chapter of Isaiah that stands out in the book because it is so markedly different from the preceding 39 chapters. The first part of Isaiah is primarily concerned with judgment, whereas "the section of the book that begins at chapter 40 . . . is one of comfort and salvation" (Expositor's Bible Commentary, Vol. 6, p. 9).
Verse 31 concludes a four-verse passage that compares the power of God to the frailty of humans. Faint (or faints) and weary each appear three times in these four verses. Isaiah first uses them to assert that God "neither faints nor is weary" (verse 28).
Isaiah then tells us that God "gives power to the weak" (verse 29), explaining that even young men will not be able to endure what "those who wait on the LORD" can bear (verses 30-31).
Having contrasted human weakness with God's strength, and showing God's willingness to share His strength with human beings, Isaiah draws a wonderful word picture. Those people who wait on the Lord will metaphorically soar in the skies as effortlessly as the majestic eagle.
We can take comfort in the Scriptures, knowing that when we commit our lives to living as God calls us to live, waiting on the Lord, He will provide the strength we need to face whatever hardships we encounter.
Isaiah 55:8
"'For My thoughts are not your thoughts, nor are your ways My ways,' says the LORD."
At first glance, this verse doesn't appear to offer comfort. Stripped from their context, these words tell us nothing about why God's thoughts and ways are higher than ours.
However, the first word of the sentence is "for." It tells us that this statement is directly connected to the preceding verses. It is in those verses that we discover why God's thoughts and ways are superior.
In the preceding passage Isaiah had appealed to his readers to "seek the LORD while He may be found" (verse 6), and then explained that God "will abundantly pardon" individuals who turn from sin (verse 7). God's desire to forgive is the basis on which His thoughts are higher than human motivations.
Humans too often seek vengeance, leaving no room for repentance. We are often without mercy, and because of that, we sometimes find it difficult to believe that God really wants to forgive us.
There is great comfort in this passage, though, when it asserts that God's thoughts are thoughts of mercy. His mercy is far above human mercy, and that is truly comforting.
This verse also highlights one of the primary goals of true Christians—elevating our thoughts and mind to work like God's (1 Corinthians 2:16).
Jeremiah 29:11
"For I know the thoughts that I think toward you, says the LORD, thoughts of peace and not of evil, to give you a future and a hope."
These inspiring words are in the midst of a letter that God inspired Jeremiah to write to the captives from Jerusalem who were living in Babylon (Jeremiah 29:1-2). Nebuchadnezzar had captured these Jews in 597 B.C.
Jeremiah wrote his letter to counter the teaching of false prophets, who claimed that Babylon would soon fall and that the captives would return to Jerusalem (verses 8-9). Instead, Jeremiah indicated that the captivity would last 70 years (verse 10), just as he had prophesied seven years earlier (Jeremiah 25:1, 8-14).
Had Jeremiah stopped writing at this point, the captives would have lost hope for the future. They had been forcibly removed from their homeland, hundreds of miles away, and Jeremiah had told them they would not return.
But Jeremiah did not stop after reasserting that the Jews would live in captivity 70 years. In the very next verse, Jeremiah reassures the captives that God had not forgotten them, nor had He abandoned them. Instead, He planned to give His chosen people "a future and a hope" (verse 11).
With this knowledge, we can step back from our own troubles. We can recognize that even though we may not be able to understand what is happening to us, or why, we can be sure that the God we serve has not abandoned us, just as He had not abandoned His people in captivity.
Today God is offering an even greater "future and a hope" to His people—eternal life in His family (Titus 1:2).
Psalm 91:4-5
"He shall cover you with His feathers, and under His wings you shall take refuge; His truth shall be your shield and buckler. You shall not be afraid of the terror by night, nor of the arrow that flies by day."
The New Living Translation captures God's promise of care and protection in a little more familiar language: "He will cover you with his feathers. He will shelter you with his wings. His faithful promises are your armor and protection. Do not be afraid of the terrors of the night, nor the arrow that flies in the day."
It's one thing to know something intellectually, and it's another to feel God's protection.
We can know that God is the source of our strength, as we see in Isaiah 40:31. We can take comfort knowing that God's mercy is far above human mercy, as Isaiah 55:6-8 tells us. We can believe that God holds out "a future and a hope" for us, as we read in Jeremiah 29:11.
Sometimes, though, we need to be reminded that God is our loving protector.
Psalm 91 offers us the comforting imagery of God as a mother bird wrapping her wings around her chicks. Those under God's protective care "shall not be afraid" (verse 5).
To feel this security, though, involves more than reading the Bible dispassionately. If we read prayerfully, loving God with all our heart, soul and mind, we will be able to feel the comfort of the Scriptures.
John 14:27
"Peace I leave with you, My peace I give to you; not as the world gives do I give to you. Let not your heart be troubled, neither let it be afraid."
Jesus Christ has promised us peace, and that should give us great comfort.Jesus uttered these words the night before His crucifixion. He confirmed His promise of peace (John 16:33) that same night at the end of His instructions to the 11 disciples still with Him.
Jesus knew that He would die a horrible death, but He also knew His disciples would be tested. Like those first disciples, we can find ourselves anxious or fearful as we face seemingly insurmountable troubles.
The ensuing stress may make it difficult for us to eat, to sleep or to do much of anything. That is the very time we need the peace that comes only from God.
The peace Jesus promised comes through the Holy Spirit (John 14:16-17, 26). In the New King James Version, Christ called the Spirit the "Helper" (verses 16, 26).
The Greek word is paraklētos, which is also translated "Comforter." In fact, this word is a variation of paraklēsis, the word Paul used in Romans 15:4, when writing of the "comfort" of the Scriptures.
Jesus Christ has promised us peace, and that should give us great comfort.
Romans 8:38-39
"For I am persuaded that neither death nor life, nor angels nor principalities nor powers, nor things present nor things to come, nor height nor depth, nor any other created thing, shall be able to separate us from the love of God which is in Christ Jesus our Lord."
These two verses conclude one of the most powerful passages in the Bible in terms of offering comfort. This passage is in the same book in which Paul wrote about the comfort of the Scriptures.
Chapter 8 of Romans begins with a description of a human life led by God's Holy Spirit. The second half, beginning at verse 18, offers comfort.
Paul admitted to the church at Rome that the Christian walk often means that we must suffer, but he contended that "the sufferings of this present time are not worthy to be compared with the glory which shall be revealed in us" (verse 18).
Urging the Roman members to take the long view, Paul wrote that "all things work together for good" for anyone who truly loves God and has been called according to God's purpose (verse 28).
The last nine verses are extremely encouraging, building to the climax in which Paul declared that nothing can separate us from God's love (verses 38-39). Even though this letter to the Romans was written before the persecutions of Nero, these words undoubtedly gave the early Roman martyrs great comfort.
We, too, can take great comfort in knowing that there is no power, no circumstance and no event that can separate us from God's love for us.
Christians and the comfort of the Scriptures
We can be thankful for these and other Bible passages that offer so much comfort. But that is not the end of the story for Christians. There is more we should understand.
When Paul wrote about the comfort of the Scriptures (Romans 15:4), he paired that comfort with the need for patience. The Greek word translated "patience" is hypomonē. This word could be translated as "patient endurance." In fact, the English Standard Version uses the word "endurance" and the New American Standard Bible opts for "perseverance."
That means we can look to Scripture for comfort, but we must always remember that our trials may not disappear overnight. We need to endure with patience.
The context of Romans 15 expands the concept even further. Verse 2 talks about pleasing and edifying—building up—other members of the Church. Then verses 5-6 say, "Now may the God of patience and comfort grant you to be like-minded toward one another, according to Christ Jesus, that you may with one mind and one mouth glorify the God and Father of our Lord Jesus Christ."
The Scriptures promote patience and comfort because they are inspired by the God of patience and comfort. We should read, appreciate, share and be encouraged by the comfort provided in the Scriptures, as we edify each other and glorify God together.