Who Will Protect Us?
The men didn't look like they needed to be protected. Yet their fear was real and their question sincere.
The man facing me held a 12-gauge pump-action shotgun. His partner held a .458 Winchester Magnum—literally an elephant gun. Both had rounds chambered.
He asked me urgently, "Who will protect us?"
It seemed an odd question; the armed men were protecting my colleague Daniel and me. On a walking safari in the Mara Conservancy (one of the best places in the world to see African wildlife), we might see lions, leopards, Cape buffaloes, rhinos and elephants. Walking among scattered animal bones, we could cross paths with any of those at any time, thus the heavy firepower.
But the Maasai rangers weren't asking about protection from the big five animals. They were talking about Al-Shabaab.
Terror in Kenya
The brutal Islamic terror group from Somalia, Kenya's neighbor to the north, has committed murderous atrocities all over Kenya. Al-Shabaab has shot many hundreds—
especially targeting Christians. Grenades have been thrown into churches, businesses and buses.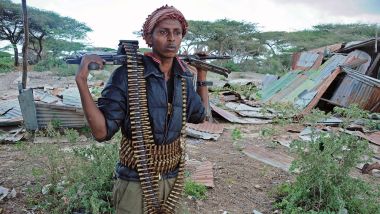 The worst came in April of this year, when terrorists stormed the Garissa University College, killing 147 people. They lined students up and asked them their religion, immediately murdering any students who said they were Christians.
Kenyans are understandably fearful. When the ranger learned we were ministers, he said he was a Christian, and he asked our advice. "We know we are not to be violent, we are not to take vengeance, but those Muslims kill us!" He went on, "The state cannot protect us; the police cannot; the army cannot. What are we to do? Who will protect us?"
Where to turn?
It's a very good question. Police and armies usually afford some protection, but not always; and certainly not against the events prophesied in the book of Revelation for times just ahead. More and more people will ask this question in anguish.
But a Psalm tells us: "The Lord is on my side; I will not fear. What can man do to me? ...
"It is better to trust in the Lord than to put confidence in man. It is better to trust in the Lord than to put confidence in princes" (Psalm 118:6, 8-9).
So I told the ranger the Bible promises that after trying times to come, everything will turn out joyfully. God is precisely fulfilling His plan on earth for the benefit of all people. I reminded him that there have been Christian martyrs in the past and that even Jesus was among them. He beseeched His Father not to have to die on the cross, but prayed most of all that His Father's will would be done.
Christ is our example, I said. God will care for those faithful to Him, even resurrecting them to eternal life.
God will protect us.
The ranger was thoughtful but encouraged. So was I.
For more about God's protection, see "Can You Really Prep for Doomsday?"
–Joel Meeker
@JoelMeeker