What do we know about Mark the evangelist? The Bible gives hints about a man who disappointed Paul, but later became a faithful helper for Paul and Peter.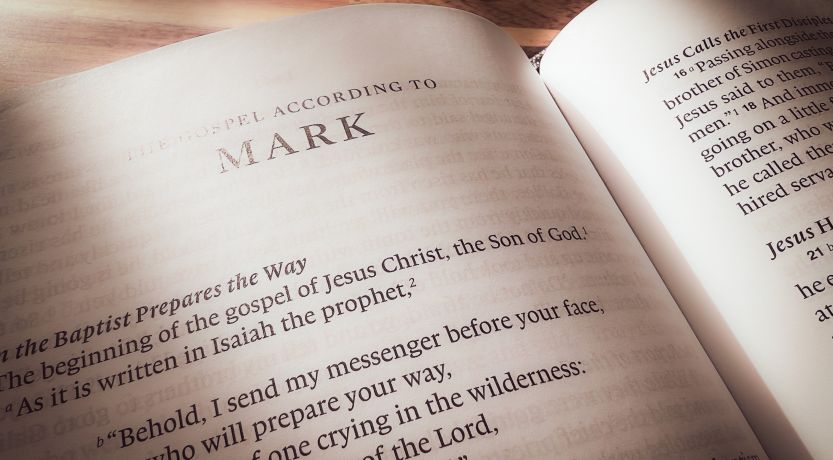 Mark is a name that occurs few times in the Bible, appearing in only eight verses, and yet he had a profound impact on the New Testament.
Who wrote the book of Mark?
Most biblical scholars believe that Mark, also known as John Mark, was the author of the Gospel bearing his name.
In the introduction to the Gospel of Mark, The Bible Knowledge Commentary states: "The unanimous testimony of the early church fathers is that Mark, an associate of the Apostle Peter, was the author. The earliest known statement of this comes from Papias (ca. A.D. 110), who quoted the testimony of John the elder, probably an alternate designation for the Apostle John."
Many traditions claim that the Gospel of Mark is comprised of the recollections of Peter. Mark and Peter enjoyed a close relationship, and Mark was with Peter when he wrote his first letter (1 Peter 5:13).
Later in the introduction the commentary states, "Many scholars believe that Mark was the first Gospel written and that Matthew and Luke used it as a primary source document along with material from other sources. Luke, in fact, stated that he used other documents (Luke 1:1-4). Several arguments support the priority of Mark: (1) Matthew incorporates about 90 percent of Mark, and Luke over 40 percent—over 600 of Mark's 661 verses are found in Matthew and Luke combined" (The Bible Knowledge Commentary: An Exposition of the Scriptures).
Apparently Mark was the first Gospel written, and Matthew and Luke used this shorter, fast-paced Gospel as an outline for their Gospel accounts. (See more about the book of Mark in our article "The Gospel of Mark.")
Was Mark the young man who fled naked?
Who was Mark, the author of the Gospel that bears his name? We may get our first glimpse of him in the Garden of Gethsemane on the night Jesus was betrayed and captured. The account is found in Mark 14:50-52:
"Then they all forsook Him and fled. Now a certain young man followed Him, having a linen cloth thrown around his naked body. And the young men laid hold of him, and he left the linen cloth and fled from them naked."
It is impossible to know for sure who the young man was, as the Bible does not specifically say. "Only Mark records this mysterious episode. The 'young man' (v. 51) is not identified, but the consensus is that he is Mark. Why else would he insert such a trivial detail in so solemn a story? Was this Mark's way of saying, 'I was there'? Why he was there is not explained" (The Expositor's Bible Commentary, Vol. 8, 1984, p. 766).
This is certainly not the most flattering introduction of a Gospel writer.
Peter escapes to the house of Mark's mother
Mark is next mentioned in Acts 12. Herod Agrippa I had James, the son of Zebedee, killed with the sword. He also arrested the apostle Peter and planned to execute him after the Passover. This probably occurred in A.D. 44. God miraculously intervened on behalf of Peter and the Church by delivering Peter from prison.
Once Peter "had come to himself," he went "to the house of Mary, the mother of John whose surname was Mark, where many were gathered together praying" (Acts 12:12). Mark was sometimes called by his Jewish name, John, and sometimes by his Roman name, Mark.
Mark's mother had a relatively large house in Jerusalem and, therefore, she must have been somewhat affluent. The house was large enough for "many" members of the Church to gather. Peter knocked at the gate or outer entrance, and a servant named Rhoda came to answer.
There is no mention of Mark's father. Perhaps he was no longer living at this point. Later, Peter affectionately refers to Mark as "my son" (1 Peter 5:13). It appears that Mark grew up in the faith.
Mark, the cousin of Barnabas
Next, we see Mark traveling with Barnabas and Paul (Acts 12:25). Mark and Barnabas were cousins (Colossians 4:10). Since they were related, we should briefly consider Barnabas to understand more about Mark.
Barnabas was a Levite from the island nation of Cyprus. His real name was Joses or Joseph, and he was nicknamed Barnabas (Son of Encouragement) by the apostles (Acts 4:36). He was generous and sold some land and donated the money to the Church (verse 37).
Barnabas was a good man, full of the Holy Spirit and faith (Acts 11:24). He accepted Paul as a disciple of Christ and brought him to the apostles in Jerusalem (Acts 9:27). He was sent by the Jerusalem church to Syrian Antioch to preach and encourage the members. He traveled to Tarsus and brought Paul back to Syrian Antioch, where they both taught for a year (Acts 11:22-25).
Barnabas and Paul brought famine relief from Antioch to the Jerusalem church (verse 30). Soon afterward, Barnabas and Paul returned from Jerusalem accompanied by John Mark.
John Mark departs during Paul's first journey
From Syrian Antioch, directed by the Holy Spirit, Barnabas and Paul were sent out on their first evangelistic journey, accompanied by Mark. This journey started after A.D. 44 and ended some time before 50.
Mark is referred to as their assistant or helper (hypēretēn). From Antioch they traveled down to Seleucia, and from there they sailed to Cyprus. They landed at Salamis and traveled across the island to Paphos, teaching in the Jewish synagogues. Cyprus had a large Jewish population during the first century, and it was the homeland of Barnabas.
From Paphos they sailed to Perga in Pamphylia, "and John, departing from them, returned to Jerusalem" (Acts 13:13). The Bible does not give a reason for John Mark's departure from the group back to Jerusalem.
Many have speculated various possibilities, but we simply do not know the reason. However, we do know that the apostle Paul did not agree with Mark's decision and was disappointed with him.
Paul and Barnabas disagree over Mark
Around A.D. 50 Paul proposed that he and Barnabas revisit the cities of their first journey, and Barnabas wanted to take Mark with them.
Mark serves as an example of someone who had a rough start in his service to the Church. He let down his fellow workers, but ultimately he didn't quit. He persevered, and over time his faith matured.Luke records, "Now Barnabas was determined to take with them John called Mark. But Paul insisted that they should not take with them the one who had departed from them in Pamphylia, and had not gone with them to the work. Then the contention became so sharp that they parted from one another. And so Barnabas took Mark and sailed to Cyprus; but Paul chose Silas and departed, being commended by the brethren to the grace of God. And he went through Syria and Cilicia, strengthening the churches" (Acts 15:37-41).
Even though Mark returned to Jerusalem at the beginning of the first journey, it appears that he was willing to accompany them on the second journey. Mark would have heard about the trials and hardships encountered during the first journey—the opposition from the Jews and their blasphemy and persecution, the need to flee from certain cities and the stoning of Paul. Yet he was willing to accompany them on their second journey.
It seems Mark had changed. He had faith that God would be with them and that their journey would be successful.
Barnabas and Mark's journey
Mark joined Barnabas in traveling to Cyprus, and they are no longer mentioned in the book of Acts. (This is not unusual; even the apostle Peter is not mentioned in the book of Acts after the Jerusalem conference.)
There is no biblical record of Barnabas and Mark's journey and work of preaching the gospel in Cyprus. Undoubtedly, they faced severe trials along the way, and through faith they endured. According to some traditions, Barnabas was martyred by the Jews at Salamis on the island of Cyprus and was buried by Mark.
Did Paul and Barnabas reconcile?
What about the rift between Barnabas and Paul regarding Mark? Was it ever resolved? The Bible doesn't indicate whether Barnabas and Paul ever met again. Paul mentioned Barnabas in his letter to the Galatians, which was probably written around A.D. 53-54 during Paul's second evangelistic journey. He also mentioned Barnabas in his first letter to the Corinthian church, which was written approximately A.D. 55-57 during Paul's third journey.
So, about five years after his separation from Barnabas, Paul wrote, "Do we have no right to eat and drink? Do we have no right to take along a believing wife, as do also the other apostles, the brothers of the Lord, and Cephas? Or is it only Barnabas and I who have no right to refrain from working? Who ever goes to war at his own expense? Who plants a vineyard and does not eat of its fruit? Or who tends a flock and does not drink of the milk of the flock?" (1 Corinthians 9:4-7).
Paul spoke of Barnabas in a favorable way as an equal or colleague. It is interesting to note that Paul and Barnabas did not visit Corinth during their journey together. Paul made his first visit to Corinth in A.D. 52-53 during his second evangelistic journey.
Did the Corinthian church know Barnabas? Had he visited them prior to when Paul wrote his letter? We simply don't know.
Paul and Mark reconciled
Paul also mentioned Mark in his letters. During his first Roman imprisonment, which occurred around A.D. 61-63, Paul wrote to the members in Colosse.
As Paul concluded his letter, he wrote, "Aristarchus my fellow prisoner greets you, with Mark the cousin of Barnabas (about whom you received instructions: if he comes to you, welcome him), and Jesus who is called Justus. These are my only fellow workers for the kingdom of God who are of the circumcision; they have proved to be a comfort to me" (Colossians 4:10-11).
Approximately 10 years earlier, Paul had wanted nothing to do with Mark. Now he referred to Mark as one of his "fellow workers for the kingdom" and "a comfort to me." What a wonderful change!
During the same time frame, Paul wrote Philemon and sent greetings from Mark and others and referred to them as "my fellow laborers" (Philemon 1:23-24).
Mark had the faith to travel to Rome and become a companion and coworker of a prisoner. He earned the trust and confidence of the apostle Paul and proved to be a faithful servant.
Paul was a prisoner in Rome, allowed to live in his own rented house for two years (Acts 28:30). He was given the freedom to write and send letters, receive visitors and preach the gospel to those who visited, but he was still guarded by a Roman soldier (verse 16).
He apparently was not allowed freedom of movement, so perhaps Mark and others served as his eyes, ears and legs—recording, delivering and receiving messages. Paul mentioned that Mark might visit Colosse—presumably on behalf of Paul (Colossians 4:10).
2 Timothy 4: Paul called Mark "useful to me for ministry"
Near the end of his life during his second Roman imprisonment, Paul wrote Timothy to come to him quickly and to "get Mark and bring him with you, for he is useful to me for ministry" (2 Timothy 4:11).
During Paul's first evangelistic journey, Paul considered Mark useless for his ministry, but years later, he considered Mark useful to his ministry, a fellow worker for the Kingdom and a comfort to him as he neared the end of his life.
Through faith, our perceived weaknesses can be made strong. Mark serves as an example of someone who had a rough start in his service to the Church. He let down his fellow workers, but ultimately he didn't quit. He persevered, and over time his faith matured. Through his faithful service he became a blessing to the one he had let down and disappointed.
For more stories of faithful men and women, see our sections on "Men of Faith" and "Women of Faith in the Bible."