Many know the story of Moses leading the oppressed Israelites out of Egypt to freedom. Yet there is a great deal more in Exodus that is often overlooked.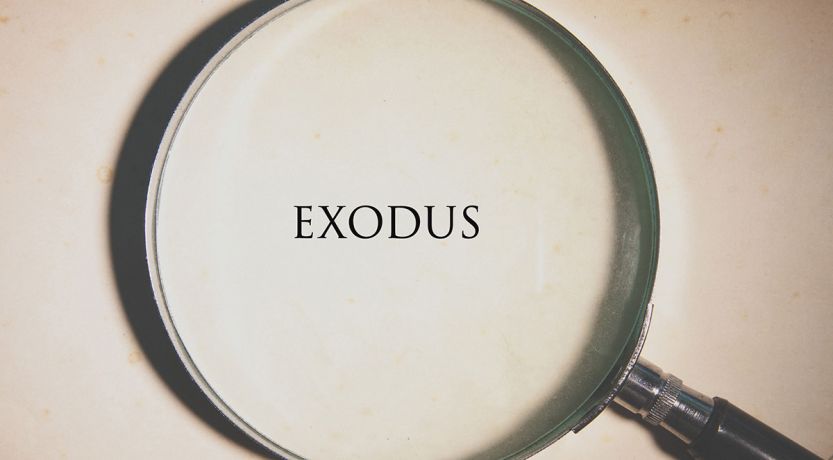 Exodus is the second of the five books written by Moses. The name Exodus comes from the Greek Septuagint and means "departure" or "going out," because of the departure of the nation of Israel from Egypt. In the Hebrew Bible the book's name is taken from the first two Hebrew words in verse 1, elleh (these) and shemoth (names), which can be translated, "These are the names."
"The book of Exodus is the story of the birth of Israel as a nation. … [The Israelites'] old privileged status is gone. Now they are a slave nation under a new pharaoh, of a dynasty which has long forgotten Egypt's debt to Joseph (see Genesis 41)" (The Lion Handbook to the Bible, edited by David and Pat Alexander, p. 155).
Exodus relates the history of Israel from the death of Joseph to the tabernacle being erected during the second year after their departure from Egypt.
The role of Moses
Christ confirmed that Moses was the author of Exodus (compare Exodus 3:6 and 17:14 with Mark 12:26). The outstanding and prominent individual throughout the book is the man Moses, whose name means "drawn out." The daughter of Pharaoh gave him the name Moses, "because," she said, "I drew him out of the water" (Exodus 2:10).
He grew up in the Egyptian royal household and received training in matters of government and administration (Acts 7:22). But when he stood up for his oppressed people, they didn't accept him, and he fled to the wilderness.
While shepherding the flock of Jethro (his father-in-law) near Horeb, he was met by "the God of your father—the God of Abraham, the God of Isaac, and the God of Jacob" (Exodus 3:6) who gave him a commission to lead the Israelites as God delivered them from Egyptian bondage (verse 10). Moses advanced four reasons someone else should be sent, but God countered every excuse, forcing Moses to finally concede. Aaron, the brother of Moses, was appointed as his spokesman (Exodus 4:14, 16, 27).
Moses' life can be divided into three time periods during which God prepared and then used him in leadership roles:
Training in the court of Pharaoh.
Training as a shepherd in the land of Midian.
Leading Israel in the wilderness for 40 years, finally arriving at the entrance to the Promised Land. By the time we come to Exodus 3, Moses is about 80 years old and two-thirds of his life is past.
Israel in Egypt
Israel's sojourn in Egypt ended at the Exodus. This completed a 430-year period that began with God's covenant with Abraham in his 99th year (Exodus 12:40; Galatians 3:17).
Exodus documents the beginning of God working with people on a national level. Previously God worked with various individuals, including Abraham, from whose descendants the nation of Israel came. Since God was now dealing with an entire nation, He recorded for them His 10 Commandments and gave them civil laws, judgments and statutes necessary for orderly government.
Of course, this was not the beginning of God's laws, since God's servants had long known them. For example, God said that Abraham "obeyed My voice and kept My charge, My commandments, My statutes, and My laws" (Genesis 26:5).
Sacrifices instituted
It was one year after leading the Israelites out of the land of Egypt that God instituted the system of ritual sacrifices (Jeremiah 7:22-26). Instead of submitting to God's laws, the people chose rather to worship idols and false gods. Sacrifices were added because of their transgressions and to teach a physically minded people the habit of obedience.
Sacrifices were a "shadow of the good things to come" (Hebrews 10:1-4). God intended that sacrifice be a practice imposed "until the time of reformation" when Christ would become the ultimate and true sacrifice for all of mankind (Hebrews 9:9-14). Nevertheless, sacrifices were instituted by an all-wise God to teach and lead Israel to Him.
Outline of Exodus
Chapters 1-12: Israel in Egypt
Chapter 1: Israel is enslaved in Egypt.
Chapters 2-4: Moses is introduced and given his commission from God.
Chapters 5-12: The 10 plagues come on Egypt, and the Passover and Feast of Unleavened Bread are instituted.
Chapters 13-40: The Israelites in the wilderness and at Mount Sinai
Chapters 13-15: God leads the Israelites out of Egypt and through the Red Sea, which is celebrated in the songs of Moses and Miriam.
Chapter 16: God gives manna from heaven and emphasizes the test commandment of the Sabbath.
Chapter 17: God provides water from a rock, and Israel fights with the Amalekites.
Chapter 18: Jethro, Moses' father-in-law, gives him organizational advice.
Chapters 19-20: Israel arrives at Sinai, and God proclaims the 10 Commandments.
Chapters 21-23: God gives various civil codes, judgments and statutes.
Chapter 24: The covenant is ratified by the people.
Chapters 25-31: God gives instructions and plans for the tabernacle and the consecration of Aaron and his sons. Chapter 31 also gives the Sabbath covenant.
Chapter 32: The people turn from God and dedicate a golden calf; about 3,000 idol worshippers are killed.
Chapters 33-34: The renewal of the covenant is discussed.
Chapters 35-40: The priesthood is established and the tabernacle erected.
Lessons from Exodus
Let's consider some of the lessons we can learn by studying this book.
Appreciate God's greatness, power and leadership
The Israelites were in a hopeless situation, and it is only through God's mighty power that they were released from captivity. He destroyed the most powerful army in existence at that time without the Israelites having to take up arms.
God promised that He would fight for them: "The LORD your God, who goes before you, He will fight for you, according to all He did for you in Egypt before your eyes" (Deuteronomy 1:30). "Yet, for all that, you did not believe the LORD your God" (verse 32, emphasis added throughout).
Each person has a choice whether to obey God or reject His way of life. "I call heaven and earth as witnesses today against you, that I have set before you life and death, blessing and cursing; therefore choose life, that both you and your descendants may live" (Deuteronomy 30:19).
God brought Israel out of Egypt through mighty signs and wonders, and led them by a pillar of cloud by day and by a pillar of fire by night. He miraculously parted the Red Sea and provided them with food and water in the wilderness.
God led His people out of Egypt into the Promised Land with many great signs and wonders. These are recorded so we can appreciate His power and trust in Him.
Obey the 10 Commandments
Exodus 20 records the 10 Commandments. The first four define our relationship with God—how we should properly love, deeply respect and please our Creator. How do we love Him? The apostle John provides the answer: "This is the love of God, that we keep His commandments. And His commandments are not burdensome" (1 John 5:3).
The other six commandments describe the fundamental standards leading to a right and proper relationship with each other, and how all peoples and nations should live together in peace and harmony.
What should love for each other be based on? "And now I plead with you, lady, not as though I wrote a new commandment to you, but that which we have had from the beginning: that we love one another. This is love, that we walk according to His commandments" (2 John 5-6).
According to the Bible, the act of sin is breaking any one of God's commandments. One definition of sin is found in 1 John 3:4: "Whoever commits sin also commits lawlessness, and sin is lawlessness." The King James Version puts it this way: "Sin is the transgression of the law."
If people everywhere would accept all the commandments of God as guiding principles in their lives, the world would be a much better and more peaceful place. God wants us to obey the 10 Commandments for our benefit (Matthew 19:17-19; Romans 13:9-10).
Accept the identifying sign
God said: "Speak also to the children of Israel, saying: 'Surely My Sabbaths you shall keep, for it is a sign between Me and you throughout your generations, that you may know that I am the LORD who sanctifies [consecrates] you. You shall keep the Sabbath, therefore, for it is holy to you" (Exodus 31:13-14).
The Hebrew word translated "sign" means a "flag," "beacon" or "monument" (Strong's Concordance). A sign is often a token of identity, and God commands His people to keep the Sabbath as a sign between Him and His people forever (Exodus 31:17). Jesus Christ also showed that the Sabbath was made for all humanity and that He was the Lord of the Sabbath (Mark 2:27-28).
Do we hear the voice of God?
God made a promise to the nation of Israel when they appeared before Him at Mount Sinai: "Now therefore, if you will indeed obey My voice and keep My covenant, then you shall be a special treasure to Me above all people; for all the earth is Mine" (Exodus 19:5). The people agreed to abide by the words God spoke: His voice (verse 8).
God's voice and His presence were so awesome and frightening that the people asked Moses to speak to them instead of God. God honored this request (Deuteronomy 5:23-28), and since then He has spoken to mankind through His prophets and through the words spoken by His Son (Hebrews 1:1-2). The Israelites agreed to obey His voice, but subsequent events proved that they did not honor their commitment to walk in all His ways—to listen to His voice.
How many today listen to the voice of God? The world is beset with ever-increasing problems: ill-health, diseases, financial woes, unemployment, wars and the threat of wars, mental illnesses, environmental disasters, to name a few. Are these the result of our nations, and their leaders, not listening to the voice of God?
God's voice speaks to us today
The book of Hebrews admonishes Christians not to harden their hearts as the Israelites of old did. "Today, if you will hear His voice, do not harden your hearts as in the rebellion. … Beware, brethren, lest there be in any of you an evil heart of unbelief in departing from the living God" (Hebrews 3:7-8, 12).
God's voice continues to speak to us in the last book of the Bible. "Then a voice came from the throne, saying, 'Praise our God, all you His servants and those who fear Him, both small and great!'" (Revelation 19:5). His servants can "be glad and rejoice" as they have been called to the marriage supper of the Lamb—Jesus Christ (verses 7-9).
Will you be counted among those called to the marriage supper of the Lamb after Christ's return? Much depends on your willingness to listen to the voice of God—in Exodus and throughout the Bible. Learn more about how to uphold His truths, obey His laws and walk in His ways by reading the articles in the section on "The Practical and Priceless Benefits of Bible Study."
For a quick link to all the other books of the Bible, see "Books of the Bible" on the Learning Center.