Using different translations is one tool of effective Bible study. There are good reasons for consulting the highly accurate though archaic King James Version.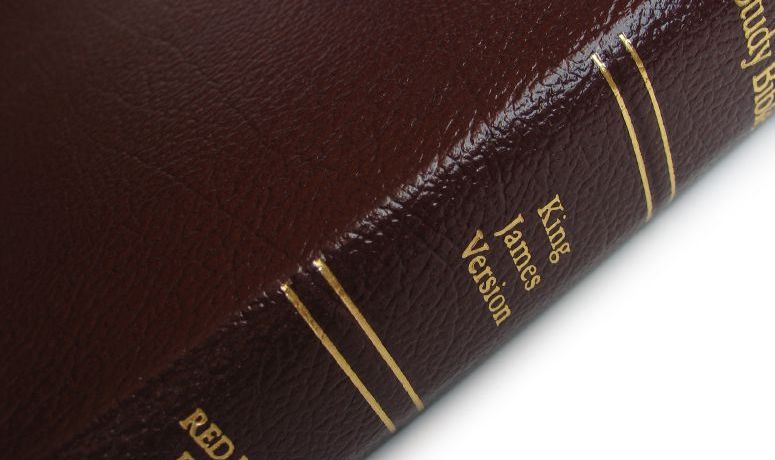 King James Bible history
The King James Version, completed in 1611, was the most influential English translation of the Bible for centuries.
Consider this history and these words of praise for the King James Version from the preface to the Revised Standard Version. After outlining the earlier English translations of William Tyndale and others, the RSV preface says:
"The translators who made the King James Version took into account all of these preceding versions; and comparison show that it owes something to each of them. It kept felicitous phrases and apt expressions, from whatever source, which had stood the test of public usage. It owed most, especially in the New Testament, to Tyndale. …
"For more than two and a half centuries no other authorized translation of the Bible into English was made. The King James Version became the 'Authorized Version' of the English-speaking peoples.
"The King James Version has with good reason been termed 'the noblest monument of English prose.' Its revisers in 1881 expressed admiration for 'its simplicity, its dignity, its power, its happy turns of expression … the music of its cadences, and the felicities of its rhythm.' It entered, as no other book has, into the making of the personal character and the public institutions of the English-speaking peoples. We owe it an incalculable debt."
The King James Version remains popular
Although it is more than 400 years old, the King James Version (KJV) is still a very popular English version of the Bible today: "62 percent of American adults own a King James Version Bible and 82 percent of those who read the Bible at least once a month own a KJV" (Christian Post).
But this popularity is decreasing among society's younger generations. As a Church of Christ minister in Delaware said, "We have a few KJV people, but I try to encourage the NIV for public reading unless the person is highly proficient at reading the KJV. It's just too hard for the younger generation to follow" (The Christian Chronicle).
Why is the King James Bible important?
On the other hand, for some supporters of the King James Version, outdated words such as "thee" and "thou" sound more authentic, religious or spiritual.
But are the benefits of this Bible based upon one's feelings and perceptions about how God's Word should sound? Or can unique benefits be gleaned from this Bible, even for those in the younger generations?
Let's consider some information and benefits we can find in the King James Version that are lost in more modern English translations. The "thees and thous" actually can add to our understanding of various passages.
What do you mean, "you"?
The KJV was published on May 5, 1611. The English of this Bible reflects the literary language of 400 years ago, including words such as "thee" and "thou." But over the next several hundred years, thee and thou fell out of common use and are now considered archaic.
The King James Version is like a good hammer—it's a tool that will always come in handy, regardless of how many fancy electronic tools are created.In today's English, "you" is a common second-person pronoun, identifying either a single individual or a plurality of individuals. For example, the statement "You have homework" can be directed to either a single student or several students, without changing the pronoun ("you").
Therefore, modern English is limited in what is known as inflection—variations of a word to express different grammatical categories.
(Merriam-Webster defines inflection as "the change of form that words undergo to mark such distinctions as those of case, gender, number, tense, person, mood, or voice.")
On the other hand, the literary English of the 17th century had much inflection, especially with regard to second-person pronouns. Consequently, in the King James Version different words are used for second-person pronouns.
Thou, thee, thy, thine
Such singular pronouns are known as the four "Ts" (thou, thee, thy, thine). And the plural pronouns are called the four "Ys" (ye, you, your, yours).
Let's consider examples where singular or plural forms are not obvious or implied.
Mark 14:37-38 (New International Version): "'Simon,' he said to Peter, 'are you asleep? Could you not keep watch for one hour? Watch and pray so that you will not fall into temptation.'"
This modern version doesn't distinguish between the singular and plural "you." Now notice the clarity in the following wording.
Mark 14:37-38 (King James Version): "…couldest not thou [singular] watch one hour? Watch ye [plural] and pray, lest ye [plural] enter into temptation."
The New International Version doesn't show the shift from singular to plural. Ultimately, Christ told all of the disciples (not just Peter) to watch and pray so that they would not be tested.
"Satan hath desired to have you, that he may sift you as wheat"
Below is an even more telling example:
Luke 22:31 (New American Standard Bible, 1995): "Simon, Simon, behold, Satan has demanded permission to sift you like wheat."
Again, this appears to target Peter specifically. Now let's read the King James Version:
"Behold, Satan hath desired to have you [plural], that he may sift you [plural] as wheat."
Satan had not only asked to harm Peter—he wanted to shred all of the disciples. And his desire remains the same today concerning members in God's Church, especially the leadership.
Some modern translations also note the plurality here. For example, the New English Translation reads, "Satan has demanded to have you all." However, a benefit of the King James Version is that singular and plural pronouns are distinguished in every passage in the Bible. It's also nice to have access to such details without having to learn Hebrew and Greek or open a word-study source.
Peter had a special responsibility, as noted in the next verse:
Luke 22:32 (KJV): "But I have prayed for thee [singular], that thy [singular] faith fail not: and when thou [singular] art converted, strengthen thy [singular] brethren."
This must have been a sobering reality for Peter, especially after denying Christ three times later that night.
Peter went on to strengthen the brethren, and his epistle still fortifies us today: "Be sober, be vigilant; because your [plural] adversary the devil, as a roaring lion, walketh about, seeking whom he may devour" (1 Peter 5:8).
We all need to strengthen one another. Yet there are still those to whom Christ has given a greater responsibility, perhaps even a gift, in this regard.
How the KJV helps us understand the Matthew 18 go-to-your-brother process
Matthew 18 discusses a multistep process for resolving conflicts between brethren. Reading this section in the King James Version can help us to follow roles for who should be going to whom in this process. This section begins with the following verse:
Matthew 18:15 (KJV): "Moreover, if thy [singular] brother shall trespass against thee [singular], go and tell him his fault between thee and him alone. If he shall hear thee, thou [singular] hast gained thy brother."
Christ was speaking to the apostles. But these singular pronouns concern an individual's responsibility. Each individual in God's Church, whether a member or minister, must first strive to resolve conflicts by going to his brother, "alone." At this initial stage in the process, they are not functioning in a ministerial group capacity.
However, a few verses later, plural pronouns are introduced in this process.
Matthew 18:17-18 (KJV): "And if he shall neglect to hear them [the witnesses], tell it unto the church: but if he neglect to hear the church, let him be unto thee as an heathen man and a publican. Verily I say unto you [plural], Whatsoever ye [plural] shall bind on earth shall be bound in heaven: and whatsoever ye shall loose on earth shall be loosed in heaven."
The shift to the plural "you" (verse 18) indicates that, together in some capacity, they would bind and loose matters to resolve issues. Therefore, within this context, the "church" (verse 17) would apply to the ministry. The Bible Knowledge Commentary says, "This corporate action was entrusted to the entire apostolic group. … Clearly all are addressed for the you pronouns are plural. … Whenever they came together in the name of the Lord, He would be with them" (Matthew 18:15-20).
Consequently, the authority that was previously given to Peter in Matthew 16 is here expanded to all of the apostles.
Of course, initially the apostles comprised the entire ministry in the Church. Yet 100 percent of the ministry would not necessarily have to convene to resolve every single conflict.
Matthew 18:19 (KJV): "Again I say unto you [plural], That if two of you shall agree on earth as touching any thing that they shall ask, it shall be done for them of my Father which is in heaven."
"Two of you," as in the apostles. God's bound decisions would be carried out "for them," that is, those needing to resolve a conflict. This entire section, verses 15-20, should be understood within the context of a step-by-step process for conflict resolution.
What about the archaic language of the KJV?
What about the challenge of navigating through awkward or obsolete terminology in the King James Version?
Mark 1:30 says, "But Simon's wife's mother lay sick of a fever, and anon they tell him of her" (emphasis added). How many know that "anon" means "soon"? And Genesis 21:26 says, "And Abimelech said, I wot [understand] not who hath done this thing."
The 21st Century King James Version (KJ21) updates wording while maintaining the distinction of second-person pronouns. Its website says, "While no attempt has been made to 'improve' the timeless message or literary style of the KJV, words which are either obsolete or archaic … have been replaced by carefully selected current equivalents." Mark 1:30 reads, "But Simon's wife's mother lay sick with a fever, and at once they told Him of her" (KJ21, emphasis added).
All translations have strengths and weaknesses. Currently, the KJ21 has scriptures in paragraph form, as opposed to a separate line for each verse. This is a drawback if you like to include marginal notes for a specific verse. And it can be easier to locate verses on separate lines. Another KJV, the King James Version 2000, also has up-to-date language, but it doesn't maintain the distinction between singular and plural second-person pronouns.
Unfortunately, one of the most glaring errors in the KJV is carried over into the KJ21: "And when he had apprehended him … intending after Easter to bring him forth to the people" (Acts 12:4, emphasis added).
The Greek word pascha means "Passover." The KJV elsewhere renders Passover and the other holy days accurately. Jesus Christ, the apostles and the New Testament Church always kept Passover, and they never kept Easter. The use of the word Easter is clearly an error.
The user-friendly KJV?
The Church of God, a Worldwide Association, uses the New King James Version in our literature, unless otherwise noted. Many members also use the King James Version. These two Bibles complement one another, as they're based upon the same Greek manuscripts.
Another type of Bible that's known for providing pronoun details is an interlinear Bible. However, this source offers many additional grammatical codes that the average reader might not be interested in. There's a time for such in-depth resources, but it may be more user-friendly to seek this information using the King James Version.
Overall, if you haven't already done so, perhaps this is a good time to blow the dust off of your Bible, whatever version you have. And you may also want to add a King James Version or perhaps a 21st Century King James Version to your library.
The King James Version is like a good hammer—it's a tool that will always come in handy, regardless of how many fancy electronic tools are created.
For more tips on Bible study, read the articles in this section: "The Practical and Priceless Benefits of Bible Study."