Keep your manual up-to-date and organized with our January 2018 update.
Download
---

Who were Aquila and Priscilla? What was their occupation? Where did they live? Who did they affect by their examples? Learn more about this dedicated couple who befriended the apostle Paul and served the early Church so diligently.
Download
---

"You mean he was my age when he did that?" "She had the courage to say that at my age?" The extraordinary acts of faith of children and teens are recorded in the Bible for us to learn from and enjoy. Use these profound examples of young servants of God to encourage and inspire your children. This study guide draws from material in the Christian Family, People of the Bible, and Memorizing Scripture sections of the EEI parenting manual.
Download
---



Would you like words and actions in your household to teem with the beautiful, tender quality of kindness? For a gentle refresher on the subject, delve into this study guide and begin implementing strategies to see success. This monthly study guide draws on materials from the Shepherding the Heart, People of the Bible, and Memorizing Scripture sections of the EEI parenting manual.
Download
---

Spin-away games are a great way to categorize information and work well for families with children of multiple ages. This activity uses basic office and craft supply materials, paired with purchased animal stickers, to create a fun game. Which birds, sea creatures, land animals, and insects are clean to eat and which are unclean? Spin the spinner, placing all your cards in the correct category first to win.
Download
---

Learn about the days of creation using our fun pull and find board! These boards are great for young children whose little hands aren't quite yet adept enough to manage some of our other activities. Your children are sure to enjoy helping you assemble this craft. And it's also great for travel!
Download
---

Sometimes we parents need to be reminded that the Bible describes children as a direct blessing from God. They are not meant to be a burden, as they are sometimes depicted in our culture. Be inspired and uplifted by our article "Children: A Blessing That Keeps On Giving," a heartwarming addition to our Christian Family section. Learn about specific blessings we experience and other spiritual lessons we can glean from having children in our lives.
Download
---
A is for Armor of God. B is for Bible. C is for Creation. Enjoy our "A to Z Bible Coloring Pages" featuring biblical concepts or people in the Bible for each letter of the alphabet. Print all 26 pages plus the cover page to create a coloring book, or print one page at a time to cover a specific verse or concept with your child.
Download
---
Entertain and engage your children with this "Kingdom Parables Seek and Find" activity! In this biblical twist of an "I spy" bottle, 10 objects represent the 10 "the kingdom of heaven is like" parables. Enjoy helping your children "seek" the Kingdom by finding each of these objects, then discussing the meaning of the parables. Makes a great travel game!
Download
---

Just how do you wage battle with peace? What are some common barriers to peace and what can you do about them? How do you actively pursue the peace of God and what is it? Learn the answers to these questions and more in our new Shepherding the Heart lesson "Peace."
Download
---

Puzzles are a clever and creative way to enjoy learning, and our 10 Commandments puzzles are great for engaging even the younger children in learning about God's important laws. A printer and a few basic office supplies are all you need to begin enjoying this activity with your children. Options to expand on the puzzle theme are also included.
Download
---

Could you use some encouragement? Be inspired by the apostle Barnabas, whose name meant "Son of Encouragement." His is a story of generosity, humility, and faith. During the trials, persecutions, and growing pains of the early New Testament Church, the apostle Barnabas was there to uplift and motivate others. Read more here in our lesson "Barnabas, Man of Encouragement."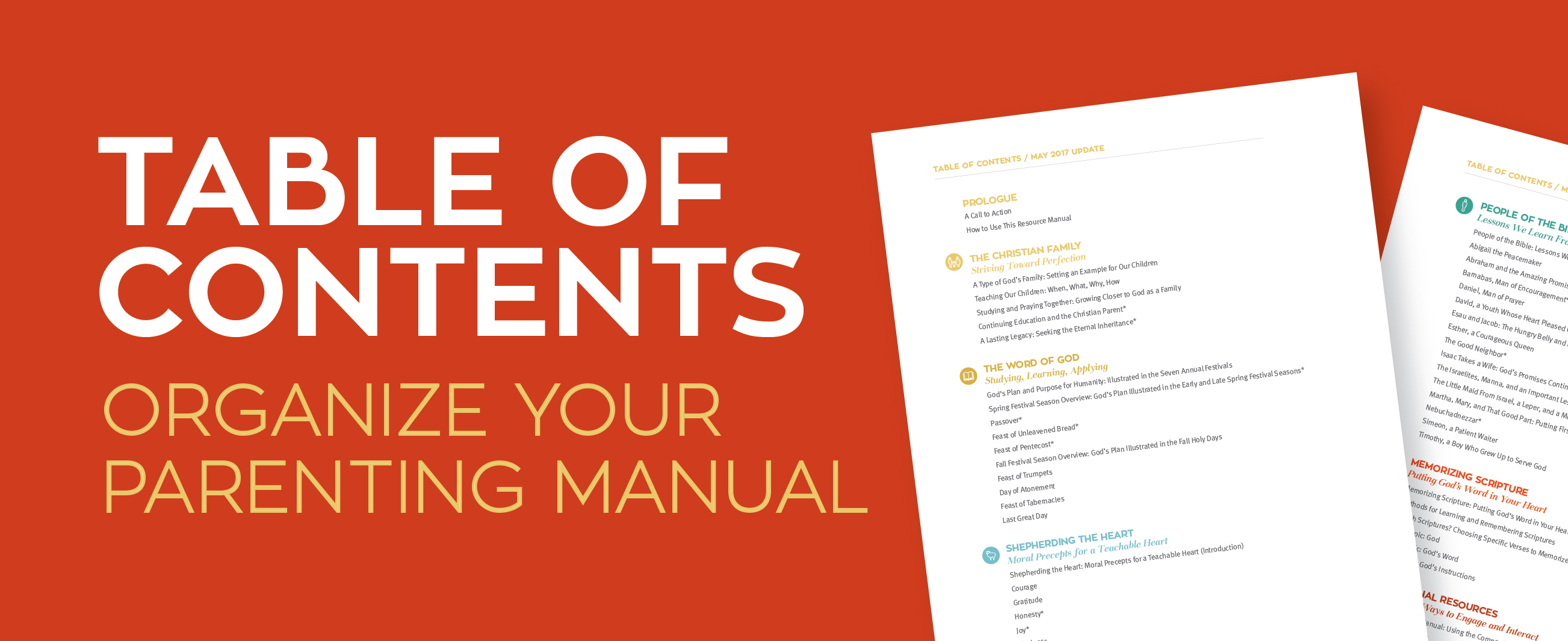 Feeling the need to get organized? If you would like to sort your manual, use our new "Table of Contents" resource as a checklist. Updated Contents pages will be provided annually as more material is added to the website.
Download S
---

Have you ever given much thought to what kind of legacy you will leave your children after you are gone? What is the ultimate inheritance you would like to see your children receive? Planning for the future is wise, and Scripture has a great deal to teach about legacy and inheritance. Delve into this thought-provoking topic in our Christian Family article "A Lasting Legacy."
Download
---

Create this activity using yarn and some basic office supplies and test your memory skills of Bible knowledge. You and your children will enjoy matching the 10 Commandments, the armor of God, and the 10 plagues of Egypt. Suggestions for variations are included. Even adults may find this one challenging!
Download
---

Is the parable of the Good Samaritan just a nice story about helping someone in need? Or is there more to it than that? What does being neighborly and loving our neighbor actually entail? Find answers to these questions and more to ponder in our People of the Bible lesson.
Download
---

What does God say on the subject of honesty? How do you instill the value of honesty in your children in a society that devalues it? What does a life of truth look like in a servant of God? Find answers to these questions and even more wisdom in our study on honesty.
Download
---

Would you like to increase your family's understanding and retention of Scripture? Cultivate a love of God's Word with this focused study. Ideas to present this concept to age ranges from preschoolers through teenagers are included. The four-week study course draws from material in the Christian Family, Word of God, People of the Bible, Memorizing Scripture and Additional Resources sections of the parenting manual.

Would you like to see improved obedience within your family? Could you improve the trust level your children feel for you? Find solutions to these questions with this focused study and improve the level of godly obedience in your home. Ideas to encourage obedience for ages ranging from preschoolers to teenagers are included. The four-week study guide draws from material in the Shepherding the Heart, People of the Bible, Memorizing Scripture and Additional Resources sections of the parenting manual.
Download S
---

One evening. Two sisters. When the Son of God visits their household, Mary sits at His feet to listen to His teachings, but Martha becomes so distracted with serving that she misses a valuable opportunity. With this lesson, help your children learn about priorities—putting first things first—including the most important priority we must all remain focused on: putting God first.
Download
---

As you travel to the Feast of Tabernacles, enjoy this pack full of Feast-themed activity pages that will help keep your children occupied on the road or in-flight. Activities range in difficulty levels, from coloring pages to mazes, and even a card game! Jigsaw puzzles can be printed on card stock, then adhered to and cut out of cardboard for extra durability.
Download S
---

This is a great project to review your knowledge of all of God's festivals! Using some basic office and teaching supplies, assemble this fun activity that you can play with your children. Personalize it by adding your own facts on the blank cards template.

This wonderfully creative craft activity will help you and your family anticipate God's gift of the Sabbath each week. Assemble it using poster board, paper clips and split rings (or book rings). Take turns with your children flipping the countdown cards each day for a great visual reminder of the weekly Sabbath.
Download S
---

Most adults take part in some form of career-oriented continuing education, be it on-the-job training, online seminars, or destination conferences. What does continuing education look like for the Christian parent and why is it important? For answers to these questions, perspectives on biblical literacy, as well as ideas on how to increase your family's spiritual education, read on.
Download
---

Unsure about where to begin in using the many resources available in the EEI parenting manual? Start here for an overview of the manual, its purpose in assisting you as a Christian parent or mentor, suggestions for how to use it most effectively, and more! This four-week study guide draws from prologue material and lessons in the Christian Family, Shepherding the Heart, Memorizing Scripture, and Additional Resources sections of the parenting manual.

Living God's way of life requires a daily exercise of courage and faith. Have you achieved your maximum potential in courage? Would you like to increase your child's courage and bravery? Download this study guide to build more courage in your family over the next month. This four-week study course draws from lessons in the Shepherding the Heart, People of the Bible, Memorizing Scripture, and Additional Resources sections of the parenting manual.
Download S
---

Could you and your family use more joy in your lives? We live in a dreary and dangerous world, yet God commands us to rejoice and to have joy! Delve into this study with your children to find out how to increase your joy and more fully experience this beautiful trait of the fruit of the Spirit.
Download
---

Use these number templates (1-12) to create your own Bible games or crafts involving counting: list the 10 Commandments, memorize the 12 apostles, study the three days and three nights concept, and the list goes on!
Download
---

Learn about the food laws of Leviticus 11 and Deuteronomy 14 with this fun game that you and your children are sure to enjoy decorating and playing together! Make as many as you can imagine!
Download
---

Mobiles aren't just for babies! Engage your creative side and help your child make this creation week theme mobile that you can hang anywhere in the house. Use it to spark interesting discussions about God's amazing creation.
Download
---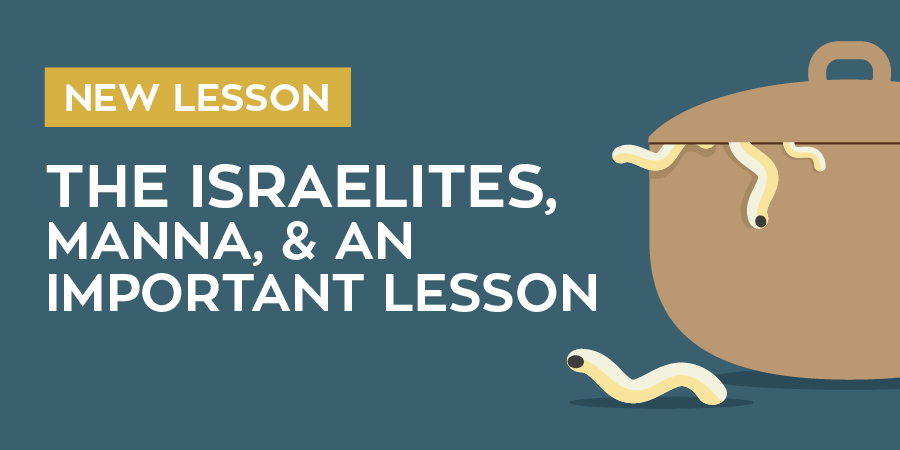 This Bible story recounts the miracle of manna that God offered the Israelites during their wilderness wandering and the unique handling instructions it required for the Sabbath. The Israelites certainly learned a valuable lesson about listening!
Download
---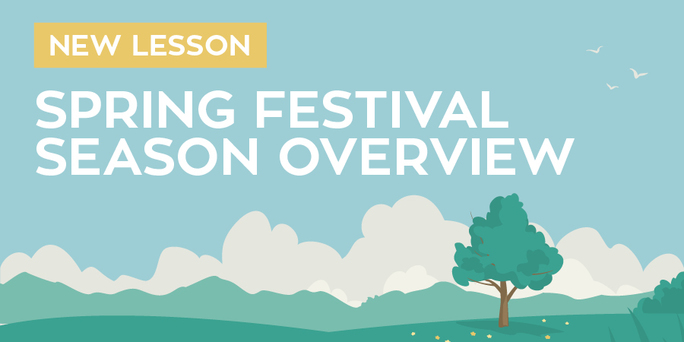 New lessons covering the spring festivals have been added! The new material consists of lessons covering the spring festivals and is intended to be added to the Word of God section in your manuals. A "Spring Festival Season Overview" lesson is included, as well as lessons on Passover, the Feast of Unleavened Bread, and the Feast of Pentecost.
To further include your children in your spring holy day preparation, this month's EEI update includes two activity files titled "The 10 Plagues of Egypt"—a helpful chart for learning about and organizing the plagues that occurred prior to the Exodus—and "Counting 50"—a calendar showing the 50-day count that begins on the Sunday during the Days of Unleavened Bread and ends with Pentecost this year.
Download S
---
Imagine being abducted at a young age, taken to a foreign land away from everything familiar, and placed as a servant in a wealthy household. Would you still have faith in the power of God?
Download
---
Here's a great craft idea to help your children memorize sequential information. With an old paint stick and some Velcro you are on your way!
Download
---
One of the most famous rulers in history had some lessons to learn! The bragging king of Babylon would become a beast before he would change his attitude to beautiful humility.
Download
---
Join Dave Myers this Friday evening, January 15, for our webinar Teach Your Children Well starting at 8 p.m. Eastern. This special episode of our young adult FNL Bible study will focus on our new parents' manual: Encourage, Equip & Inspire. Tune in at members.cogwa.org/fnl.
What exactly is the parents' manual? What are the principles that underlie it? How am I supposed to use it? What's in it, and how is it organized? How do I get started?