Fluctuat Nec Mergitur
A bold motto emblazoned on a Parisian wall brought to mind our mission as Christians.
At the top, a silver sailing ship on sea waves, on a red field, under the royal symbols of the fleur-de-lis and a crown. At the base, three military medals: the Légion d'Honneur, the Croix de Guerre and the Ordre de la Libération, recalling triumphs after the horrors of war. And in between, a Latin motto: Fluctuat Nec Mergitur, meaning "rocked [by the waves] but does not sink."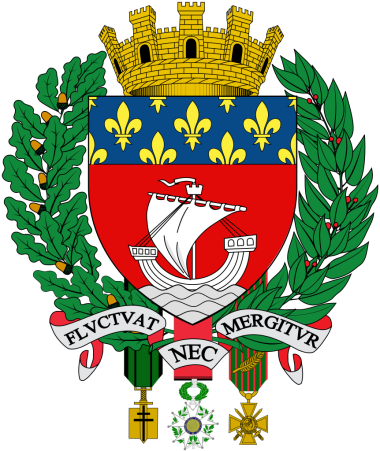 This is the coat of arms, parts of which can be traced to the 12th century, of the city of Paris.
In the face of adversity
I first saw the motto emblazoned on a wall on the Place de la République, the Parisian square celebrating the French Republic. A month earlier, in November 2015, Paris had suffered the worst terror attack in its history, when 130 people were murdered and hundreds more wounded in three coordinated attacks by radical Islamic terrorists.
In that time of trial, many Parisians thought of their ancient motto, associated with the city since at least the 1500s. Once I noticed it the first time, I began to see it in many places, large and small. Paris has indeed been rocked by the waves of history—the Black Death, famines, wars, occupations, revolutions and, more recently, terror motivated by hearts filled with hatred.
Parisians can look at their history and see that, while the city has been badly battered many times, it did not completely sink. People found a way to carry on, no matter what.
I find it a stirring motto to quote in the face of adversity.
Hard-pressed, yet not crushed
The Bible propounds the same principle, but with a more important motivation and in service of more than just survival. Christians are to carry on with their mission whatever may happen to or around them. What is occurring in us is much more important than what happens around us. The stakes are eternal.
Paul, who was rocked by many more events than most, wrote, "We are hard-pressed on every side, yet not crushed; we are perplexed, but not in despair; persecuted, but not forsaken; struck down, but not destroyed—always carrying about in the body the dying of the Lord Jesus, that the life of Jesus also may be manifested in our body" (2 Corinthians 4:8-10).
We need never sink
God allows Christians to be tried and tested, sometimes quite painfully. But it's only temporarily and always for a worthy reason—to grow stronger spiritually and to advance His goal of salvation for humanity. We are to let our lights shine before men who will all one day be drawn to Jesus Christ.
And God promises that even in sore trials, "I will never leave you nor forsake you" (Hebrews 13:5). This is more than the courageous spirit of a city; it is a divine mission and a promise.
We will sometimes be rocked, but with God's aid we need never sink.
—Joel Meeker
@JoelMeeker