The Scourge of

Slavery Returns
An estimated 46 million people have been forced into slavery in all parts of the world. What are the roots of this evil scourge, and how will it be eradicated?
By Neal Hogberg
Two centuries after the abolition movement began, slavery is now universally illegal, but buying and selling people into forced labor is still flourishing. The staggering number of slaves in the world today, both hiding in plain sight and lurking in the shadows, has been largely invisible to the news media and people's attention.
British Prime Minister Theresa May has aimed to make the fight against modern slavery a focus of her new administration. Noting that the number of victims being trafficked into Britain had risen by 245 percent over the last five years, Mrs. May, in her previous position as home secretary, was the driving force behind the Modern Slavery Act of 2015, which strengthened awareness, prevention and vital policing tools.
Britain will, vowed Mrs. May on July 31, 2016, lead the fight against modern slavery and rid the world of the "barbaric evil" she called the "great human rights issue of our time."
More slaves today than at any time in human history!
Counting the number of people in slavery today is a difficult task because of factors such as the hidden nature of the criminal enterprises that feed off of it, but there is an increasing consensus on the magnitude of the problem.
Nearly 46 million people around the world are believed to be trapped in versions of bondage, according to a May 2016 human rights report. The Walk Free Foundation's Global Slavery Index showed 28 percent more people enslaved than its last estimate two years ago. Walk Free defines a modern slave as someone owned, someone working as a forced laborer or prostitute, someone in debt bondage or someone in a forced marriage.
This growth industry generates illicit profits estimated at $150 billion annually. This rivals illegal drug trafficking in global reach—and in the destruction of lives.
According to the 2012 Global Estimate of Forced Labour, more people live in slavery today than at any other time in history. In fact, "there are twice as many people enslaved in the world," according to a chilling article in The Atlantic, "as there were in the 350 years of the transatlantic slave trade."
Defining the enormity of the problem
Just five countries account for 58 percent of the world's slaves, but slavery is present in 167 countries. It is on the rise in North America and Europe, where the United Nations International Labor Organization estimates there are 1.5 million victims.
India—the worst offender—alone has 18.4 million slaves, while 3.4 million more are enslaved in China; 2 million in Pakistan; and more than a million each in Bangladesh, Uzbekistan and Russia.
North Korea has the highest proportion of its population in enslavement, with roughly 4.3 percent of the population estimated to be in modern slavery. Its gulag system alone is estimated to be 200,000 people.
Of the 20.9 million victims of forced labor identified by the International Labor Organization, roughly 2.2 million are held by states and military forces, 4.5 million are sex workers and 14.2 million are forced to work in other forms of economic activity—primarily agriculture, mining, manufacturing, construction and domestic work.
Women and girls account for 70 percent of those trafficked.
The U.S. State Department's Trafficking in Persons (TIP) Report for 2015 showed that fewer than 45,000—less than a 10th of 1 percent—of trafficking victims were rescued the previous year.
Exploiting desperate people
Poverty, conflict, gender inequality and the relentless pressure to reduce costs are the most common conditions associated with slavery. Desperation and fear, not guns and chains, keep many modern slaves in place. (Of course, multitudes, such as the young women and girls trafficked for the sex industry, still are forced to work under threat of bodily harm.)
"The demand for cheap goods, cheap labor, cheap sex," according to a recent article in The Guardian, is "an insatiable demand that causes questions for society as a whole. On the other side, there's an endless supply of vulnerable people" (Mark Townsend, "Modern Slavery and Human Trafficking on the Rise in UK," July 9, 2016).
Prime Minister May lamented the "sickening and inhuman crimes" of human trafficking this way: "Vulnerable people who have travelled long distance believing they were heading for legitimate jobs, are finding they have been duped, forced into hard labor, and then locked up and abused. Innocent individuals are being tricked into prostitution, often by people they thought they could trust."
Nations with poverty and explosive population growth provide traffickers with an almost unlimited number of potential victims and a dramatic price reduction in the trafficking of human souls.
"In the 1860s," according to Sean Carasso, the founder of Falling Whistles, a nongovernmental organization dedicated to freeing child soldiers in the Congo, "the average cost of a slave would have been around $40,000 (accounting for inflation). Nowadays, the cost for a slave is roughly $90 and can often be negotiated for an even lower price."
What does modern slavery look like?
While auctions of sex slaves in ISIS-controlled territory of the Middle East are the most visible and egregious examples, there is no single face of modern slavery because human trafficking encompasses so many diverse forms of exploitation. Many types of simple, nontechnical and traditional work lend themselves to the abuse of forced or compulsory laborers, including immigrants, domestic servants, garment workers and agricultural laborers.
A common method of entrapment is debt bondage. This is the vicious cycle where desperate families in need of food, medicine, a funeral or a wedding are conscripted into a hopeless financial debt spiral that is often passed down to future generations or that actually entices parents to sell their children into servitude.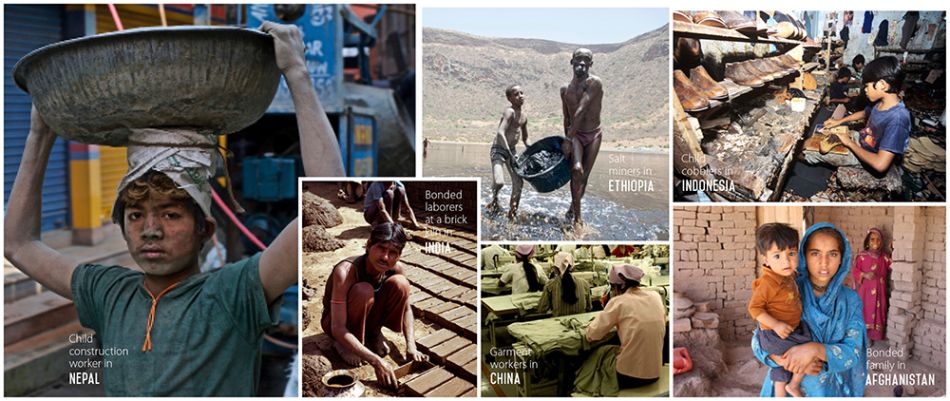 Children in bondage
According to the UN's 2014 Global Report on Trafficking in Persons, one in three slaves is a child. Sought specifically for their vulnerability, children are trafficked and forced to work in Latin American gold mines, in Indian kilns baking bricks, in Bangladeshi sweatshops making garments and on Thai shrimping trawlers—in some cases up to 20 hours a day.
The ruthless kidnapping of young boys and girls to serve in military conflicts is another tragic but regular occurrence. UNICEF estimates that 300,000 children younger than age 18 are forced to serve in armed conflicts worldwide.
Sex slaves
Girls from rural areas of developing nations are often lured with the offer of legitimate work, violently abducted or even sold by their families. The fear and intimidation of torture, rape and humiliation traumatizes the women into compliance. Then they are forced into prostitution until they are discarded when they are seen as no longer useful due to age or disease.
A modern, transnational business
"Slavery is," according to the Australian founder of Walk Free Foundation, Andrew Forrest, "the dark side of globalization." Products made by slaves, according to Siddharth Kara, director of the Program on Human Trafficking and Modern Slavery at Harvard's Kennedy School of Government, "touch almost every aspect of the global economy, including frozen fish, tea, coffee, rice, wheat, diamonds, hand-woven carpets, salt, cigarettes, and sporting goods."
Human trafficking is often a highly mobile business, leveraging modern communications and logistics to take advantage of situations and move resources quickly. Regional economic upheavals and natural disasters provide opportunities for human trafficking rings to move in. Following the tragic 2010 earthquake that devastated Haiti, the capital was quickly overrun with opportunistic trafficking rings aiming to sell children into forced domestic work or brothels.
The heart of the matter
Throughout history, millions of people have lived and died in bondage. The Bible describes human nature and selfishness as the heart of a spiritual problem (Jeremiah 17:9) whereby humans have callously devalued and exploited other humans. The concept of the Golden Rule—treat others as you want to be treated—sadly seems hopelessly outdated in a world driven by increasingly heartless greed and growing callousness.
Prophecies relating to the end of this age aptly describe the characteristics displayed by those who would buy, sell and abuse their fellow human beings: "But know this, that in the last days perilous times will come: For men will be lovers of themselves, lovers of money, … unholy, unloving [or "without natural affection," King James Version], … without self-control, brutal, despisers of good" (2 Timothy 3:1-3).
Another alarming prophecy that appears to have been pulled from today's headlines is found in Revelation 18:13, where the trade of some merchants is said to include "bodies and souls of men"—a grisly reminder of the depth to which a world that rejects the Creator will sink.
Despite this, the time is coming—pictured by God's annual festivals (see From Holidays to Holy Days: God's Plan for You)—when Jesus Christ will return to earth to break every yoke of human bondage, freeing humanity from its self-inflicted slavery. He will "proclaim liberty to the captives and … set at liberty those who are oppressed" (Luke 4:18). Then "many nations shall come and say, 'Come, and let us go up to the mountain of the Lord … He will teach us His ways, and we shall walk in His paths" (Micah 4:2). Read more about this wonderful time in our free booklet The Mystery of the Kingdom.
Until that time, those who heed the calling of God will be sighing and crying because of mankind's evil ways (Ezekiel 9:4) and eagerly anticipating a new way of life at Christ's return.