By the Way
A Better Motivation
The corrupt policeman strode toward our vehicle with a confident smile. I prepared myself for the inevitable confrontation.
We had set out early in the morning from Abidjan to make the eight-hour trip to Man, near the triangular border of Côte d'Ivoire, Liberia and Guinea. Stretches of road were potholed and broken; some were only dirt. Our 4WD jinked back and forth until we arrived at the checkpoint at Daloa.
Corruption is a problem in many places. In much of sub-Saharan Africa autocratic regimes seek to control their populations, so police and military checkpoints dot highways and roads. Their official purpose is to maintain security. The purpose they more often serve is one of extracting money from hapless travelers.
Vehicles stop at spike-stripped checkpoints, where police or military demand ID cards, car registration, proof of insurance, to see the fire extinguisher or to look in bags. They announce a real or imaginary violation and threaten a hefty fine or even arrest. The result is a palm greased by powerless people.
But today, refreshingly, would be different.
Camera vs. corruption
My DSLR camera lay in my lap as the policeman approached with a jaunty air. A Westerner this far out in the bush should mean a larger "motivation," as extortion is often called.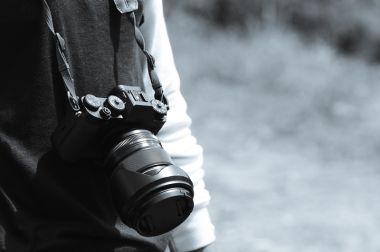 Just as he opened his mouth to tell us to produce our documents, he glanced down and saw the camera. I watched his face as his eyes widened and the mental wheels turned in what I imagined was some version of this: "that is a pretty big camera … the kind a journalist might use … he might already somehow have taken a photo of me … which he could use to document my corruption."
Suddenly, his mouth popped shut. He waved us through the checkpoint and spun on his heels to walk briskly away. We didn't laugh until we cleared the uniforms, then we roared. We had seen a hilariously graphic display of human nature: pride, greed, corruption, hypocrisy and the desire to avoid getting caught.
Short-term thinking
We humans nurture the illusion that, if we're careful, we can get away with bad behavior. Sometimes in the short term it appears we can. "Because the sentence against an evil work is not executed speedily, therefore the heart of the sons of men is fully set in them to do evil" (Ecclesiastes 8:11).
But not in the long term. God says He won't allow it; the sentence will eventually be executed. "Do not be deceived, God is not mocked; for whatever a man sows [our actions], that he will also reap. For he who sows to his flesh [following the evil penchants of human nature] will of the flesh reap corruption, but he who sows to the Spirit [following God's instruction in right living] will of the Spirit reap everlasting life" (Galatians 6:7-8).
It's a law we all must learn.
Like a boomerang
People are shocked and confused when, after a long while, a consequence arrives, like a boomerang that hung whirling in the air for years before unexpectedly connecting to the back of a head. God erases the spiritual penalty of our sins when we repent, but that doesn't mean He takes away physical consequences. The Bible shows that God lets us learn painful lessons for our ultimate good (2 Samuel 12:1-14). Those corrupt policemen will one day reap what they've sown. Later yet, they'll understand why.
On the other hand, people who sow good actions will reap unexpected blessings far down the road, and finally eternal life. This is the best motivation for living in accordance with God's will.
What will you reap?
—Joel Meeker
@JoelMeeker