Time Flies
It was fascinating to learn about the Buddhist view of time. But do we really have all the time in the world? Or are our days numbered?
Tempus fugit, Virgil wrote; time escapes or time flies. But it does not seem so to everyone.
A fascinating time in Bangkok
When I was 20 years old, I lived for a week in a Buddhist temple in Bangkok. Wat Pho cosponsored with Ambassador College the project on which I had just finished working—teaching Laotian refugees in the far north of Thailand. I needed a few days in the capital while waiting for a visa to visit Burma—a trip my father kindly and blindly financed—and the temple abbot generously gave me permission to stay for free with his monks.
So during the day I explored Bangkok with temple boys, orphaned adoptees about my age who had become friends. We explored colorful markets, both on land and floating on khlongs (canals). They showed me famous monuments and statues, like the emerald Buddha, and historical sites, like the Royal Palace.
We took long-tail boat rides, fed giant eels and discovered the simple life of average Bangkok citizens. We burned our mouths on the agonizingly spiced, ambrosia-like cuisine, and we reveled in the strength of youth.
They were kind and helpful, and it was a fascinating experience.
Different views of time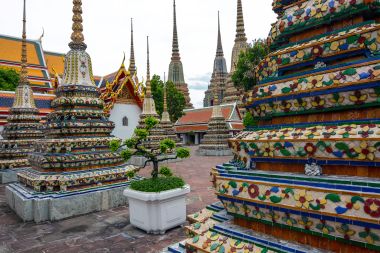 Among other things, I learned in Wat Pho that Buddhism has a circular vision of time that it borrowed from Hinduism. Physical life keeps repeating through cycles, without end, of hundreds of billions of years. Many Buddhists, like Hindus, seem to have all the time in the world. There is little rush or urgency in life.
The Bible, on the other hand, has a linear, terminal view of time, at least as far as flesh is concerned. There was a start, and there will be a finish. "In the beginning," it says in Genesis 1:1 and John 1:1, starting the story of man. And the Bible speaks often of the time of "the end" of this world or age (Matthew 24:3; 1 Corinthians 15:24).
Time limits
So we don't have endlessly recycled souls that reap our karma toward the nothingness of nirvana at some point in the very distant future. We are, rather, on a one-way trip toward our ultimate destiny, and it will be decided in lives measured in decades at most. We have a very limited time to, with God's help, "work out [our] own salvation with fear and trembling" (Philippians 2:12).
Humanity is moving toward a time when flesh will finally disappear, when all who remain will have become "partakers of the divine nature" (2 Peter 1:4). Ultimately, all those who continue to exist will be part of the family of God: God will "be all in all" (1 Corinthians 15:28).
We don't have all the time in the world. We don't have billions of years or even hundreds to seal our fate. Our days are numbered. We need to have a sense of urgency and stay focused on our mission.
Time flies.
–Joel Meeker
@JoelMeeker