Falling Between the Tables
A visit to a royal tomb in Greece brought to mind a key to spiritual success.
Just west of Thessaloniki, Vergina is the ancient burial site of the royalty of Macedon. One of the most fascinating museums in Greece was created inside the Great Tumulus, the artificial hill that covered several important graves.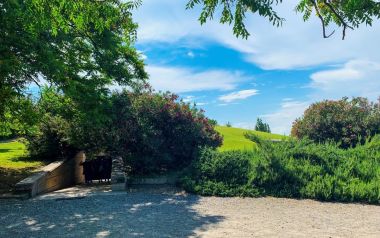 The most significant grave, found intact, belonged to Philip II, father of Alexander the Great and creator of a new-style army that forced all Greece to submit to Macedon. Under Alexander that army would conquer the entire Persian Empire and virtually the whole known world.
It is fascinating to walk to the door of Philip's tomb and to view the splendid royal treasures. His golden larnax—a box for cremated remains—is made of 24 pounds of 24-carat gold! Many of these items—crowns, jewelry, gold-encrusted armor—would have been handled by these two men who changed the course of world history.
A troubled family
Yet they had not enjoyed good relations. Alexander's mother was only one of the king's seven wives. At the intoxicated celebration following Philip's wedding to a young teen, the inebriated uncle of the bride made a degrading aspersion on the legitimacy of Alexander, who immediately threw his cup of wine at the insulter's head.
Philip, himself sotted, started toward his son in rage, blade in hand, intending to kill. Plutarch informs us that instead, Philip slipped and fell.
As he escaped the room, Alexander contemptuously announced, "Here is the man who was making ready to cross from Europe to Asia, and who cannot even cross from one table to another without losing his balance."
Not long after, Philip was assassinated at the age of 46 by one of his own bodyguards. Some scholars believe Alexander and his furious mother arranged the murder. Philip, though a powerful king, greatly troubled his house and perhaps brought about his own death by foolish, selfish, undisciplined actions.
Tripping ourselves?
As I walked among the exhibits, I mused how we sometimes have the potential to accomplish substantial deeds, but then trip ourselves with foolishness or a lack of discipline. We don't end up with the life we want due to a lack of ambition or a plan. Relationships fail from a lack of attention and care. We slow our spiritual growth because, rather than study the Bible, we screen surf instead.
Thoughtful self-discipline is key to success in any venture—to realizing our goals, both physical and spiritual. Paul wrote, "Therefore I run thus: not with uncertainty. Thus I fight: not as one who beats the air. But I discipline my body and bring it into subjection, lest, when I have preached to others, I myself should become disqualified" (1 Corinthians 9:26-27).
"Self-control" is on the list of the fruit of God's Spirit (Galatians 5:23)—fruit we need to succeed.
We have no desire to invade Persia. But whatever we wish or need to accomplish in life, a first step is to avoid falling between the tables.
—Joel Meeker
@JoelMeeker